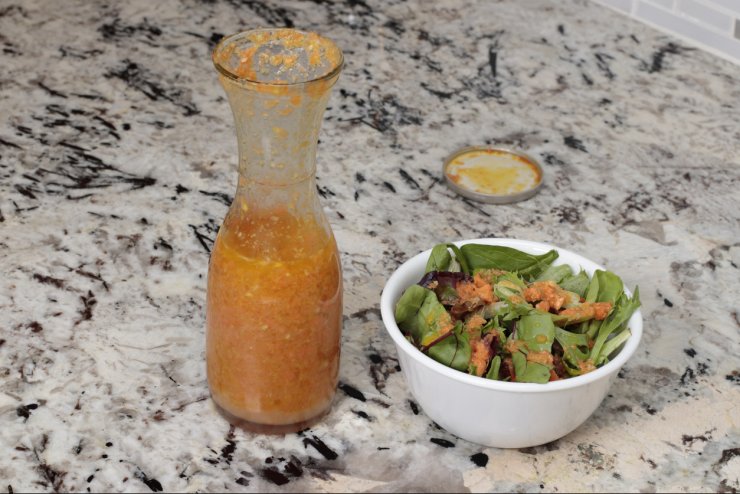 We all know how a salad can be a great dish. Whether it's a light dinner, a side for lunch, or even a snack, a salad is always a good option since it's healthy, colorful, and fuss-free. Besides, it's the only "fast" food that won't try to kill you! But have you tried Japanese Ginger Salad Dressing?
What really makes a salad exceptional is the dressing. Sure, some people might want to eat their salad as is, but topping it off with a delicious dressing is what can make a salad truly enjoyable. Plus, adding salad dressing is one way you can enhance both its flavor and nutrients.
If you're tired of the usual bottled salad dressing, it's time to get creative and make some Japanese Ginger Salad Dressing!
You might have seen this particular salad dressing in a sushi restaurant. It's pretty hard to miss with its vibrant orange color and zesty fragrance. But more than that, what makes this Japanese Ginger Salad Dressing truly one for the books is its fresh and light taste. Its mild but sweet-spicy flavor pairs well with a bowl of cold, crispy iceberg lettuce or other crunchy greens.
Unlike other salad dressings, you don't have to worry so much about your calories with this recipe since all you need are carrots, ginger, sugar, soy sauce, rice vinegar, kosher salt, and vegetable oil. Mix them all in a food processor or blender, and voila! You've got a bright, delectable dressing in 15 minutes tops!
You can enjoy this restaurant-style Japanese Ginger Salad Dressing for up to four days when kept in a sealed jar inside the fridge. Once you've finished it, it's easy to make more!
Print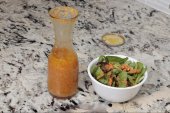 Japanese Ginger Salad Dressing
Bring the restaurant to your home with this restaurant-style Japanese Ginger Salad Dressing!
Author:
Prep Time:

15 minutes

Total Time:

15 minutes

Yield:

Serves 4

Category:

Salads & Dressings
Ingredients
2

medium carrots, peeled and chopped

4 ounces

chopped onion

2 tablespoons

chopped ginger (more if you want more zing)

1 tablespoon

sugar (white or brown)

1/4 cup

soy sauce

1/2 cup

plain rice vinegar

1/4 teaspoon

kosher salt

1/4 cup

vegetable oil
Instructions
Put all ingredients except the oil into a food processor (or blender).
Blend until mixture has a smooth consistency.
With the food processor on, slowly add the oil until it blends with the other ingredients.
Adjust your seasonings to taste.
Serve as a dressing over iceberg lettuce or other crisp greens.
Store in a sealed jar in the refrigerator for up to 4 days.
Ginger is easier to grow than you may think! With our Zesty Ginger Gardening Guide, you'll have everything you need to know about growing and enjoying this versatile plant—including specific advice about soil requirements and fertilizer, watering techniques to details about avoiding bacterial wilt, and even easy-to-make and delicious recipes that will allow you to enjoy the fruits of your ginger gardening labor!
Have you tried this restaurant-style recipe for Japanese Ginger Salad Dressing? It's quick and easy to make. Please tell us how it turned out for you.