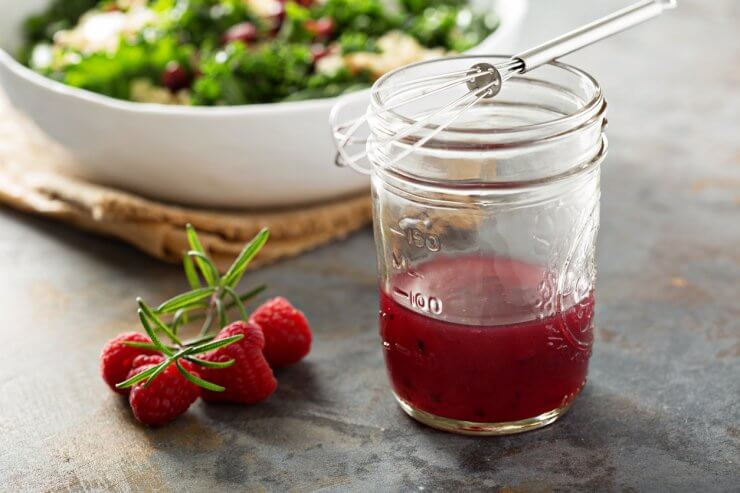 Even though they're known for their bright, bold colors, raspberries actually have a very delicate taste. Whether they're red, purple, black, or even golden, these mouthwatering berries are a much-loved inclusion in many home gardens because they're sweet, tender, and emit a rather pleasant aroma. That's not all — the best thing about raspberries is that there are just so many things you can make with them! There are tons of recipes where you can add these delicious berries as an ingredient, but one thing you shouldn't miss is turning them into a luscious Raspberry Vinaigrette.
Of course, it goes without saying that fresh raspberries are a must! You know as well as I do that nothing beats the taste of freshly-picked raspberries. When making your Raspberry Vinaigrette, olive oil or avocado oil are the perfect companions as these both have very mild flavors that won't overpower the delicate sweetness of raspberries. Avocado oil is certainly milder as its taste can be more on the nutty to neutral side. It's also a bit more creamy compared to olive oil since the latter can have a richer, more distinct taste and texture. It all really boils down to how you want your Raspberry Vinaigrette to taste, but both options are definitely going to result in a delectable vinaigrette!
Using rice vinegar also lets the taste of the raspberries shine through since rice vinegar isn't intrusive. Rice vinegar falls somewhere in between the more distinctive balsamic vinegar and the milder white vinegar. Work your magic with garlic (to taste, of course!), a bit of lemon juice, some white sugar, and white pepper for a delicious and nutritious Raspberry Vinaigrette in just 15 minutes! Since you're using fresh raspberries, I'd recommend making it on the day you want to use it or 24 hours before as this dressing can last about four to five days in the fridge — that is, if it makes it that long!
Print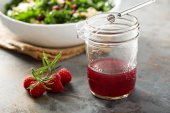 Raspberry Vinaigrette
Raspberry Vinaigrette complements most salad vegetables—but especially tomatoes and dark, leafy greens—and adds a boost of nutrition!
Author:
Prep Time:

15 minutes

Total Time:

15 minutes

Yield:

Serves 6

Category:

Salads & Dressings
Ingredients
1/4 cup

fresh raspberries

2 tablespoons

rice vinegar

1 tablespoon

lemon juice

1

clove garlic, or more to taste, chopped

1/2 teaspoon

white sugar

1

pinch ground white pepper

6 tablespoons

avocado or olive oil
Instructions
Press raspberries through a fine-mesh sieve using a spoon to remove seeds.
Whisk raspberries, rice vinegar, garlic, sugar, sea salt, and white pepper together in a bowl.
Slowly drizzle avocado oil into raspberry mixture, whisking rapidly, until dressing is thick and creamy.
Let sit until flavors develop, about 10 minutes.
Have you tried this recipe? It's so easy and so fresh with a big bowl of greens—please tell us how it turned out for you.