Whipping up your own salad isn't just fun — it's also one way you can exercise those creative juices! 
Contrary to popular belief, salads aren't all greens. There's a ton of colors you can play around with when making this healthy dish. When you're in an "artistic" mood, how about trying a Cherry, Quinoa, & Arugula Salad with Vinaigrette? Not only does this salad have a vibrant look, but it also has an explosion of flavors and textures that will make you come back for more!
This guilt- and gluten-free salad combines the sweet-sour flavor of fresh cherries with the slightly nutty and savory taste of fluffy, cooked quinoa. Arugula greens give this salad an extra punch with its peppery taste. Fresh arugula works perfectly for salads because of its thin yet slightly crispy texture. Aside from having just the right amount of crunch, arugula that's picked fresh has a more potent taste and aroma and can hold up better to salad dressings.
When there's salad, there's naturally balsamic vinaigrette! This delicious dressing for your Cherry, Quinoa, & Arugula Salad with Vinaigrette is best made from scratch. Of course, you can't have balsamic vinaigrette without balsamic vinegar, which has — believe it or not — notes of cherry! The spice of Dijon mustard, on the other hand, serves as a great partner for the fresh arugula's peppery taste. An addition of honey, maple syrup or agave nectar balances out these strong flavors with a hint of sweetness. Honey, in particular, helps your olive oil and balsamic vinegar stay together.
Let's not forget some nicely toasted pistachios and crumbled goat cheese for a subtle saltiness that comes in two different textures!
My favorite thing about the Cherry, Quinoa, & Arugula Salad with Vinaigrette is that it tastes great any time of the day!
Print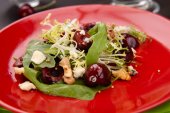 Cherry, Quinoa, & Arugula Salad with Vinaigrette
For a delicious light lunch, make our Cherry, Quinoa, and Arugula Salad with Vinaigrette—goat cheese is optional. You can use couscous instead of quinoa, but the quinoa makes the salad gluten free. Fresh, filling, and flavorful!
Author:
Prep Time:

12 minutes

Cook Time:

20 minutes

Total Time:

32 minutes

Yield: Serves

4

to 6

1

x
Category:

Salads & Dressings
Ingredients
3/4 cup

 dry quinoa

1/2

pound fresh cherries, pitted and sliced

1/3 cup

shelled pistachios

6 ounces

arugula greens

4 ounces

goat cheese crumbles

Balsamic vinaigrette 

1/4 cup

 olive oil

2 tablespoons

 lemon juice

2 tablespoons

 balsamic vinegar

2 teaspoons

 Dijon mustard

2 teaspoons

 honey or maple syrup or agave nectar
Generous amount of freshly ground black pepper

1/8 teaspoon

 salt
Instructions
Bring 2 cups of water to a boil in a 2-quart pot. Add 1 cup of red or white quinoa and return to a boil.
Cover, reduce heat to medium, and simmer until water is absorbed, about 12 minutes. Remove from heat, fluff with a fork, and set aside to cool.
To make the dressing: Whisk together all of the vinaigrette ingredients in a small bowl until emulsified.
To toast the nuts: In a skillet over medium-low heat, toast the pistachios, tossing frequently until fragrant, about 3 to 6 minutes. Remove from heat, and use a chef's knife to chop the nuts into small pieces.
To compose the salad: In a large serving bowl, combine the cooked quinoa, arugula, sliced cherries, crumbled goat cheese, and chopped nuts.
Drizzle with enough vinaigrette to lightly coat the greens (you might only need half of the dressing) and toss to combine. Serve immediately.
Notes
Balsamic Vinaigrette makes extra that you can save for later recipes.
Have you tried this Cherry, Quinoa, & Arugula Salad with Vinaigrette recipe? It's so refreshing and surprising. Please tell us how it turned out for you.