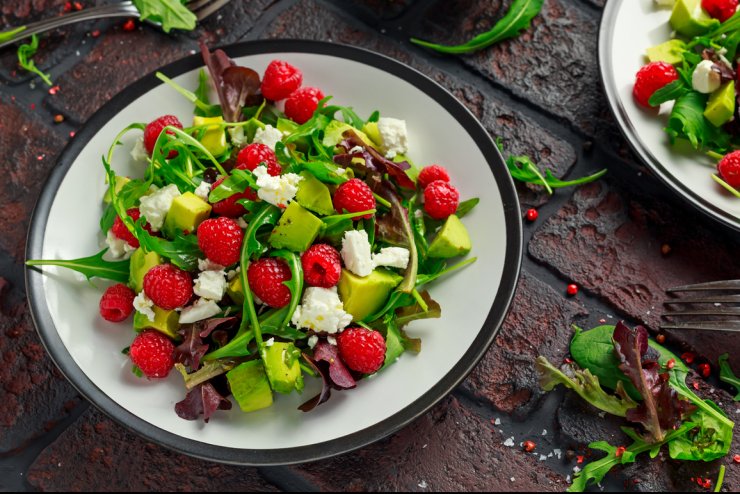 Going the "quick and easy" route in meal prep doesn't always mean tossing all the ingredients together — unless you're making Raspberry Goat Cheese Salad, of course!
This colorful and highly nutritious salad will certainly work wonders for busy folk who want an easy-to-prepare dish while staying true to their health goals. In just under 10 minutes, you'll have a highly appetizing and delectable salad that looks like Christmas came early in a bowl!
Let's start with the greens, which can be any of the field greens or baby spinach. Baby spinach, in particular, has such a mild and clean taste that even the stems can be eaten raw.
Alongside your greens are some robust raspberries. The sweetness of raspberries can depend on how ripe they are. More intense flavors come from those that have matured, while younger raspberries have a combination of tartness and sweetness. You can balance or complement the taste of raspberries with some soft, crumbled goat cheese. Unlike raspberries, goat cheese that hasn't fully matured can have a more intense, earthy flavor that grows milder the more it ages.
Adding toasted sunflower seeds or other nuts such as walnuts and pecans, as well as yellow grape tomatoes, further complement the taste and texture of raspberries. Combined with the nuttiness of your seeds, grape tomatoes give your salad that extra crunch and a rich sweet taste that brings out the best in your raspberries.
Finish off your Raspberry Goat Cheese Salad with a refreshing balsamic vinaigrette or — even better — a Raspberry Vinaigrette! Whichever dressing you choose, get ready for seconds because this is one quick and colorful salad that's hard to resist!
Print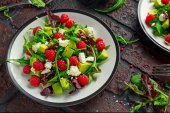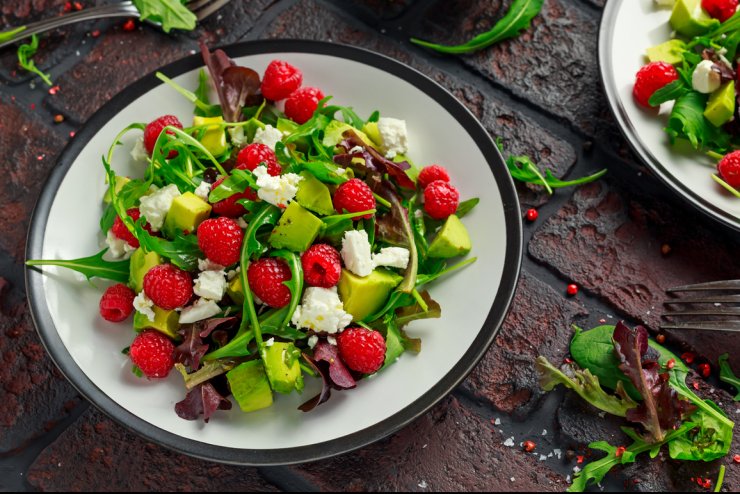 Raspberry Goat Cheese Salad
Enjoy a great combination of sweetness and subtle tartness with every bite of this Raspberry Goat Cheese Salad!
Author:
Prep Time:

8 minutes

Total Time:

8 minutes

Yield:

Serves 2

Category:

Salads & Dressings
Ingredients
4 ounces

mixed field greens or baby spinach

4 ounces

fresh raspberries

4 ounces

yellow grape tomatoes, sliced in half

2 ounces

crumbled goat cheese

2 tablespoons

toasted sunflower seeds or nuts of your choice (such as walnuts or pecans)

2 tablespoons

balsamic vinaigrette or Raspberry Vinaigrette
Instructions
Combine all ingredients in a bowl; toss and serve.
Have you tried this recipe? It's so easy and will fill you up during summer or early fall when you want a light, but nutritious lunch. Please tell us how it turned out for you.