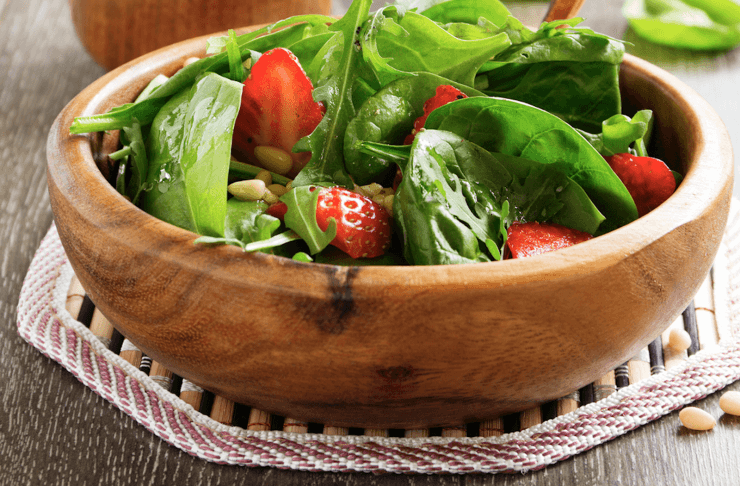 I don't know if reruns of the show are still on air, but back in the day, everybody knew who Popeye the Sailor was! Kids of the past decades would remember Popeye as the muscular sailor who loved to eat spinach. I don't know if the cartoon ever convince kids to eat this veggie, but in case your little ones aren't too keen on spinach, you can always put a spin on it with this marvelous Strawberry Spinach Salad.
Fresh, bright red strawberries coupled with vibrant green spinach is sure to catch anyone's attention. This salad is more than just appearances — it's also flavorful and absolutely delectable! Plump, freshly picked strawberries are juicy and bursting with sweetness, along with a hint of acidity. Raw spinach, on the other hand, has a refreshing and mildly sweet taste, making it perfect for salad dishes.
For the dressing, you get a sophisticated mix of sweetness, spiciness, and subtle nuttiness with distilled white vinegar, olive oil, sugar, paprika, poppy and sesame seeds, minced onions, slivered almonds, and Worcestershire sauce. Distilled white vinegar is essentially the tofu of vinegars because of its neutral, crisp taste. Worcestershire sauce, on the other hand, falls on the stronger side of the flavor spectrum because of its rather concentrated, savory, umami flavor.
Holding your dressing together is olive oil, which has a mellow taste that works its magic in the background. Aside from lending its nutty flavor into the mix, blanched, slivered almonds give extra depth and texture to your Strawberry Spinach Salad. It'll give your kids something to enjoy chewing on along with the crisp spinach and juicy strawberries!
Don't forget to tear your spinach leaves into bite-sized bits, so they're easy to eat. This salad is going to be a hit with kids and adults alike, so make sure to make extra helpings!
Print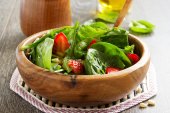 Strawberry Spinach Salad
This Strawberry Spinach Salad is a match made in heaven that kids and adults will enjoy! Take it to a potluck dinner and reap the compliments! It's also a great way to get kids to eat spinach.
Author:
Prep Time:

10 minutes

Chilling Time:

1 hour

Total Time:

1 hour 10 minutes

Yield:

Serves 4

Category:

Salads & Dressings
Ingredients
2 tablespoons

sesame seeds

1 tablespoon

poppy seeds

1/2 cup

white sugar

1/2 cup

olive oil

1/4 cup

distilled white vinegar

1/4 teaspoon

paprika

1/4 teaspoon

Worcestershire sauce

1 tablespoon

minced onion

10 ounces

fresh spinach, rinsed, dried and torn into bite-size pieces

1 quart

(

4 cups

) strawberries, cleaned, hulled, and sliced

1/4 cup

almonds, blanched and slivered
Instructions
In a medium bowl, whisk together the sesame seeds, poppy seeds, sugar, olive oil, vinegar, paprika, Worcestershire sauce, and onion. Cover, and chill for 1 hour.
In a large bowl, combine the spinach, strawberries, and almonds. Pour dressing over salad, and toss. Refrigerate 10 to 15 minutes before serving.
Ah! The sweet world of strawberries! With our Strawberry Collection, you'll have everything you need to know about growing and enjoying this wonderful fruit. From the history and background of the sweet strawberry to specific advice about soil requirements and fertilizer … from watering techniques to details about avoiding diseases … from easy-to-make and delicious recipes that will allow you to enjoy the fruits of your gardening labor to the nutritional benefits of strawberries—get it all in our Strawberry Collection right now!
Have you tried this Strawberry Spinach Salad recipe? It's so easy to make and fresh to eat—please tell us how it turned out for you.