Guaranteed, the last time you had a to-die-for homemade vinaigrette in some swank restaurant, the recipe for that vinaigrette began with macerated shallots in vinegar of some type. I don't know why, but thin-sliced shallots and vinegar are always the start of something beautiful. That's why when I wanted to make an apple cider vinaigrette, I knew exactly where to start.
If you want to get real homestead-y, you can actually make your own apple scrap vinegar at home pretty easily. All you need is apple scraps from all the apple picking you'll be doing this fall, a little sugar, a mason jar and some cheesecloth. For every 1 cup of apple scraps, you'll need 1 cup of warm water and 1 tbsp of sugar or honey. You simply combine the warm water with the sugar or honey, and pour it into a mason jar filled 3/4 of the way with apple scraps. Just make sure there is enough sweetened water to cover them. You then cover the jar with cheesecloth to keep fruit flies out and to allow air for fermentation. Use the mason jar lid (center circle removed) to secure the cheesecloth. Put the jar in a warm place or on a heated germination mat to keep it warm. Two weeks later, remove the solids and pour the remaining liquid into a new clean jar. Cover the jar with cheesecloth again, and wait an additional month. When it smells strong like apple cider vinegar, it's ready!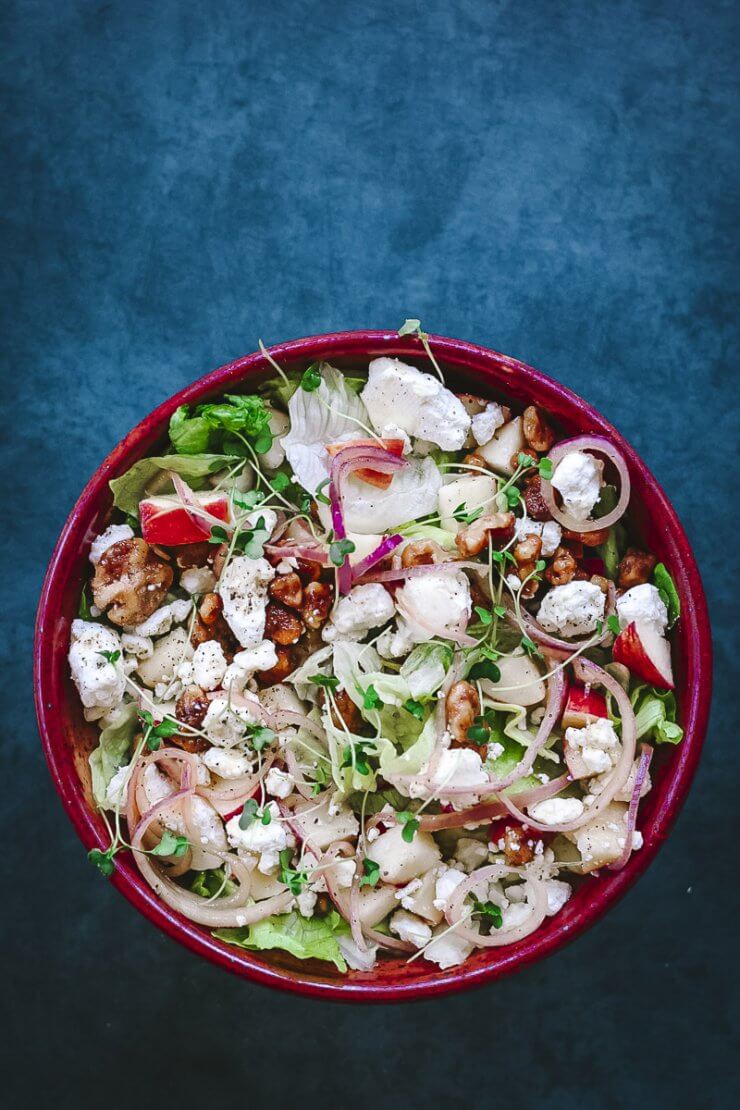 That's not the route I went with this recipe because I didn't have any on hand, but it sure is a good little hack to know especially if you grow apples or go apple picking and don't know what to do with them all!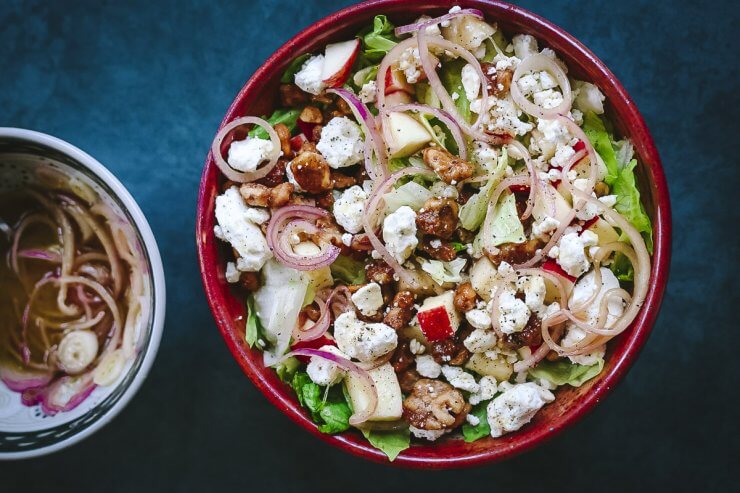 This winter salad with apple cider vinaigrette dressing is amazing for lunch all on its own, but you could also serve it next to grilled or roasted chicken as a delicious tasty side.
Print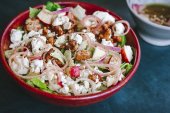 Winter Salad with Apple Cider Vinaigrette Dressing
This sweet and tangy apple cider vinaigrette dressing made with fresh shallots is drizzled over a winter salad of crisp iceberg lettuce, sweet apples, candied walnuts, and tangy soft crumbled chèvre.
Author:
Prep Time:

20 minutes

Total Time:

20 minutes

Yield:

3/4 cup

1

x
Category:

Salads & Dressings
Ingredients
For the salad:
1/2

head of iceberg lettuce, chopped 

1 cup

red apple, chopped

1/2 cup

candied walnuts

1/2 cup

goat cheese, crumbled
For the dressing:
1

shallot, sliced thinly into rounds

2 tablespoons

raw apple cider vinegar 

1 teaspoon

Dijon mustard 

1 teaspoon

honey 

1/4 cup

olive oil 

1 teaspoon

lemon 

Pinch of salt 

Ground pepper
Instructions
Add your chopped lettuce to a serving bowl. Top with candied walnuts, chopped red apple, and crumbled goat cheese.

In a small bowl, add your thinly sliced shallot rounds, top with apple cider vinegar, and mix. Let sit and macerate for at least 10 minutes.

In the meantime, in a separate bowl combine Dijon mustard, honey, olive oil, and lemon. Whisk together until combined.

Add shallot mixture into the dressing and mix until combined. Add a pinch of salt and a few cranks of freshly ground black pepper.

Drizzle over the salad, using as much or as little as you like. Enjoy!
Want to know how to grow your own apples? Apples are the perfect portable snack: they don't spill, and you can put them in your pocket. They're delicious, nutritious, and packed with antioxidants! You can grow soaring, full-sized trees in your yard; grow smaller trees in raised beds or containers; or even train an apple tree to grow along a fence or a wall! No matter how small your garden space, there's an apple variety for you! Find out why you need a pollination buddy, and which apples are native to North America. Learn about it all in our Audacious Apples Gardening Guide right now!