The garden was bursting with fresh salad selections: a mix of lettuces, tomatoes, cucumbers, and sweet onions. And those fresh lemons were calling me. It was clearly time for some Lemon Vinaigrette.
So, when someone says vinaigrette, you immediately think salad, right? OK, it is delicious to dress up a fresh salad—especially when most of the ingredients come from your own garden. Well, here's the thing: vinaigrette has so much more potential beyond the salad bowl. What you can do with it is limited only by your imagination.
Here are just a few ideas for expanding your vinaigrette applications:
Dress up your mozzarella, tomato, and basil with your homemade vinaigrette.
Add vinaigrette to a cheese plate for dipping.
Spruce up a grain salad with a splash of vinaigrette.
Kick your grilled vegetables up a notch when you drizzle vinaigrette over them just before serving.
Give grilled tofu a tangy counterpoint.
Let your vinaigrette do double duty as a marinade and a sauce. Use it with chicken, sausage, steak, lamb, or fish. Only marinate fish for 30 minutes; any longer and the acid in the vinaigrette will change the texture of the fish.
Do your other seafood a favor, and drizzle vinaigrette over lobster, shrimp, or scallops.
Grilled peaches will pop with flavor when you add a little vinaigrette before serving (a delicious mix of sweet and savory).
Perk up a rice noodle bowl.
Hold the mayo; sandwiches are better with vinaigrette.
Potato salad and coleslaw will never be the same once you've introduced them to your homemade vinaigrette.
Drizzle vinaigrette over oven-roasted Brussels sprouts or asparagus.
Use vinaigrette as a dip for steamed artichokes.
Add some zing to fresh-made salsa.
Serve on the side as a dipping sauce for fresh veggies or pita chips.
Brush on slices of French or Italian bread, then grill or broil.
Try changing up your choice of herbs for a distinctly different flavor. Consider adding garlic to give your Lemon Vinaigrette an extra pungent punch! Let us know your favorite flavor combinations!
Print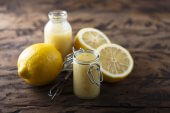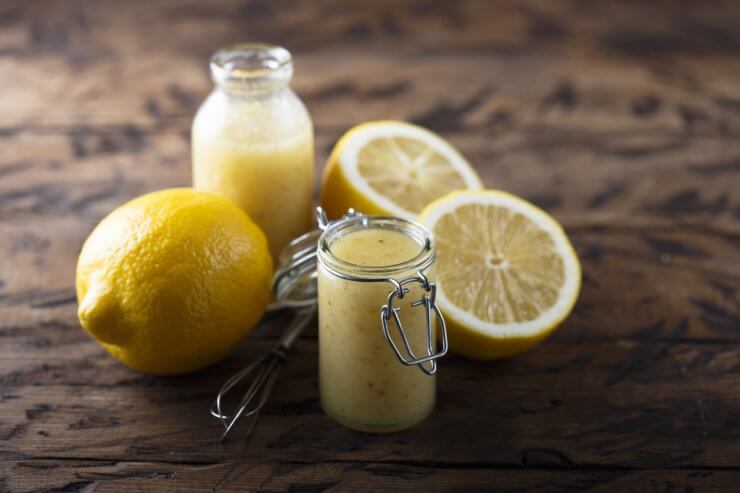 Versatile Lemon Vinaigrette
Use this fragrant Lemon Vinaigrette as a starting point for your culinary imaginings. This works equally well on a mixed greens salad as it does on roasted asparagus, chicken thighs, and fish!
Author:
Prep Time:

10 minutes

Total Time:

10 minutes

Yield:

1

and 1/2 cup dressing

1

x
Category:

Salads & Dressings
Ingredients
Zest and juice of 2 large lemons

1/2 cup

lemon juice

1/2 teaspoon

kosher salt, or to taste

1 1/2 tablespoons

Dijon mustard

1 1/2 cups

olive oil
Instructions
Wash lemons thoroughly, with soap and water. Zest the lemons.
Juice the lemons and put the juice in a mixing bowl.
Spread the lemon zest out on a cutting board and sprinkle it with salt.
Scrape and chop the lemon zest, then mash it into a paste.
Put the lemon zest into the bowl with the lemon juice.
Add the Dijon mustard and whisk it in with the zest and lemon juice.
Add the olive oil a tablespoon at a time, whisking thoroughly with each addition of oil.
Continue whisking in the oil until the dressing is creamy.
Use on salads, roasted veggies, or as a marinade.
Note: If you're not going to use all of your vinaigrette right away, try making it in a blender instead; you'll get a creamier emulsion that will hold together longer.
Lemons may seem like an exotic tree to grow, but all they need is a little TLC to give you years of tangy harvests! You don't have to live in a subtropical zone to grow lemons—there are plenty of varieties happy to grow as productive houseplants! With this gardening guide, you get all the details that go into growing and harvesting bright, fragrant lemons. Get recipes for dishes sweet and savory that make it all the more rewarding to grow your own lemons. Get it all in our Tart & Tangy Lemon Gardening Guide right now!
Have you made this Lemon Vinaigrette recipe? It's so easy to make, and it has so much potential! Please tell us how you used it.