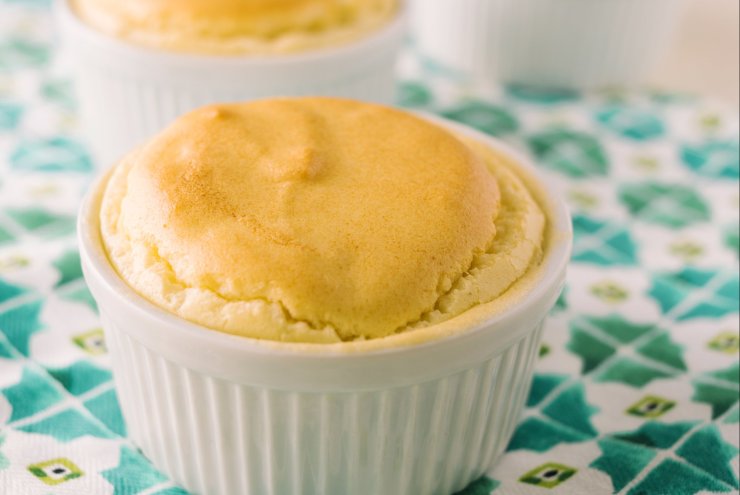 I'll be upfront here; this isn't your quick weekday morning meal that you put together in a hurry and sit down to eat before you rush off to work or school. Soufflés take time. That's true with these three-cheese soufflés, just as it is with any soufflé recipe.
For me, that means these are reserved for the weekend when the dog wakes me up way too early so she can go out. Then once I'm up, I really enjoy the quiet while everyone else is still asleep dreaming about summer vacations or going for a drive or zombies or whatever it is they dream about. I can make a cup of coffee and have the kitchen to myself while I read the news and work slowly on this recipe.
The secret to not waking everyone up is doing some of this the night before. I usually grate the cheeses and get the dry ingredients together. That saves me some effort in the morning, too.
Once I get to step 5, where the mixture has to sit for 20 or 30 minutes, I make some more coffee, grab whatever book I'm reading, and enjoy the quiet of a weekend morning. By the time I'm beating the egg whites, most everyone is up, so I don't need to worry so much about being quiet.
So yeah, this recipe for three-cheese soufflés does take some time, but it's a great excuse to drink a few cups of coffee and enjoy the early part of the day watching the sun rise slowly over the trees.
One word of warning, though. These get pretty darn hot inside, so either give them a few minutes to cool off or take small bites. You don't want to burn your tongue on the first bite!
Print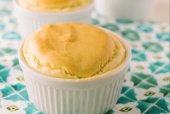 Three-Cheese Soufflés
Soufflés like these three-cheese soufflés take time, but it's well worth the effort when you bite into this delicious breakfast.
Author:
Prep Time:

50 minutes

Cook Time:

45 minutes

Total Time:

1 hour 35 minutes

Yield:

Serves 8

Category:

Breakfast
Ingredients
1/3 cup

unsalted butter, cut into cubes

1/3 cup

all-purpose flour

2 cups

whole milk

1 teaspoon

dry mustard

1/4 teaspoon

kosher salt

1/4 teaspoon

freshly ground white pepper

2

pinches of grated nutmeg

1 1/2 cups

shredded Gruyère cheese

1 cup

shredded cheddar cheese

1/4 cup

shredded Parmesan cheese

6

large eggs

1/2 teaspoon

cream of tartar
Instructions
In a small saucepan, melt the butter over medium-high heat. Stir in the flour and mix until smooth, about 1 minute. Slowly whisk in the milk, mustard, salt, white pepper, and nutmeg.
Bring to a boil and cook, stirring continuously, for 1 to 2 minutes, or until thickened. Reduce the heat to medium, add the Gruyère, cheddar, and Parmesan, and stir until melted. Remove from the heat and transfer to a large bowl to cool.
Separate the eggs. Place the egg whites in a medium bowl and let sit for 30 minutes.
In a small bowl, beat the egg yolks until thick, about 4 minutes. Slowly stir in 1/3 cup of the hot cheese mixture to temper the eggs.
Add the tempered egg yolk mixture to the remaining cheese mixture and stir until combined. Let cool for 20 to 30 minutes.
Preheat the oven to 325 degrees F. Place eight ungreased 8-ounce ramekins in 2 baking pans.
Beat the egg whites with the cream of tartar on high speed until stiff.
Using a spatula, stir about one-quarter of the egg whites into the cheese mixture. Carefully fold in the rest of the egg whites.
Spoon the mixture into the ramekins, filling them about three-quarters full. Pour 1 inch of hot water into the baking pan around the ramekins, being careful not to get water in the soufflés.
Bake for 40 minutes, or until the tops have puffed up and are golden.
Remove from the water and serve.
Keywords: three-cheese, cheese, souffle
Have you made these three-cheese soufflés or is there another type of soufflé you like?