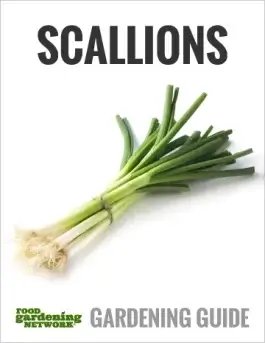 In this month's Food Gardening Magazine, you get everything you need to know about scallions—aka green onions—planting scallions, growing scallions, and even replanting green onions/scallions to let them grow again!
We'll guide you through the steps for growing scallions/green onions so you can keep the harvest coming, week after week. Learn how to harvest scallions for the mutual benefit of you and your scallions! Growing scallions is one of the easiest gardening tasks—and a flavorful one, too!
Plus, you get specific advice about growing scallions indoors or outside—including growing scallions in containers or pots; re-growing scallions in soil—even how to grow scallions in water! We'll show you how to grow scallions from scraps from your garden or from store-bought scallions. Once you see how easy re-growing scallions can be, you may never want to stop!
This gardening guide about scallions is your #1 guide for being the best scallion gardener you can be! You should refer to this gardening guide whenever you have questions about your scallion garden—from planning to planting and from maintaining and nurturing to harvesting and reaping the rewards in your kitchen.
First, you get a complete Introduction to Scallions—including a bit of controversy about what exactly constitutes a scallion. Learn a little about the history of scallions, including why ancient Egyptians prized scallions so much that they wound up in the pyramids! We'll also tell you about a Spanish festival held every year that features a special variety of scallion.
Then, you get Feature Articles about Scallions that include:
Next, this premium gardening guide highlights six popular scallion varieties to help you choose the varieties you want to grow—this is just a sampling of the many varieties available:
And all your scallion-gardening efforts really pay off when you have quick and easy-to-make recipes that show off the flavor and versatility of scallions. Food Gardening Network is all about providing delicious recipes for making mouthwatering dishes. Try these recipes to enjoy the bounty of your scallion harvest:
Next, you'll learn all about the health benefits of scallions with Nutrition Facts about Scallions and Home Remedies & Health Benefits of Scallions. Find out just how jam-packed with vitamins scallions are, and learn about the compounds in scallions that may contribute to reducing bad cholesterol and lowering blood-sugar levels.
And to be sure you have everything you need to grow your own scallions, we've included a Resources about Scallions section—so that you can easily find additional tools and information about scallions. You'll be able to uncover layer after layer of practical information and history about the small but mighty scallion.
Finally, our Scallion Glossary section gives you the explanation of key scallion-gardening terms and concepts—so, you're never in the dark or confused about important scallion-gardening ideas.
Check out this premium gardening guide now— The Super Scrumptious Scallion Guide: All You Need to Know About Growing, Harvesting, Cooking, and Eating Delicious Scallions—and you'll really learn everything you need to know about scallions!
Laura Logan, Norann Oleson, Victoria Arnold, and Samantha Pulcherz contributed to the creation of this gardening guide.