Peppermint. It's true that it can be polarizing. People either like it or they don't. But personally, I think that peppermint is delightful and also underrated. Unlike other ingredients, it doesn't get enough credit for how much depth it adds to any dessert, and I'm here to change that. Prepare to be blown away by the powerful flavor of the Perfect Peppermint Patties.
These patties are made with a cool and creamy peppermint filling that just melts in your mouth. They are also surrounded by a decadent chocolate coating that works perfectly to balance out the (sometimes overpowering) taste of mint. When you combine these powerhouse ingredients, you're bound to create an irresistible treat.
Depending on your preferences, you can always add or subtract the amount of peppermint you incorporate into the recipe. For me, I like it strong. So, besides the peppermint extract, I like to sprinkle a healthy amount of crushed peppermint candies on top. This just enhances the cooling effect coming from the mint and adds a bit of crunchiness to the otherwise velvety texture of the dessert.
Apart from the peppermint, your chocolate is also an integral part of this recipe. I like to use unsalted butter to melt it, but if you like, you can also use an oil to achieve the same results. While you have the freedom to select an oil of your choice, I recommend coconut oil. It has a viscosity that helps the chocolate melt and harden to perfection.
Once you've mastered the peppermint portions and chocolate consistency, you can create the Perfect Peppermint Patties that suit your taste. It really is the "perfect" bite-sized treat for any occasion.
Print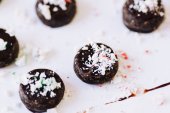 Perfect Peppermint Patties
Cool yourself any time of the year with the Perfect Peppermint Patties. These small, round discs are filled with a creamy peppermint filling and surrounded by a thin layer of rich chocolate to give you a perfect treat for every season.  
Author:
Prep Time:

30 minutes

Cook Time:

2 hours

Total Time:

2 hours 30 minutes

Yield:

36

patties

1

x
Category:

Desserts
Ingredients
2 1/2 cups

powdered sugar

2 tablespoons

unsalted butter, softened

2 teaspoons

peppermint extract

2 tablespoons

heavy whipping cream
Pink tinting gel (optional)

12 ounces

melting chocolate wafers
Crushed peppermint candies (optional)
Instructions
Line two baking sheets with parchment paper.
In a stand mixer fitted with the paddle, beat the powdered sugar, butter, peppermint extract, and cream at medium speed until well combined. Increase the speed to high and beat until the mixture comes together and is light and creamy. If you want to tint the paste, add a small amount of the tinting gel with a toothpick or wooden skewer. Mix again until you achieve a color to your liking. The mixture should feel soft but firm enough to form into a log.
Scrape the candy paste onto a large piece of plastic wrap and form into a log 1 1/2 inches in diameter. Wrap it well in the plastic wrap.
Chill the candy in the fridge until very firm, about 1 hour.
Using a sharp knife, slice the log into rounds about 1/4 inch thick. Refrigerate for 1 hour.
Melt the chocolate on 50% power in 30-second increments, stirring in between each, until melted.
Remove the candy rounds from the refrigerator, a few at a time, and, using a fork, dip each candy round into the chocolate to coat, then remove, letting the excess chocolate drip off. Place on the second lined baking sheet. Sprinkle with crushed peppermint candies, if desired. Refrigerate for 5 minutes to allow the chocolate to harden before serving.
Are you a fan of Peppermint Patties? Have you tried making your own? It's so much easier than most people think.