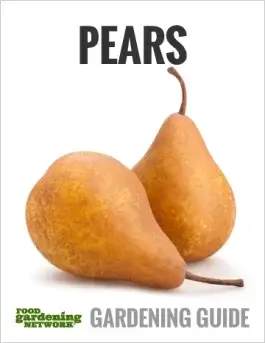 In this month's Food Gardening Magazine, you get everything you need to know about planting pear trees at home—with varieties for almost every hardiness zone around the country. Whether you're planning to plant pyrus communis or pyrus pyrifolia—or both—we'll help you find the variety that will suit your situation and your preference as perfectly as possible. Learn about the different kinds of pear trees so you can pick the perfect pears come harvest time!
Learn about the two basic types of pear trees to grow for fruit, and why you should avoid certain types of ornamental pear trees. Explore the classic Bartlett pear tree, and take a look at pear tree varieties you may not have considered for your property. It's easy to get overwhelmed by all the possible choices, so we'll help you choose the best tasting pear tree—depending on your preference.
You get all the tips, techniques, and advice about how to plant and maintain promising pear trees. We've got you covered when it comes to sorting out the types of pear trees you can consider planting!
Plus, you get specific advice about the best time to plant pear trees, the best fertilizer for pear trees, and what to watch for in a blooming pear tree.
This gardening guide about pears is your #1 guide for being the best pear tree grower you can be! You should refer to this gardening guide whenever you have questions about your pear trees—from planning to planting and from maintaining and nurturing to harvesting and reaping the rewards in your kitchen.
First, you get a complete Introduction to Pears—including some history and basics about pears. Did you know that some pears grow well in containers? So even if you're tight on space, you can grow a potted pear tree and enjoy fresh fruit. Did you know that pears do better in pairs? Go figure! (Hint: It's all about the pollination.) Did you know that pears first appeared in Homer's epic poem The Odyssey, and that the ever-popular Bartlett pear is not what it seems? You're going to learn a lot about pears!
Then, you get Feature Articles about Pears that include:
Next, this premium gardening guide highlights fourteen popular pears varieties—ten European and four Asian—to help you choose the varieties you want to grow—this is just a sampling of the many varieties available:
And all your pear-gardening efforts are more satisfying when you have quick and easy-to-make recipes, to ensure your harvest is enjoyed by everyone you serve at your home. Food Gardening Network is all about providing delicious recipes for making yummy dishes. Try these recipes and enjoy your pear harvest:
Next, you'll learn all about the health benefits of pears with Nutrition Facts about Pears and Home Remedies & Health Benefits of Pears. Learn about all the wonderful and beneficial attributes of pears—including cancer prevention, gut and heart health, skin and hair health, and better blood circulation.
And to be sure you have everything you need to grow your own pears, we've included a Resources about Pears section—so that you can easily find additional tools and information about pears.
Finally, our Pear Glossary section gives you the explanation of key pear-gardening terms and concepts—so, you're up to date about important pear-gardening ideas.
Check out this premium gardening guide now—Picture Perfect Pear Guide—All You Need to Know About Growing, Harvesting, Cooking, and Eating Delicious Pears—and you'll really learn everything you need to know about pears!
Laura Logan, Norann Oleson, Victoria Arnold, and Samantha Pulcherz contributed to the creation of this gardening guide.