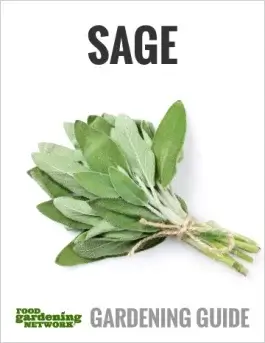 In this month's Food Gardening Magazine, you get everything you need to know about growing sage at home—it's one of the essential herbs for any cook's kitchen! While there are hundreds of varieties of this wonderful herb, you can't go and plant every type of sage—we'll help you narrow down your list with a look at some popular varieties that are easy to grow, so you can have the pick of the crop of sage in the garden. You'll be planting sage in no time, and harvesting sage before you know it!
You get all the tips, techniques, and advice about how to start and maintain an awesome herb garden with different sage plants—including sage for smudging. From culinary uses to spiritual applications, we've got you covered when it comes to growing sage!
Plus, you get specific advice about planting sage—including growing sage in pots or containers, and growing sage indoors.
You've probably heard that some plants grow better together than others; that's true. Sage can attract pollinators, keep pests away, and actually enhance the flavor of some plants it grows near. We'll guide you through the best sage companion plants to consider when planting sage in the garden. We'll also give you the list of garden crops that don't get along so well with sage, so you can keep your whole garden happy.
This gardening guide about sage is your #1 guide for being the best sage gardener you can be! You should refer to this gardening guide whenever you have questions about growing sage—from planning to planting and from maintaining and nurturing to harvesting and reaping the rewards in your kitchen.
First, you get a complete Introduction to Sage—including some history and basics about sage. Sage is one of the four most popular—and easy-to-grow—culinary plants. But sage's value goes well beyond the kitchen. Learn about the other benefits of having sage in your herb garden.
Then, you get Feature Articles about Sage that include:
Next, this premium gardening guide highlights six popular sage varieties to help you choose the varieties you want to grow—this is just a sampling of the many varieties available:
And your sage-growing efforts are all the more satisfying when you have quick and easy-to-make recipes to showcase your garden and kitchen skills. Food Gardening Network is all about providing delicious recipes for making yummy dishes. Try these recipes and enjoy your sage harvest:
Next, you'll learn all about the health benefits of sage with Nutrition Facts about Sage and Home Remedies & Health Benefits of Sage. Learn about all the wonderful and beneficial attributes of sage—including its contributions to cancer prevention, blood sugar health, and memory and brain health.
And to be sure you have everything you need to grow your own sage, we've included a Resources about Sage section—so that you can easily find additional tools and information about sage.
Finally, our Sage Glossary section gives you the explanation of key sage-gardening terms and concepts—so, you're up to date about important sage-gardening ideas.
Check out this premium gardening guide now—The Ultimate Sage Guide—All You Need to Know About Growing, Harvesting, Cooking, and Healing with Aromatic Sage—and you'll really learn everything you need to know about sage!
Cate Prato, Norann Oleson, Victoria Arnold, and Samantha Pulcherz contributed to the creation of this gardening guide.