Pears are the least allergenic of all fruits. For people with allergies, pears can often be a safe fruit option
Pears are about 84% water—the other 16% is mostly carbohydrates and fiber. Pears contain a soluble fiber called pectin, which can support gut health as it nourishes gut bacteria.
Pears are a delicious, low-calorie, high-fiber snack. Here's the nutritional breakdown for one medium-sized pear (180 grams):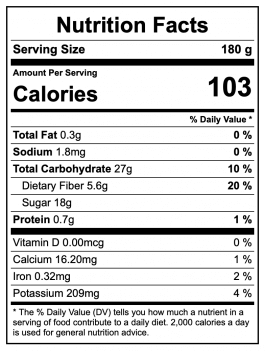 Pears make a great snack—especially if you pair them up with nuts or cheese.
The main plant compounds in pears are:
• Carotenoids, flavonoids, and anthocyanins. These compounds all act as antioxidants, working to fight free radicals and prevent cell damage.
• Pectin. This soluble fiber is good for gut health and helps you feel full.
Did you know all these nutrition facts about pears? Please tell us what you think.