You can never go wrong with pies. Not only are they a traditional, well-loved dish, but pies are probably one of the most versatile pastries you can make.  Simple pie recipes allow you to play around with so many delicious combinations and possibilities. Additionally, pies are always somewhat nostalgic and invoke a pleasant feeling — they make you think of home or those memorable childhood visits to grandma. Whenever I smell pies baking, I can't help but smile at those recollections!
When it comes to the best homemade pies, you have your choice of hundreds of filling options. You can explore and experiment as much as you want, and if you're ready to add a delicious recipe to that list, then try out this one for Grape and Pear Pie!
Grapes and pears have a lot in common when it comes to taste; both fruits are juicy, firm, and hold a distinct kind of sweetness with a subtle hint of tartness. When combined, these flavors take on a whole new level of sumptuousness that can make your pie even more mouthwatering and exquisite! Couple it with some finely shredded orange peel, and you have a dessert that can fill the stomach and the soul.
For this Grape and Pear Pie, you can either make your own pie crusts from scratch or use frozen unbaked pie crusts for a double-crust pie. I'd wholeheartedly recommend making 2 pies at a time because they are sure to go pretty fast. Enjoy this Grape and Pear Pie as a potluck party dessert or share it with some family and friends as a gift!
Print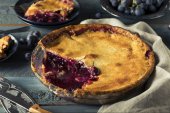 Grape and Pear Pie
Indulge in the taste of home when you satisfy your stomach and soul with this hearty Grape and Pear Pie!
Author:
Prep Time:

15 minutes

Cooling Time:

6 hours

Cook Time:

1 hour 15 minutes

Total Time:

7 hours 30 minutes

Yield: Serves

1

2

1

x
Category:

Bakery
Ingredients
2

rolled refrigerated unbaked piecrusts (or make your own pie crusts)

1/3 cup

all-purpose flour

1/4 cup

packed brown sugar

2

 tablespoons butter, melted

1

 teaspoon finely shredded orange peel

5

 cups seedless red or black grapes

2

 medium red pears, cored and sliced (

2 cups

)

1

 egg white
Instructions
Preheat oven to 375 degrees F.
For filling, in a large bowl stir together brown sugar, flour, melted butter, and orange peel. Add grapes and pears; toss.
Prepare pastry for double-crust pie. On a lightly floured surface, slightly flatten 1 ball of pastry. Roll dough from center to edges into 12-inch circle. Wrap pastry around rolling pin; unroll in 9-inch pie plate. Ease pastry into pie plate, being careful not to stretch. Trim even with rim of pie plate.
Pour filling into pastry.
Roll remaining dough into a circle about 12 inches in diameter. Cut slits in pastry to allow steam to escape. Place pastry on top of the filling; trim to 1/2 inch beyond edge of pie plate. Fold top pastry edge under bottom pastry. Crimp edge as desired. Place on baking sheet.
In small bowl combine egg white with 1 tablespoon water. Brush top of pie with egg white mixture. Cover edge of pie with foil. Bake 35 minutes; remove foil. Bake 35 to 40 minutes more, or until top of pastry is golden and steam is escaping from slits in top crust. Remove from oven. Cool 6 hours. Store, loosely covered, in refrigerator up to 24 hours.
Have you tried this recipe? It's so easy and delicious—please tell us how it turned out for you.
What's the most popular fruit in the world? If you guessed oranges, apples, or bananas, you'd be wrong—it's the fabulous grape! Because of its many uses (hello, wine!) and the number of countries that can grow grapes, the world totals some 72 million tons of grapes grown annually. In the Great Grapes Gardening Guide, you'll learn everything you need to grow this versatile fruit.