Getting kids — or even some adults — to eat veggies can be a bit of a challenge. But getting them to eat Brussels sprouts? Is such a miracle even possible? Why, yes it is! These Grilled Bacon and Brussels Sprout Kabobs are proof!
First, let's talk about grilled bacon. I'm sure you can already imagine its heavenly aroma wafting through the air. That alone will get the kids — and possibly even the neighbors — drawn toward your grill! But more than just having a divine aroma, grilled bacon is irresistibly delicious with its crispy texture and slightly singed sides. Grilling also cooks off the bacon's fat, reducing its greasy mouthfeel.
Now, I know Brussels sprouts aren't the first veggie that comes to mind when you think about grilling greens, but trust me when I say that this cooking method is a game-changer. Although Brussels sprouts don't have a stellar reputation among many eaters, grilling them actually brings out their naturally sweet and nutty flavors, made even more delicious with that hint of smokiness. Brushing them with some olive oil and dusting them with some garlic powder and salt makes them even more of a delight to eat.
After grilling, Brussels sprouts actually become quite tender, providing a nice contrast to the bacon's wonderfully crispy texture. This combination can come as a pleasant surprise, and it's even more surprising when you see your kids eagerly eating them all up!
To cap off your Grilled Bacon and Brussels Sprout Kabobs, drizzle them with balsamic glaze for that sweet-tangy combination that blends perfectly well with your smoked protein and veggies. You might want to grill a few more kabobs just to make sure there's enough for everybody!
Print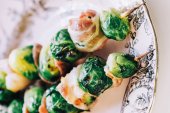 Grilled Bacon Brussels Sprout Kabobs
If you're wondering whether it's possible for kids to love Brussels sprouts, then these Grilled Bacon and Brussels Sprout Kabobs will definitely surprise you!
Author:
Prep Time:

15 minutes

Cook Time:

12 minutes

Total Time:

27 minutes

Yield:

6

1

x
Category:

Appetizers
Ingredients
1

pound peppered bacon, slices halved lengthwise

6

small wooden skewers, soaked in water for at least 3 hours

2

pounds small Brussels sprouts, trimmed
Olive oil to coat Brussels sprouts (about 1/4 cup)

1 teaspoon

garlic powder

1/4 teaspoon

salt
Balsamic glaze
Instructions
Preheat the grill to low heat (about 250 degrees F).
Thread 1 end of a slice of bacon onto the end of a skewer. Add a Brussels sprout and weave the bacon around the sprout and back through the skewer, creating an S-pattern. Repeat this process 2 or 3 more times per skewer, using the remaining bacon and Brussels sprouts. Brush each skewer with olive oil. Dust lightly with garlic powder and salt.
Place the skewers on the grill and cook until the sprouts are tender and the bacon is cooked through, about 6 minutes per side. Serve immediately with a drizzle of balsamic glaze.
Notes
You can purchase balsamic glaze at a grocery store.
Have you tried this recipe? How did it turn out for you?
Ready to grow your own Brussels sprouts? The Bountiful Brussels Sprout Guide: All You Need to Know About Growing, Harvesting, Cooking, and Eating Delicious Brussels Sprouts is packed with planting tips, specific plant profiles, recipes, nutrition and health information, and resources to help you be the best food gardener you can be.