When my girls and I visited Austin, Texas a while back for a vacation, I wasn't expecting a plate of Garlicky Summer Squash and Fresh Corn, even with their abundance of farm-to-table restaurants. The concept of farm-to-table is utterly enchanting, especially to a gardening enthusiast like me. I love growing my own produce and cooking up homemade meals, but sometimes you just want to splurge a little and try out a fancy restaurant. With farm-to-table, you know that you're getting fresh, locally-produced ingredients prepared in a way that honors and highlights their natural flavors, just like I would have done in my own kitchen.
You also never know what the menu is going to look like, which is half the fun!
The first restaurant we visited had this Garlicky Summer Squash and Fresh Corn as a side salad—and it was absolutely scrumptious. The unmistakable aroma of garlic, the tender mouthfeel of summer squash, and the slightly sweet crunch of corn is an absolutely award-winning combination.
When we got back, I immediately busied myself with recreating it. I daresay I've done a pretty good job with this Garlicky Summer Squash and Fresh Corn recipe! Corn, zucchini, and yellow squash, seasoned with onion, garlic, butter, fresh parsley, salt, and pepper—the savory explosion of flavor will have you clearing out the entire plate. It's best served warm, so don't worry about preparing it hours in advance. You just need 30 minutes before lunch or dinner to whip up this nutrition-packed salad. Using garden-fresh zucchini and summer squash is best for a recipe like this, so look forward to your next harvest!
Print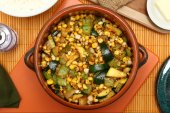 Garlicky Summer Squash and Fresh Corn
This Garlicky Summer Squash and Fresh Corn is the perfect combination of garlicky and buttery flavors to serve as a side salad.
Author:
Prep Time:

15 minutes

Cook Time:

15 minutes

Total Time:

30 minutes

Yield:

Serves 6

Category:

Sides & Sauces
Ingredients
2 tablespoons

olive oil

1/2

yellow onion, sliced

4

cloves garlic, minced

1/2 cup

vegetable broth

1

ear corn, kernels cut from cob

2 cups

sliced yellow squash

2 cups

sliced zucchini

1 tablespoon

chopped fresh parsley

2 tablespoons

butter

1

pinch salt and pepper to taste
Instructions
Heat the oil in a skillet over medium-high heat, and cook the onion and garlic until slightly tender. Mix in the vegetable broth and corn kernels, and cook until heated through. Mix in the squash and zucchini. Cover, and continue cooking 10 minutes, stirring occasionally, until squash and zucchini are tender.
Mix the parsley and butter into the skillet with the squash. Season with salt and pepper. Cook and stir until butter is melted, and serve hot.
Whether you've grown summer squash before, or you've only thought about trying it, you're bound to learn something from our Summer Squash Gardening Guide. Summer squash is fairly easy to grow, requiring little more than the usual water maintenance and pest and disease vigilance, but we can help you navigate everything from starting seeds, planting, transplanting, and dealing with pesky issues like powdery mildew, should it come up. Check out our Summer Squash Gardening Guide.
Have you tried this recipe? It's so easy and makes for a fun dish for your friends and family. Please tell us how it turned out for you.