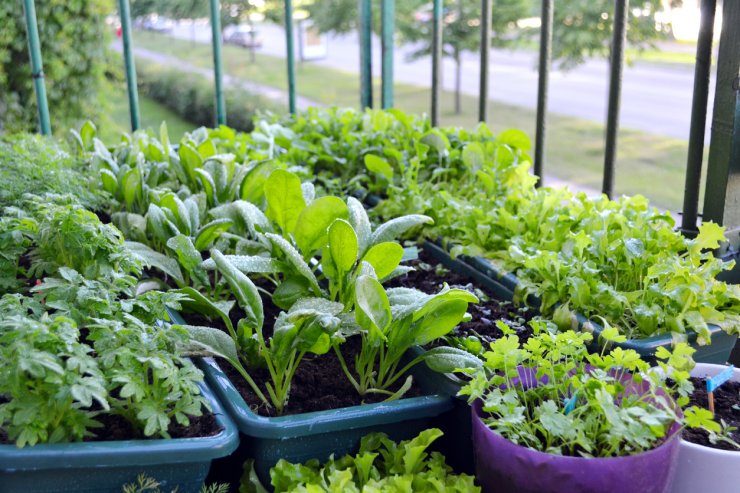 There's something magical about a balcony garden. I don't know if it's the act of bringing nature into such an unlikely environment or if it's the confidence that seems to come with growing vegetables two, three, or more stories off the ground, but I just adore them. I did discover a secret about these gardens, although it hasn't taken away the joy of them. If you plan it right, and use the easiest vegetables to grow on a balcony, success is all but guaranteed.
Unlike a traditional garden, or a container garden on ground level, you generally don't have as many options for moving things around, so it's important to be aware of how much or how little sun your balcony gets. And be sure to leave yourself space for a nice deck chair or two. There's not much that's better than sitting in your balcony garden, enjoying a cup of tea and reading your favorite book on a weekend afternoon!
The 5 easiest vegetables to grow in the sky
If you're thinking about a balcony garden, it's helpful to look at some of the easiest vegetables to grow in a container garden. Fortunately, that doesn't limit your choices as much as you might think. With large barrel planters and large clay pots, you can grow anything from tomatoes to beets to peas to beans to kale.
Another nice thing about growing your garden on a balcony is that it's rare that you'll have issues with most of the common garden pests. Not to say you won't have any issues, but it's unlikely you'll find wildlife chomping your greens. So what can you grow?
1. Herbs. Almost any herb is ideal for container gardening. Since they don't often get very tall, they don't require access to very deep soil. Basil, sage, oregano, thyme, and rosemary all work well in container gardens. Just be sure to separate them according to how much water and sunlight they need. Rosemary likes slightly drier soil and lots of sun, while basil prefers a little more water and appreciates some shade on hot afternoons.
2. Tomatoes. Many varieties of tomatoes can thrive in containers, especially cherry tomatoes and heirloom varieties like the "Black Krim." You will need a big pot for these, however, and it's best to stick with one tomato plant per pot, however, you can also add a couple of basil plants in the same pot, as they grow really well together.
3. Radishes. The good ole' radish is one of the easiest vegetables to grow on a balcony, in a pot, in a raised garden, in a traditional garden, or pretty much anywhere you want to grow something. Not only are they superbly easy to grow, but they grow quickly, going from seed to salad in about three weeks. Heirloom varieties like the Cherry Bell will grow to about six-inches tall.
4. Mustard Greens. These nutritious leafy greens are easy to grow and don't mind a little shade. They even do okay with a bit of a chill.
5. Okra. While many heirloom okra plants can grow up to five or six-feet tall, some dwarf varieties, like the Baby Bubba hybrid are great for containers and will top out around three feet. As long as okra has plenty of water and warmth, they're one of the easiest vegetables to grow, and it also happens to produce beautiful flowers.
Have you had luck with growing a garden on the balcony? Would you share your tips in the comments below?