As you probably already know, rosemary is a popular herb that is commonly used in cooking. It grows as a small bush with aromatic, evergreen leaves and blue, pink, purple, or white flowers. What you might not know is that its unique citrusy scent can breathe fresh life into your ordinary butter if you make Garlic-Rosemary Butter!
Garlic-Rosemary Butter is a more grown-up, gourmet version of your run-of-the-mill butter. Dropped on top of a hot grilled steak, or in the middle of your mashed potatoes, there's a good way to use it with just about every meal! If you're growing rosemary and garlic in your garden, then it's a no-brainer, you should have plenty of both to go around, especially at the end of the summer. Just grab some Irish butter like Kerrygold—my preference because it comes from grass-fed cows which makes it rich, velvety, AND healthier. In this recipe, the addition of acid from the lemon juice and some pepper also balances out the flavors of the herbed butter for a smooth finish.
Beyond a fresh steak and mashed potatoes, Garlic-Rosemary Butter is a luscious, versatile butter that can enhance chicken and salmon as well. Sweet potatoes? Perfect! You can also spread it on focaccia bread or baguette slices as a filling snack. You could even slather it over two open halves of Italian bread, throw on some cheese, and broil it in the oven for heavenly rosemary garlic bread and serve it alongside spaghetti and meatballs.
Want to save it for later? It's possible for you to enjoy the fruits of your labor for an extended period of time by keeping this infused butter in your freezer. The butter will keep in the refrigerator for up to two weeks or in the freezer for up to one month, though probably a bit longer.
It also makes a great gift! Make a batch for yourself, then make other batches for your family and friends. This fancy butter will serve as an unforgettable gift for the foodies in your life. I know if someone gave me a gift of this butter, I would be a very happy lady!
The recipe is also flexible, so you can add other herbs to your butter if you prefer. Feel free to adjust the portions of rosemary, garlic, and other ingredients to your personal preference. I love garlic, but you can halve it if you desire. Now on to the recipe—enjoy!
Print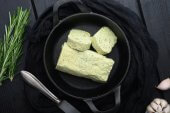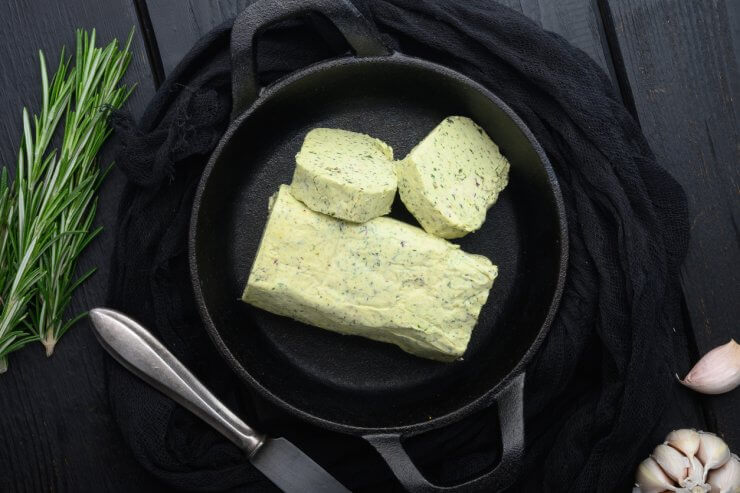 Garlic-Rosemary Butter
Garlic-Rosemary Butter is a wonderful way to use your rosemary in more than one dish. Keep the butter in the refrigerator or freezer so you'll have it on hand for savory recipes.
Author:
Prep Time:

30 minutes

Total Time:

30 minutes

Yield:

Serves 4

Category:

Sides & Sauces
Ingredients
4

large garlic cloves

1 tsp

kosher salt

1 teaspoon

fresh lemon juice

1/2 teaspoon

finely chopped fresh rosemary

8 tablespoons

Irish butter, softened overnight to room temp
Freshly ground black pepper
Instructions
Using a microplane or cheese grater, grate the garlic cloves and sprinkle with salt. Use a knife to crush the mix with salt and blend into a paste, making about 3 tsp garlic paste.
Put the garlic paste into a small bowl. Add the lemon juice and rosemary. Stir to combine.
Add the butter and mash together with a fork until completely incorporated. Season to taste with salt and pepper.
Use immediately or use parchment or wax paper to shape the garlic butter into a log, twisting the ends. Refrigerate until ready to use. The butter will keep in the refrigerator for up to 2 weeks or in the freezer for up to 1 month.
It's a hands-down favorite among herb gardeners and has been for centuries. It's even a topiary plant! With our Rosemary, the All-Purpose Herb Gardening Guide, you'll have everything you need to know about growing and enjoying this versatile plant.
Have you tried this recipe? It's so easy to make and handy to have in your refrigerator to use with breads and in recipes. Please tell us how it turned out for you.