The mere mention of Thanksgiving often evokes the image of a juicy, roasted turkey served at the dinner table in all its golden-brown glory. But did you know that the turkey wasn't originally the national symbol of Thanksgiving?
According to historical accounts, "fowl" was served during Thanksgiving, which meant that these dishes could have been made from various birds like ducks, swan, geese, cranes, and even eagles—not necessarily turkey alone. But thanks to American writer Sarah Josepha Hale and her 1872 novel Northwood, the turkey eventually found its place at the center of Thanksgiving dinner tables. In her book, she described the idyllic Thanksgiving table, with turkey as its star. For 17 years, Hale also aggressively lobbied for Thanksgiving to be recognized as a national holiday, which earned her the title of "the godmother of Thanksgiving."
Nowadays, most Americans celebrate Thanksgiving with the turkey as their culinary centerpiece. If you're looking for a tempting twist to an otherwise traditional meal, our Rosemary Roasted Turkey recipe can easily become an all-time favorite of the family.
Ideally, the perfect Thanksgiving turkey should be tender, moist, and full of flavor. This is where rosemary comes in handy, as its herbal tang and fine fragrance seep well into the turkey's skin and meat. The trick to this recipe is to be generous in spreading your rosemary mixture. By the time the turkey is done roasting, the aroma of rosemary will waft through from the kitchen, and the turkey's tender meat is ready to burst with this herb's piney flavor.
A great addition to your cooking repertoire, you don't need to wait for Thanksgiving to make this delicious Rosemary Roasted Turkey. But since it takes around five hours to perfect, make sure you reserve half a day for it. If you're fresh out of turkey, you can try this recipe out with other poultry as well!
Print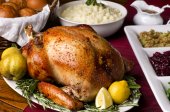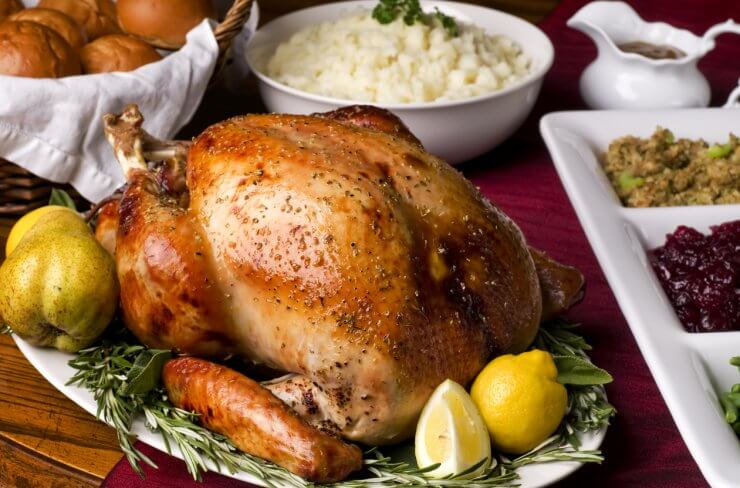 Rosemary Roasted Turkey
This is a unique way to serve turkey, but you can also use this recipe on all kinds of poultry, so it's a versatile addition to your cooking repertoire. Try Rosemary Roasted Turkey at your next Thanksgiving dinner!
Author:
Prep Time:

25 minutes

Cook Time:

4 hours

Total Time:

4 hours 25 minutes

Yield: Serves

1

6

1

x
Category:

Entrées
Ingredients
3/4 cup

olive oil

3 tablespoons

minced garlic

2 tablespoons

chopped fresh rosemary

1 tablespoon

chopped fresh basil

1 tablespoon

Italian seasoning

1 teaspoon

ground black pepper
Salt to taste

1

(12-pound) whole turkey
Instructions
Preheat oven to 325 degrees F.
In a small bowl, mix the olive oil, garlic, rosemary, basil, Italian seasoning, black pepper, and salt. Set aside.
Wash the turkey inside and out; pat dry. Remove any large fat deposits. Loosen the skin from the breast. This is done by slowly working your fingers between the breast and the skin. Work it loose to the end of the drumstick, being careful not to tear the skin.
Spread a generous amount of the rosemary mixture with your hand under the breast skin and down the thigh and leg. Rub the remainder of the rosemary mixture over the outside of the breast. Use toothpicks to seal skin over any exposed breast meat.
Place the turkey on a rack in a roasting pan. Add about 1/4 inch of water to the bottom of the pan. Roast in the preheated oven 3 to 4 hours, or until the internal temperature of the bird reaches 180 degrees F.
It's a hands-down favorite among herb gardeners and has been for centuries. It's even a topiary plant! With our Rosemary, the All-Purpose Herb Gardening Guide, you'll have everything you need to know about growing and enjoying this versatile plant.
Have you tried this recipe? It's a unique take on a traditional food. Please tell us how it turned out for you.