Growing rosemary from seed is, let's face it, a huge pain. The germination rate of rosemary seed is only 15 to 50%, so you'll have to plant way more than you want to get a good crop. Plus, seeds can take as much as two to three weeks to germinate, and the seedlings will be slow to grow. Because of the long germination period and low germination rate of seeds, your best bet might be to start growing rosemary from cuttings of established plants.
Rosemary grows in zones 7 to 10, but some cultivars can be grown in zone 6, and it's also an attractive house plant, so almost anyone can have fresh rosemary growing somewhere! It grows slowly in its first year or two, but upright varieties can reach a height of four to six feet with a spread of six to eight feet.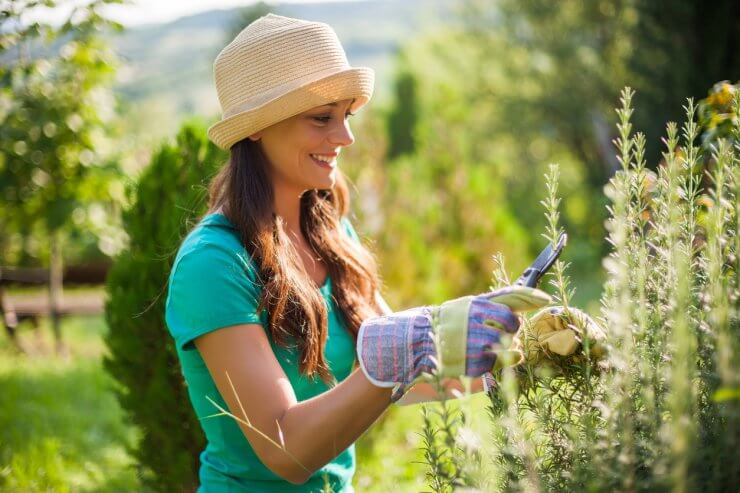 As a bonus, rosemary shows off clusters of tiny blue, white, pink, or mauve flowers in late winter through to spring, and even has a second lighter showing in late summer. The stems, with or without flowers, even add long-lasting fragrance and beauty to cut flower arrangements as well as swags and wreaths—it makes an excellent addition to Christmas arrangements.
If you want to start growing rosemary, it's highly suggested that you try growing rosemary from cuttings for yourself!
How to Start Growing Rosemary from Cuttings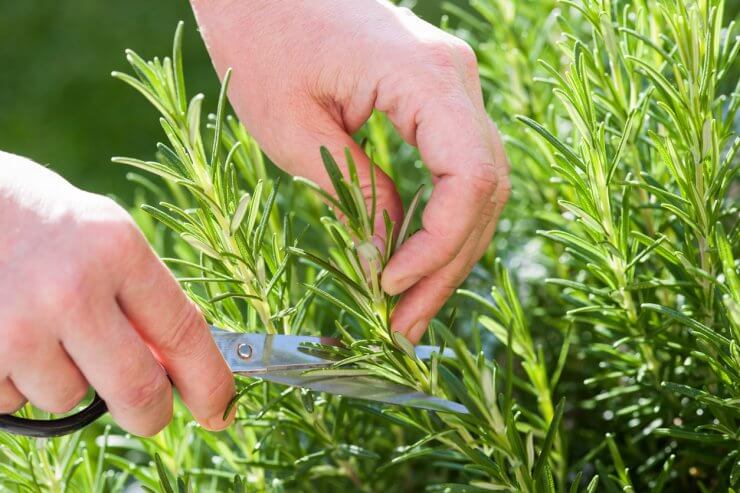 1. Clip a three-inch branch from the stem of the established plant, then trim off most of the lower leaves to 1 ½ inches up the stem.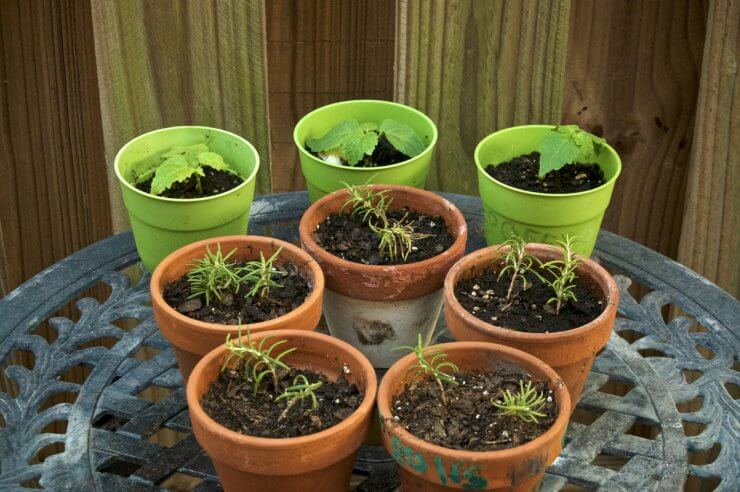 2a (option 1). After applying rooting hormone to the bottoms, plant one or two cuttings in a three- to six-inch pot, water, and place the pot in a windowsill with indirect sunlight and temperatures between 60˚ and 70˚.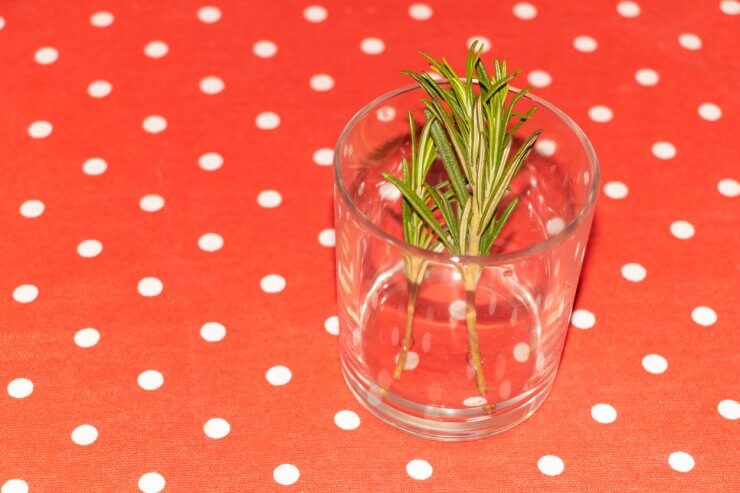 2b (option 2). If you don't have or don't want to use rooting hormones, you can simply place the branch, with most of the lower leaves removed, into a jar of water until roots emerge. Then, plant in soil, in a pot indoors.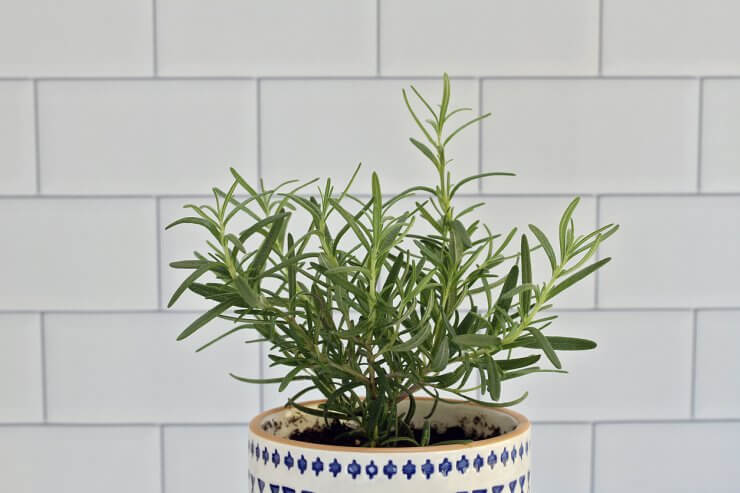 3. After potting, cuttings will grow quickly and be ready for outdoor planting in about eight weeks.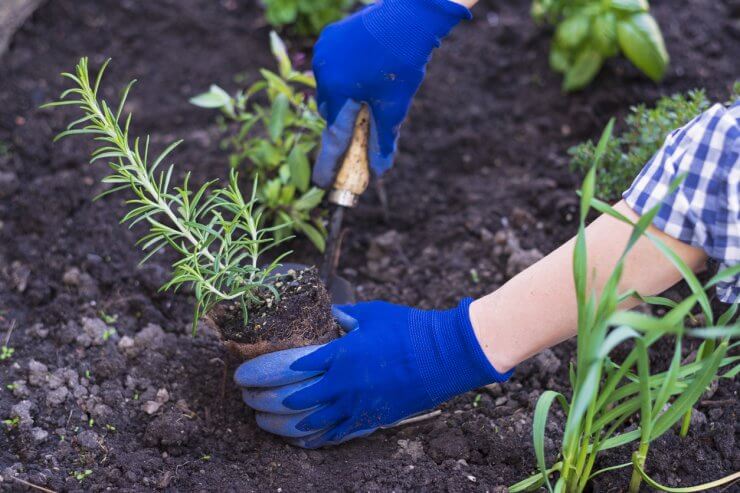 4. Transplant outdoors once all chance of frost has passed. Some gardeners keep these seedlings indoors for the first year, planting outdoors the following spring.
8 Tips for Growing Rosemary from Cuttings Once They're in the Ground
Once you've transplanted your new rosemary plants outside, they don't usually make a lot of fuss, but here are a few tips to help them thrive. You'll also find a ton more in our Rosemary, the All-Purpose Herb premium gardening guide.
Soil: If you have acidic soil, you'll want to add lime, as rosemary grows best in soil with a pH of about 6-7.
Water: Rosemary prefers dry conditions and can even be drought tolerant. For that reason, it's important not to overwater your rosemary, as that can cause root rot.
Sun: Rosemary plants thrive when they get lots of sunshine, at least six hours—and preferably eight—of full daily sun exposure.
Fertilizing: Rosemary is such a vigorous grower, it seldom needs fertilizer. But if growth is slow or stunted, or appears pale yellow, use fertilizer once in early spring before new growth begins.
Harvesting: Once a plant has grown to a suitable size, you can harvest several small branches without harming it. You can also harvest several times during a season, but the plants should be allowed to replace their growth between harvests. Pick stems in the morning after the dew dries and before afternoon heat sets in, for best flavor.
Pruning: Don't prune in the late autumn or winter when this tender perennial is hardening off to survive cold winter temperatures.
Disease: Rosemary largely resists disease, though powdery mildew can attack, especially on plants grown indoors when conditions are crowded or damp. Ensure that your plants are well-spaced with good air circulation and dispose of infected stems by tossing them into the trash. Avoid overwatering and keep the air dry.
Pests: Rosemary is also largely pest-resistant because its fragrant oils protect it from tiny predators. Some of the pests you might encounter are spider mites, mealybugs, scales, aphids, or spittlebugs.
Rosemary is a hands-down favorite among herb gardeners and has been for centuries. Growing rosemary from cuttings is so easy, everyone should be doing it! But what comes next? With the Rosemary, the All-Purpose Herb premium gardening guide, you'll have everything you need to know about growing and enjoying this versatile plant. Starting with the history and background of the ancient rosemary plant to hands-on advice on growing it … from propagation techniques to watering (or not) … from easy-to-make, delicious recipes to the nutritional benefits of rosemary and its popular essential oil—get it all in the Rosemary, the All-Purpose Herb gardening guide right now!