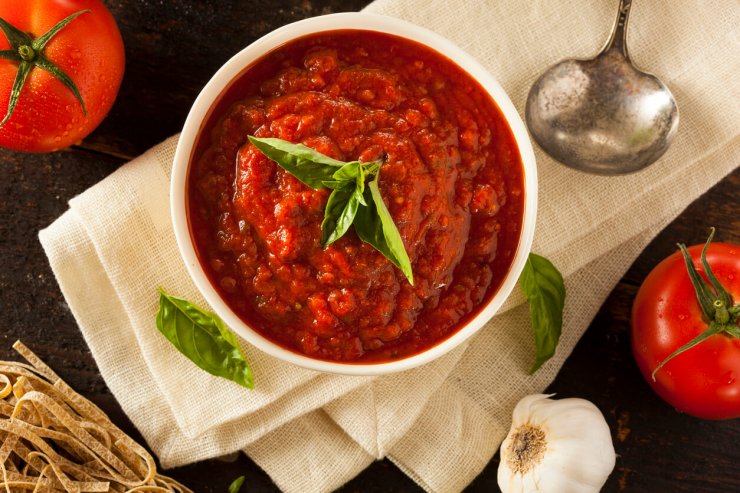 For me, it is very important that I am canning and jarring tomato sauce all summer long. I think my grandmother Philomena, who was a full-blooded 4'8″ Italian granny who loved to garden, would be proud. And she absolutely loved this Roasted Tomato Sauce!
Having sauce like this on hand, I can always whip up a quick pasta dish or pizza when I'm hungry but don't have much time to cook. What I love about Roasted Tomato Sauce is that not only does it add great flavor to quick weeknight pizzas, but it can be used as a base for stews and soups too!
An Italian classic, you can use this Roasted Tomato Sauce recipe to season pasta dishes and dress up meat and fish. This recipe is so easy — there is no need for long cooking times or pre-soaking of the tomatoes. The secret to this delicious roasted tomato sauce is in the roasting process itself. That means even if you're not canning, you can just pop some fresh tomatoes off the vine and make it in an instant!
Tomatoes are filled with natural sugars, so when they are roasted, they caramelize and develop an intense flavor as they thicken into a sauce that will coat whatever you serve it with.
Roasted Tomato Sauce is a beautiful, rich, and intensely flavored sauce that's perfect for all kinds of Italian cuisine. This sauce is versatile but can be used for many Italian dishes. It will keep frozen for about three months and canned for at least a year.
Cooking your food instead of buying processed stuff from the store is much healthier and cheaper than ready-made foods — not to mention tastier! This roasted tomato sauce recipe is no different; easy peasy to make, it will definitely outperform any ready-made sauce in the supermarket aisles — and it's much healthier because you know what's going inside your sauce!
Print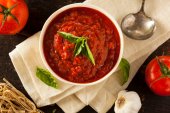 Roasted Tomato Sauce
Why buy tomato sauce in a jar when you can make your own roasted tomato sauce with your garden-fresh tomatoes! When this is cooking, your house will fill with the aroma of an Italian kitchen.
Author:
Prep Time:

10 minutes

Cooling Time:

1 hour

Cook Time:

1 hour

Total Time:

2 hours 10 minutes

Yield:

Serves 8

Category:

Sides & Sauces
Ingredients
2

pounds Roma (or Plum) tomatoes, quartered

1

whole yellow onion, chopped

1

whole garlic clove, chopped

1 teaspoon

sea salt

1/2 teaspoon

freshly ground black pepper

1/2 cup

olive oil

1 cup

fresh chopped basil

1/2 teaspoon

red pepper flakes

1/2 teaspoon

dry oregano

1

bay leaf
Instructions
Remove ends of tomatoes before quartering.
Combine tomatoes, onion, and garlic in a large glass baking dish.
Sprinkle with salt and pepper and stir to combine.
Pour olive oil over tomatoes and stir to mix.
Add basil, red pepper flakes, and oregano. Stir to combine.
Add bay leaf in the center of the mixture.
Place baking dish in 450-degree pre-heated oven for 1 hour, stirring occasionally.
When done, let dish cool for 1 hour.
When cooled, remove bay leaf and discard.
For a chunkier sauce, mash mixture with a potato masher to desired consistency.
For smoother sauce, transfer mixture to a food processor and puree.
Transfer sauce to a sealable container and refrigerate or freeze until ready to use.
Tomatoes are the most popular plant for home gardeners! With The Everything Tomato Gardening Guide, you'll have everything you need to know about growing and enjoying this versatile food, from the history and background of the mighty tomato to specific advice on growing, harvesting, and enjoying your hard work! Check it out now.
Have you tried this recipe? It's so easy and should be a staple in your house—please tell us how it turned out for you.