Do you love salsa? If so, you're definitely not alone. This delicious Mexican dish is enjoyed by millions of people all around the world. And if you're looking to make the best salsa possible, it's important to use the right ingredients. In this article, we will discuss the best types of tomatoes for salsa and provide a recipe for classic tomato salsa. Tomatoes are the foundation of any good salsa, so it's important to pick the right type!
1. Roma tomatoes. Roma tomatoes are a great choice for salsas because they have firm flesh and lower water content than other types of tomatoes. This makes them ideal for creating the thick texture that is necessary for a good salsa. Roma tomatoes are also full of flavor, which will add a lot of depth to your salsa.
2. Cherry tomatoes. Cherry tomatoes are also an excellent choice for salsas. These small, sweet fruits have thick flesh and intense flavors that make them perfect for mixing with other ingredients in a salsa. Plus, their small size makes them easier to dice and prepare.
3. Heirloom tomatoes. Heirloom tomatoes are a great choice for salsa because of their rich, complex flavor. Heirlooms come in a variety of colors, shapes, and sizes, so you can experiment with different varieties to discover which ones work best for your recipe.
4. Green tomatoes. Green tomatoes are a unique option for salsa that many people love. They have a bright, acidic flavor that can add an interesting element to your recipe. Plus, their firmer texture makes them ideal for creating the perfect salsa consistency. Make sure to choose green tomatoes that are starting to turn color, or they will be bitter. Seriously hard underripe green tomatoes also contain high numbers of solanine, which can be toxic in large amounts, so stick to the almost-ripening types.
5. Tomatillos. Tomatillos are a tangy cousin of the tomato that can be used in salsas. They have a tart, citrus-like flavor and their firm flesh makes them great for blending. Try using them instead of tomatoes in your salsa to add an extra zesty kick.
Now that you know what types of tomatoes to use for salsa, let's take a look at how to make a classic tomato salsa. Here are some of the basic ingredients to make a great salsa:
Cilantro. Cilantro is a key ingredient in salsa, as it contributes a bright, fresh flavor that balances out the other flavors in the dish. If you don't like cilantro, you can substitute another herb, such as parsley.
Onions. Red onions are a good choice for salsa because they have a strong flavor that will stand out against the other ingredients. White onions are also a good option, but they tend to be milder in flavor. Experiment with different types of onions to find the ones that you like best. Rinse your chopped onions with water before adding them to the salsa for a more pleasant taste.
Salt. Salt is an important ingredient in salsa, as it contributes a savory flavor that balances out the other ingredients in the dish. Without it, your salsa will be bland and unappetizing. Be sure to add salt to taste, as all salsas will vary in saltiness.
Cumin. Cumin is a spice that contributes a warm, peppery flavor to salsa. It is often used in Mexican and Tex-Mex cuisine, and it pairs well with tomatoes and other vegetables. If you like spicy food, you can add more cumin to your salsa for a bolder flavor.
Jalapeño. The jalapeño pepper is a spicy hot pepper that is used in most salsa recipes. It adds heat and flavor to the dish, and it can be adjusted to taste. If you don't like spicy food, you can omit the jalapeño from your salsa recipe.
This fresh salsa recipe below is easy to make and has a delicious sweet and spicy flavor. It goes great with chips, tacos, burritos, fajitas, or any Mexican-style meal. You can also use it as a topping for enchiladas or add it to your eggs in the morning instead of ketchup. Two words for this recipe—fresh and delicious!
Print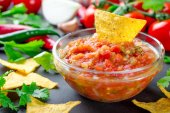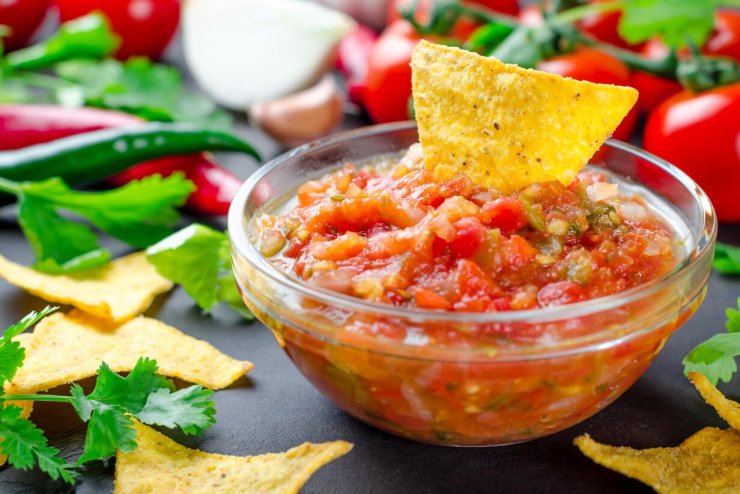 Tomato Salsa
This fresh tomato salsa recipe always wins, from dipping chips, to topping tacos to marinating chicken and everything in between.
Author:
Prep Time:

15 minutes

Chilling Time:

1 hour

Total Time:

1 hour 15 minutes

Yield: Serves

1

2

1

x
Category:

Sides & Sauces
Ingredients
2 cups

Roma (or Plum) tomatoes, chopped

1/4 cup

chopped red onion

1/4 cup

chopped yellow onion

1/4

fresh jalapeño pepper, seeded and finely minced

2 tablespoons

fresh-squeezed lime juice

2 tablespoons

chopped fresh cilantro

2

cloves garlic, peeled and minced

1 teaspoon

ground cumin

1/4 teaspoon

sea salt
Instructions
Combine tomatoes, red onion, yellow onion, jalapeño pepper, lime juice, cilantro, garlic, cumin, and salt in a food processor.
Pulse the processor until mixture is only slightly combined, yet remains chunky.
Transfer entire mixture to a bowl, cover with plastic wrap, and refrigerate at least 1 hour.
Notes
Allow 1 hour to refrigerate before serving.
Tomatoes are the most popular plant for home gardeners! With The Everything Tomato Gardening Guide, you'll have everything you need to know about growing and enjoying this versatile food, from the history and background of the mighty tomato to specific advice on growing, harvesting, and enjoying your hard work! Check it out now.
What types of tomatoes do you like to use? What do you consider the best tomatoes for salsa?