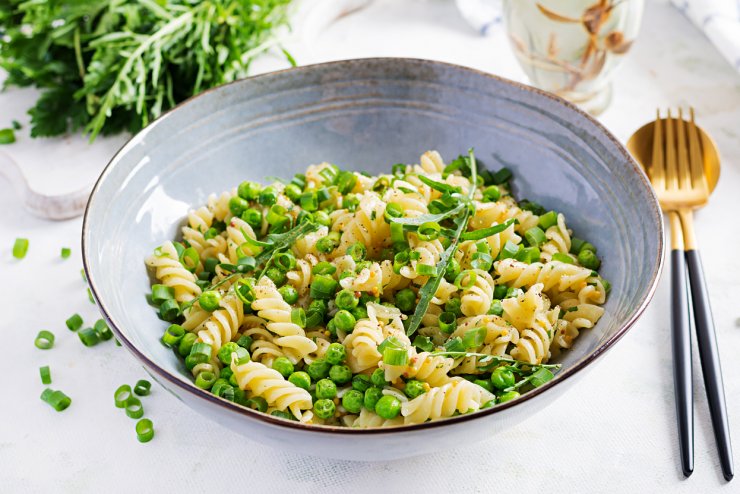 I absolutely love pasta, and so do my daughters. It's one of the meals they look forward to whenever they come home for vacations or the holidays. The great thing about pasta is that there's so much you can do with it. Simple or elaborate, it's going to be a different experience every time.
If you ever find yourself scrambling for a quick bowl of pasta, then this pasta with peas recipe can save the day! The subtle sweetness of English peas mixes well with the starchiness of pasta. You'll want to be able to scoop the peas with the pasta so avoid using long noodles. The best partners would be short-shaped pasta, like shells, elbows, fusilli, and the like.
Staples like onions, olive oil, and parmesan cheese give this recipe that classic pasta flavor. You can cook the pasta the ordinary way with water, but I personally prefer using vegetable broth. This enhances the pasta's taste with its mild mix of salty and veggie-sweet undertones that perfectly complement all the other ingredients.
Avoid the rookie mistake of putting the pasta in before the water or broth comes to a boil! Doing so will definitely make your pasta soggy. For this pasta with peas recipe, you'll want your pasta to be "al dente," or cooked but still firm to the bite. Also, it's important to keep stirring the pasta while it cooks so it doesn't stick to the bottom.
Once the pasta is cooked and you're done mixing it in a bowl, serve your pasta with peas while it's still hot! Pasta isn't a dish that should be made to wait. Besides, I doubt that whoever's eating will be able to wait either!
Print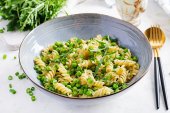 Peas with Pasta
When your garden is overflowing with peas, turn to this savory dish of peas with pasta for a quick and hearty meal. Add a side salad, and you have a quick and delicious weeknight dinner.
Author:
Prep Time:

5 minutes

Cook Time:

10 minutes

Total Time:

15 minutes

Yield:

Serves 4

Category:

Entrées
Ingredients
1

pound English peas, fresh or frozen

1/2

pound short shaped pasta, such as shells or elbows

1/2 cup

grated parmesan cheese, plus more for serving

2 cups

vegetable broth or water, or more if needed

1

small onion, diced

1 tablespoon

olive oil, plus more for drizzling
Salt and pepper to taste
Instructions
Warm the olive oil in a large pot over medium heat. Add the diced onion and cook until the onion has softened and is turning translucent, about 5 minutes.
Add the peas and cook stirring frequently about 1 minute.
Add vegetable broth (or water), raise the heat, bring to a boil, and stir in pasta and salt (about 1 teaspoon).
Reduce the heat, cover the pot with a lid, and cook your pasta in the starchy water. The liquid should just cover the pasta. Stir frequently during cooking to keep the pasta from sticking to the bottom and add a little more liquid if needed.
Cook until the liquid is absorbed and the pasta is cooked, but still firm to the bite. Turn off the heat and stir in the cheese until melted. Taste and adjust the seasoning. Serve with extra parmesan on the side and freshly ground black pepper.
Have you tried this recipe? It's so easy and filling—please tell us how it turned out for you.