I love peas. Peas are like the candy of the garden. Fresh from the pod they are sweet little early spring treats. Or they can be late-season treats when the rest of your garden is finishing up for the season. That's one of the nice things about peas–they grow relatively quickly and they tolerate cool weather just fine, so you can usually get two plantings in if you want. But what is the best way to plant peas?
Lucky for us, peas are eager to please—they are among the easiest crops to grow. Most varieties just need water, a bit of fertilizer, and something to climb on. That means you can grow them in the garden, in a raised bed, or in a container on your patio or balcony. 
As with most vegetables, though, there's the question of starting your peas from seeds or seedlings. Although you might be tempted to go with seedlings, pea plants do better if you sow the seeds directly into the ground. Why? Because young pea plants are very fragile—they often don't survive the transplanting process. Of course, peas are also cool weather plants, so they aren't super fragile; a late frost or light snow won't bother them. 
Aside from that, however, what's the best way to grow peas if you're deciding between a raised bed or containers? They both have advantages. With a raised bed:
You can control drainage better.

Raised beds work well in conjunction with cold frames, making a sweet spot for your peas to grow.

Raised beds often have more nutrient-rich soil (as compared to containers)

You can expect a higher yield (as compared to containers)
If you decide to grow peas in a container garden, here are some of the advantages:
You can move the containers to give your peas optimal sunlight.

You're less likely to encounter weeds that could damage pea roots.

You still get the enjoyment of garden-fresh peas even if the yield is slightly lower.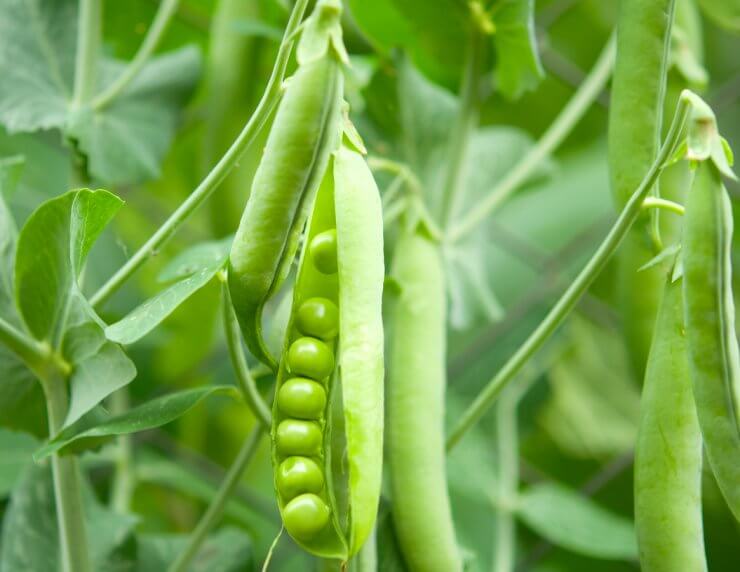 The best way to grow peas successfully? Give them what they need
Once you determine the best way to grow peas in your space, it's time to make sure they get the water and sunlight they need. 
Pea plants can tolerate shade, but they will grow faster and more abundantly if they get at least six hours of full daily sun exposure. What's more, full sunlight decreases the chance for pea-prone diseases, including powdery mildew, to develop. 
Peas aren't too needy when it comes to water. One deep watering a week is better for your pea plants than frequent light watering. But once the plants are blossoming and producing pods, never allow the soil to dry out or you'll stunt pea production. When pods are maturing in hot weather, you may need to water daily. 
Planning your garden and determining the best peas to grow
Peas come in three main types: English, snow peas, and sugar snap, which are then divided into tall and dwarf classifications. Then we get into different varieties and the choices are seemingly endless. There are dozens upon dozens of varieties of heirloom and hybrid peas to choose from. 
In The Easy Peasy Guide to Growing Pea Plants, we feature six popular varieties, but I wanted to share a few of them with you here. 
Wando Peas. Wando peas are a popular English-style pea because they can be planted early in the cold, but also produce well in warm weather. This season-stretching pea variety can provide fruit in the summer, fall, and—in USDA Plant Hardiness Zones 9 to 11—in winter. 
Sugar Ann Peas. These sweet, crispy peas are ready to eat, pod and all, in 56 days from seed to table. They're so crunchy and sweet, you may have trouble getting the whole harvest into the kitchen before kids and adults eat them straight off the vine.
Snowbird Peas. Fast-growing, crisp and sweet, this dwarf snow pea plant is easy to grow. Plant them in early spring and in 58 days you'll have a generous amount of clusters to eat whole, right off the vine.
And if you aren't sure what to do with all those peas, don't forget about the amazing recipes in this gardening guide. One of my favorites is the recipe for Garlic Parmesan Sugar Snap Peas. It might just be the best snack I've ever had! You get the health benefits of the protein and fiber in the peas, but you also get that nice crunch that makes a snack so fulfilling. It only takes about 5 minutes to put together and it is so, so delightful.
If you liked this article on peas, we have a whole gardening guide that you will love. With The Easy Peasy Guide to Growing Pea Plants, you'll have everything you need to know about growing and enjoying this cool-season favorite. From the origins of one of the oldest cultivated crops in the world to specific advice about soil requirements and sunlight … from watering techniques to tips about avoiding diseases … from easy-to-make and delicious recipes that will allow you to enjoy this flavorful vegetable to the nutritional and health benefits of peas—get it all in our Pea Gardening Guide right now!