Peas are packed with protein and dietary fiber. These green legumes are low in calories and fat per serving, but high in iron and potassium. Peas have no cholesterol and are loaded with vitamins A, B-1, B-6, C, and a supersized serving of K, which helps fight osteoporosis and helps blood to clot.
Here is the nutrition information for a 100-gram (about 1/2 cup) serving of raw peas:
Nutritional Facts: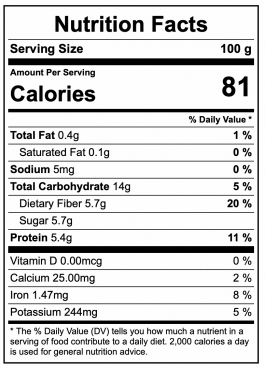 The main plant compounds in peas are:
Saponins: A naturally occurring glycoside, saponins may help reduce cholesterol levels, strengthen the immune system, treat diabetes, and inhibit tumor growth. They also improve lipid metabolism and may help prevent and treat obesity.
Flavonols: An antioxidant associated with reduced risk of vascular disease.
Carotenoids: A beneficial antioxidant that can protect you from disease and enhance your immune system. Provitamin A carotenoids can be converted into vitamin A, which is essential for growth, immune system function, and eye health.
Did you know all these nutrition facts about peas? Please tell us what you think.