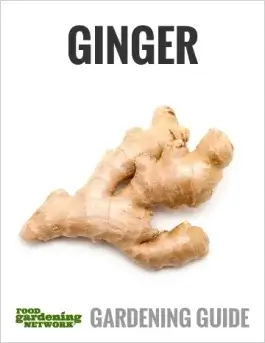 In this month's Food Gardening Magazine, you get everything you need to know about growing ginger root at home—so you always have that fresh, zesty taste on hand! You can pickle it, powder it, candy it, even simmer it for an invigorating cup of tea! Follow our tips on ginger plant care and prepare for a delicious harvest!
Get all the tips, techniques, and advice about how to start growing ginger with confidence and develop the skills you need for knowing when to harvest ginger for optimal taste and satisfaction. We cover the best approaches for growing ginger root indoors or out, depending on where you garden.
Plus, you get specific advice about growing ginger in the garden, growing ginger indoors, and how to harvest ginger to get the most out of your developing ginger rhizomes. We'll discuss the best ginger to plant depending on your gardening situation, and you get tips for propagating ginger from cuttings. You may never buy ginger in a store again!
This gardening guide about ginger is your #1 guide for being the best ginger gardener you can be! You should refer to this gardening guide whenever you have questions about your ginger garden—from planning to planting and from maintaining and nurturing to harvesting and reaping the rewards in your kitchen.
First, you get a complete Introduction to Ginger—including the history and background of this aromatic rhizome (not really a root, but the name stuck). Learn how easy it can be to grow your own ginger—under the right conditions. And find out why not all things named "ginger" will fit the bill when it comes to cooking—some "ginger" plants are toxic! Get the history of ginger's healing power that reaches back thousands of years. Plus, the techniques early traders used to preserve their ginger as they traveled.
Then, you get Feature Articles about Ginger that include:
Next, this premium gardening guide highlights four popular ginger varieties to help you choose the varieties you want to grow—this is just a sampling of the many varieties available:
And all your ginger-gardening efforts are made more satisfying when you have quick and easy-to-make recipes, to ensure your harvest is enjoyed by everyone you serve at your home. Food Gardening Network is all about providing delicious recipes for making yummy dishes. Try these recipes and enjoy your ginger harvest:
Next, you'll learn all about the health benefits of ginger with Nutrition Facts about Ginger and Home Remedies & Health Benefits of Ginger. Learn about all the wonderful and beneficial attributes of ginger—and how you can use ginger to boost your overall health.
And to be sure you have everything you need to grow your own ginger, we've included a Resources about Ginger section—so that you can easily find additional tools and information about ginger.
Finally, our Ginger Glossary section gives you the explanation of key ginger-gardening terms and concepts—so, you're never in the dark or confused about important ginger-gardening ideas.
Check out this premium gardening guide now—The Zesty Ginger Guide—All You Need to Know About Growing, Harvesting, Cooking, and Eating Delicious Ginger—and you'll really learn everything you need to know about ginger!
Laura Logan, Norann Oleson, Victoria Arnold, and Samantha Pulcherz contributed to the creation of this gardening guide.