The water content of ginger is around 79%—the rest is mostly carbohydrates with a little bit of fat and protein. For as sweet as it can sometimes be, it has a very low sugar count.
It's not just one thing that makes ginger particularly attractive. This is a case of the whole being greater than the sum of its parts. On the measurable nutrient scale, ginger provides one percent of the recommended daily allowance of copper; it is also a good source of magnesium, potassium, vitamin B6, vitamin C, folate, niacin, and phosphorous.
Here is the nutrition information for a small (2-gram) piece of raw ginger, about a teaspoon: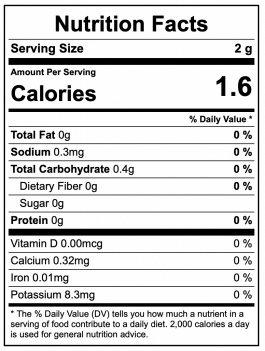 Researchers have identified more than 100 chemical components in fresh and powdered ginger; the most important elements are gingerols and their composites.
When gingerols are cooked or dried, they transform into many bioactive compounds. These compounds have beneficial antioxidant, anti-inflammatory, and anti-carcinogenic properties. Researchers continue to study ginger and its beneficial properties in an effort to determine the ideal dosage of fresh or dried ginger rhizomes; one study suggested that 250 milligrams to 4.8 grams of ginger a day could be beneficial. As with any herbal treatment, talk to your doctor before deciding to incorporate any new treatment into your health care regimen.
Did you know all these nutrition facts about ginger? Please tell us what you think.