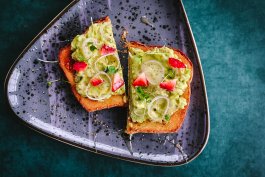 In our house we call this "heaven on bread" because it is just so delicious, and in fact I came up with it originally to trick my daughter into trying avocado toast because she loves strawberries so much. Plus, you can pair it with some strawberry soda for bonus points!
In our house, we try to reduce processed foods as much as possible, which includes bread. In fact until we had our daughter, we hadn't owned a toaster for eight years. But with toddlers, come adjustments and doing your best to get them to eat…anything.
That's why avocado toast is so great, because you are packing so much into one slice, that it's a full serving all on its own. Instead of having two boring pieces of toast for breakfast, you can have one slice topped with this most luscious combo of flavors, with enough fats in the avocado to satiate you.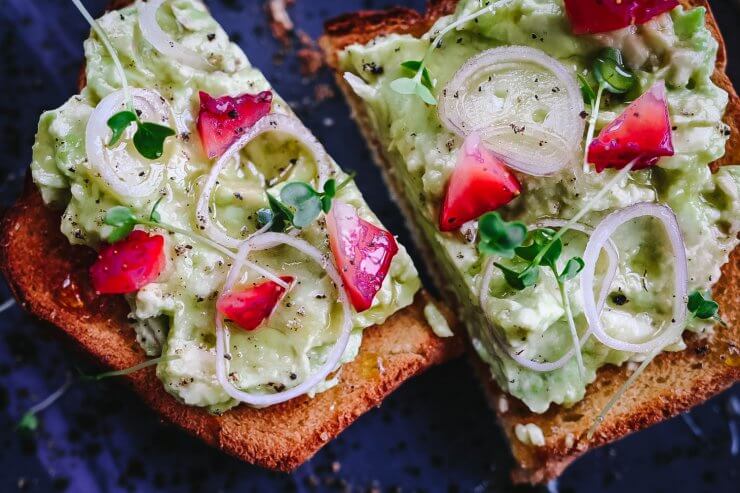 Most people don't think of combining strawberries and avocado on toast, but it's not as weird as it sounds, and with the honey, it's almost like dessert! In fact, with this trio of strawberries, avocado and shallots, you won't know if it's for breakfast, lunch, dinner, or all three! What you may know, is that you'll want a second helping.
Nutritious avocado brings healthy fats to the table, while fresh strawberries and raw honey bring the sweet antioxidants. If you grow microgreens, this is the perfect opportunity to use them.
Print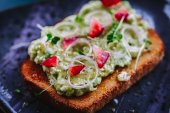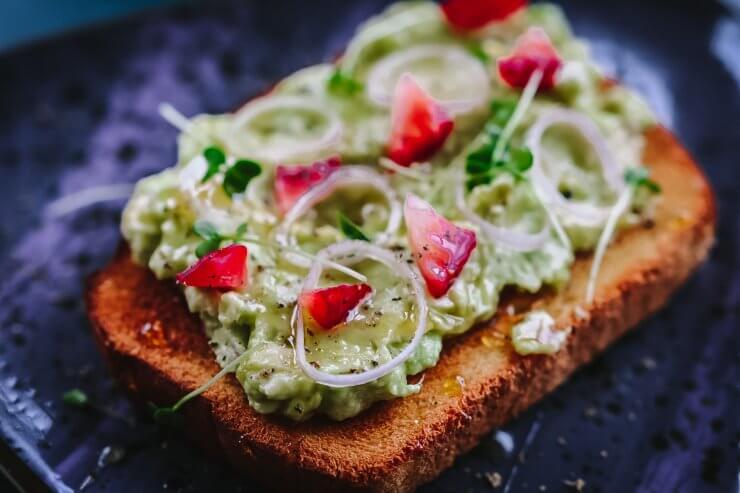 Strawberry Avocado Toast
Enjoy this Strawberry Avocado Toast, with drizzled honey, crisp shallots, and fresh-picked microgreens. It's truly delish!
Author:
Prep Time:

10 minutes

Total Time:

10 minutes

Yield:

Serves 2

Category:

Breakfast
Ingredients
2

slices of thick sandwich bread, toasted

2 teaspoons

raw honey

1

ripe avocado

1 teaspoon

lime juice

1

strawberry, chopped into

1/4

-inch pieces

1 teaspoon

finely sliced shallot
Optional: A pinch of fresh-cut microgreens
Instructions
Toast your bread slices, then use half the honey and smooth a light layer across both pieces of toast.

While the bread is toasting, remove meat from the avocado, and mix with lime juice in a small bowl, using a fork to mash, not whip, then top finished toast generously in a thick even layer.

Sprinkle with strawberry pieces and shallot slices, then drizzle with remaining honey. Top with fresh microgreens and a crank of fresh black pepper, then cut into halves, and enjoy!
Do You Love Strawberries?
Strawberries are among the most popular home crops, growing everywhere from hanging pots to open land gardens. With our Sweet! The All-Strawberry Guide, you can get all the details that go into raising delicious, sweet berries of your own. We've got everything from the history of strawberries to planting to winterizing and, of course, eating. You'll want to check out our recipes for:
These recipes make it all the more rewarding to grow your own strawberries. Finally, you'll get nutritional benefits and some sweet home beauty remedies using this remarkable crimson berry. Get it all in our Sweet! The All-Strawberry Guide Gardening Guide right now.
If you try my recipe for strawberry avocado toast, I'd love to hear what you think. It's a favorite in our house!