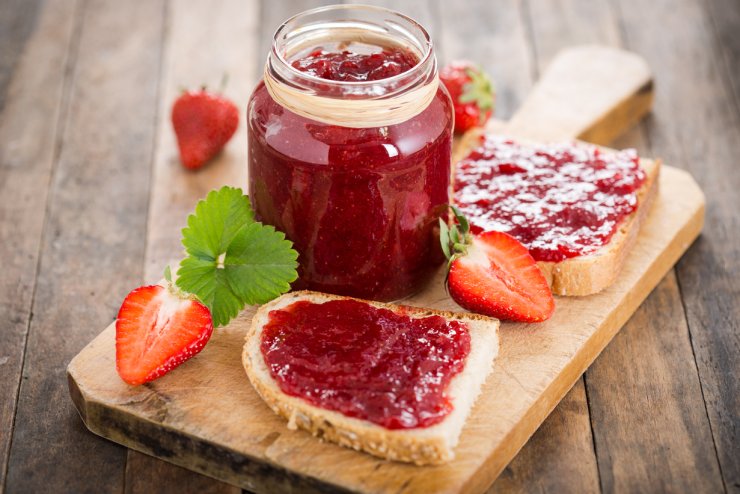 Is it just me, or does store-bought Strawberry Jam just taste weird, somehow? I never liked it as a kid and I still don't like it now. Every few years, I see a jar on the shelf of my local grocery and I think, surely this jar will be different from the other ones I've had in the past. What's the harm in trying?
So, I go home with my jar of store-bought jam, gung-ho about spreading it on a slice of fluffy bread — only to struggle with finishing the jar. The task of making sure it doesn't go to waste usually falls on my eldest daughter, who doesn't mind the taste and actually enjoys pairing it with soda crackers.
When it comes to jam, I can only truly endorse the homemade stuff. Pardon the pun — homemade Strawberry Jam is my jam. Growing my own strawberries means that I can ensure I'm using fruit that's fresh, juicy, and, most importantly, real, with no artificial flavoring necessary.
Having total control over the sweetness is also a huge plus. It's so easy to prepare, too. Years ago, way back in my childhood, I remember reading a picture book about the daily life of a girl living on a farm. The depictions of her tasks around the farm were rather charming, but the one that stuck with me the most is when she took their harvest of strawberries, sugar, and some lemon juice, stuck it in a pot, boiled and stirred until, voilà — jam. I remember thinking, wow, it's that easy? Turns out it is! If you've got a whole bunch of strawberries you have no idea what to do with, try making your own homemade jam today!
Print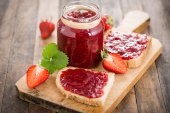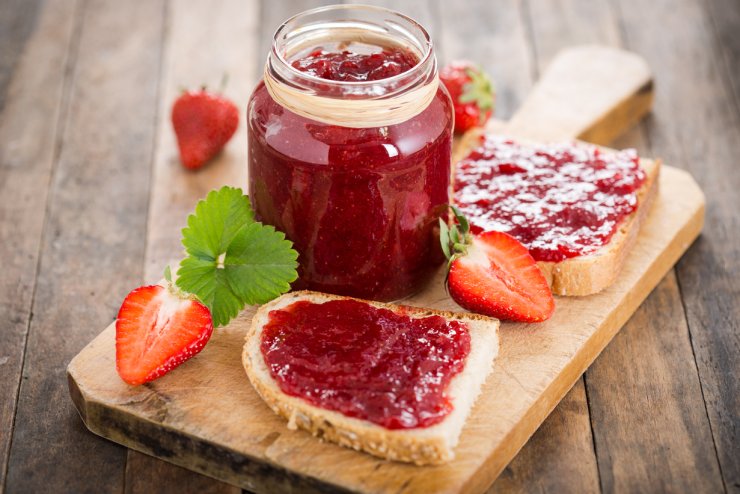 Strawberry Jam
Sweet and spreadable and absolutely delicious, this Strawberry Jam is easy to make and even easier to snack on.
Author:
Prep Time:

20 minutes

Cook Time:

20 minutes

Total Time:

40 minutes

Yield:

5 cups

1

x
Category:

Breakfast
Ingredients
2

pounds fresh strawberries, hulled

4 cups

white sugar

1/4 cup

lemon juice
Instructions
In a wide bowl, crush strawberries in batches until you have 4 cups of mashed berry. In a heavy bottomed saucepan, mix together the strawberries, sugar, and lemon juice.
Stir over low heat until the sugar is dissolved. Increase heat to high and bring the mixture to a full rolling boil.
Boil, stirring often, until the mixture reaches 220 degrees F.
Transfer to hot sterile jars, leaving 1/4 to 1/2 inch headspace, and seal. Process in a water bath. If the jam is going to be eaten right away, don't bother with processing, and just refrigerate.
Ah! The sweet world of strawberries! With our Strawberry Collection, you'll have everything you need to know about growing and enjoying this wonderful fruit. From the history and background of the sweet strawberry to specific advice about soil requirements and fertilizer … from watering techniques to details about avoiding diseases … from easy-to-make and delicious recipes that will allow you to enjoy the fruits of your gardening labor to the nutritional benefits of strawberries—get it all in our Strawberry Collection right now!
Have you tried this recipe? It makes breakfast a standout with any bread, muffin, or biscuit—please tell us how it turned out for you.