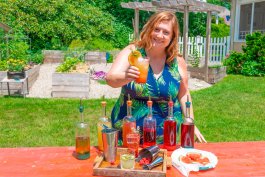 There was no small push by our team to delve into the wild world of "garden-to-glass" cocktails. Can you blame them?
After all, fennel-infused cocktails are all the rage now, so you can always make fennel simple syrup. For those who love ginger, a ginger simple syrup sounds great too! For these recipes, I went with less niche flavors and decided to focus on the crops that we always seem to have plenty of, if we're growing them ourselves. You know the ones – those where we have to ask "what the heck am I going to do with all of these?!" Crops like cucumbers, blackberries, citrus, and more. I used a half-gallon mason jar for all of them, and all of the alcoholic spirits spent time in a dark cupboard for two weeks. I figured consistency was key if you feel so ambitious to try making all three of these garden-to-glass cocktails!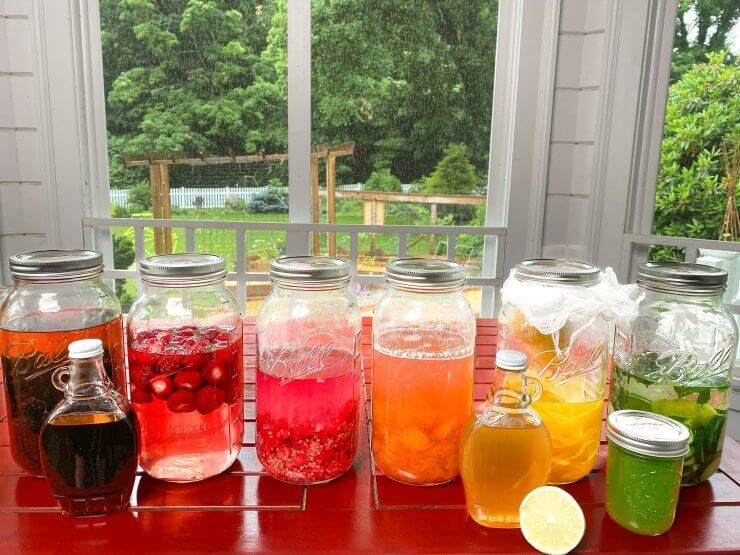 What seemed like fun, was to come up with three cocktails, and try to make them as "from scratch" as humanly possible, and little did I know I would end up with such a rainbow of alcoholic joy in the end.
I wanted to try and make one of each type, so I made infused vodka, limoncello, schnapps, cordial, liqueur, simple syrup, and even homemade grenadine!
I sort of focused on vodka here, but you can make simple things like pineapple rum, or cucumber gin, just as easily using the same techniques.
As for sugar, I used cane sugar for every recipe that called for it, except for the limoncello because I wanted it to stay yellow and didn't want it to turn brown.
Simple syrup alert: Some of these recipes call for a simple syrup which is just a ratio of 1 cup of water to 1 cup of sugar, boiled down into a syrup. Once your sugar is melted, you have simple syrup. Simple!
Now let's get into the cocktails!
Cucumber Gimlet (ish)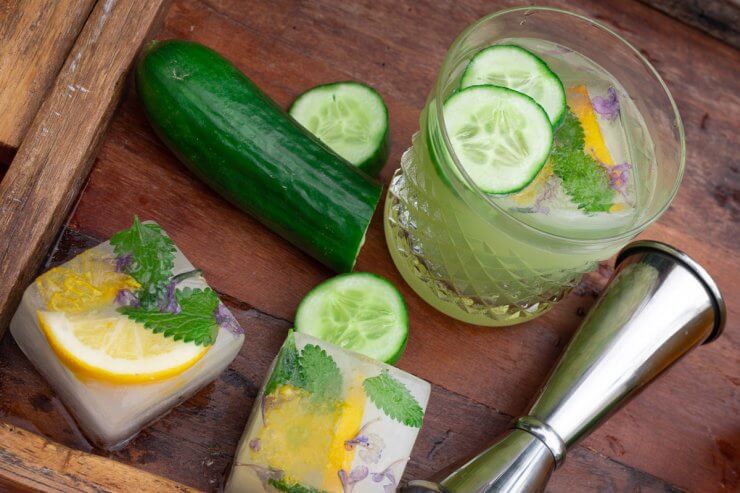 A Cucumber Gimlet is traditionally made with gin, and you could easily use gin for this recipe if you want to, but I'm calling it a Gimlet(ish) because I used vodka. It also generally includes simple syrup, lime juice, and mint, so I thought one way to make a ready-to-go cocktail was to make a lime simple syrup, and infuse vodka with the cucumber, lime, and mint. That way, to make the drink easy and often (or quickly for a party), you already have most of the ingredients. All that's left is the cucumber juice, which you can make and freeze for later, which is exactly what I did!
So if you have two weeks to wait to make this cocktail, I guarantee you'll love it. Despite being mostly vodka, it's light and refreshing (and a little dangerous because it's so good!). To make the ice cubes, simply use an over-sized ice cube tray and fill with slices of cucumber, lemon/lime, mint leaves, mint blossoms, and for fun, a squash blossom if you have one! I actually had cucamelons growing, so I sliced those up too. If I'd had enough at the time, I'd have made a Cucamelon Gimlet!
Print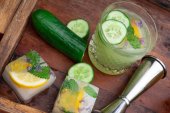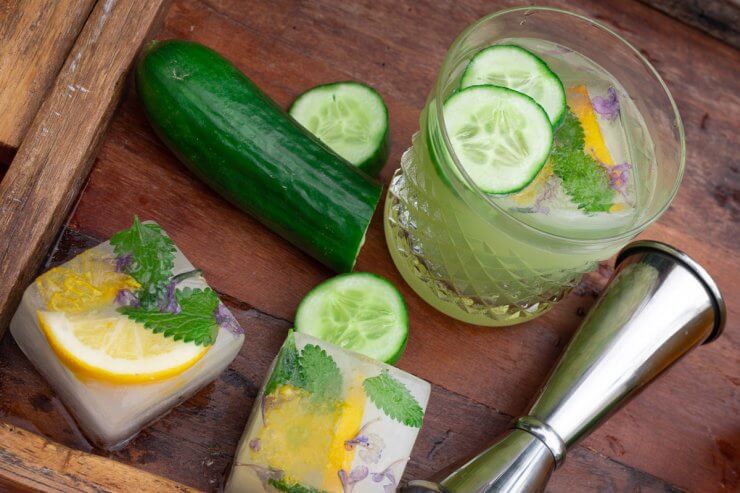 Cucumber Gimlet(ish)
This garden-to-glass Cucumber Gimlet(ish) is made with freshly juiced cucumber, brewed Lime Simple Syrup, and homemade Cucumber Mint Vodka, poured over ice cubes made with mint, cucumber blossoms, and more.
Author:
Yield:

1

glass

1

x
Category:

Beverages
Ingredients
Garnish:

Ice cubes with cucumber, mint, lime, and/or cucumber blossom
Instructions
For fresh cucumber juice, just use a juicer on one or two large cucumbers, or you can use a blender, then strain the juice through cheesecloth.

In a shaker with ice, add all ingredients and shake for 30 seconds. Prepare a glass with your fancy cucumber ice cubes, then pour shaker mixture over ice cubes in a short

rocks glass

, enjoy!
Limoncello Sunrise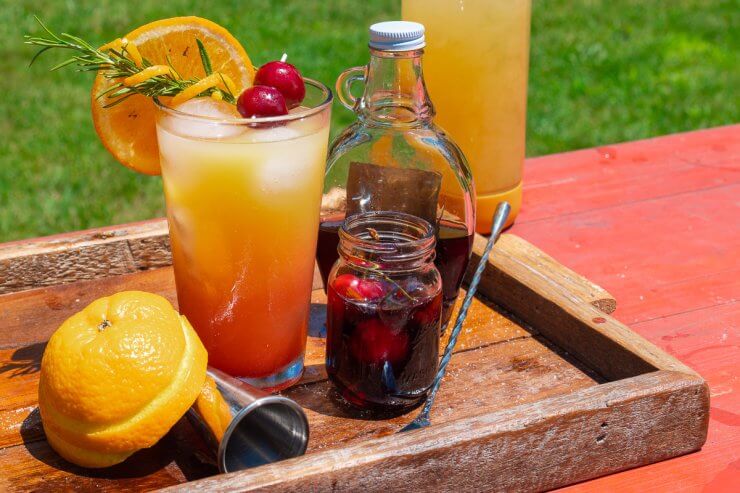 Tropical drinks seem to bring you a nice sunny day, no matter what it's really like outside. If I'm out to dinner on a cold winter day and decide to get a cocktail, you better believe it's one like this Limoncello Sunrise.
One of my colleagues, Norann Oleson shared her trusted Limoncello recipe with me for this one, which I modified a bit so that it would cure in two weeks instead of four weeks (by adding peels to the vodka). I also got adventurous with making grenadine and then maraschino cherries. My daughter is a lover of Shirley Temples, but as her mom, I'm not a lover of Red40 which is in both grenadine and maraschino cherries, so I loved the idea of making both, and it was so easy!
As for the drink itself, it's light, and only gently sweet, not too much. I got crafty with the garnishes and decided to torch an orange sprinkled with sugar to make it candied, and boy was that a treat at the end!
Print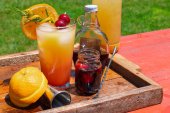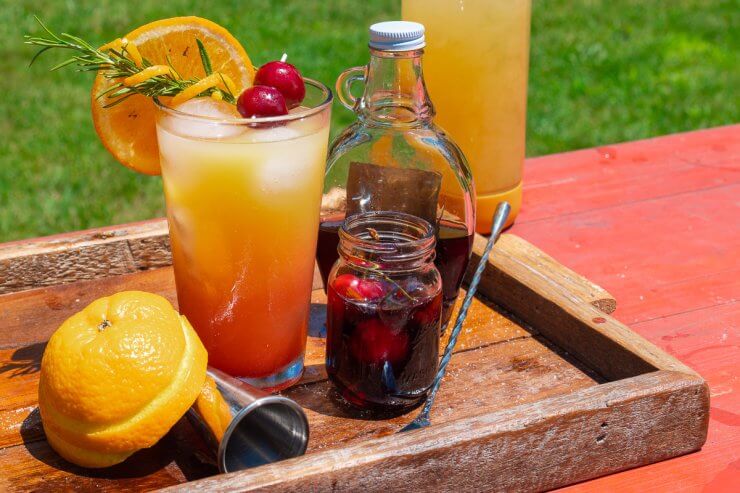 Limoncello Sunrise
This refreshing tropical garden-to-glass cocktail, Limoncello Sunrise, combines homemade Meyer Lemon Limoncello and orange juice with a splash of homemade Pomegranate Grenadine and some inspiring garden-fresh garnishes.
Author:
Category:

Beverages
Ingredients
Garnish:

A sprig of rosemary wrapped by a curl of orange or lemon zest. A slice of orange sprinkled with sugar and torched until crispy. Optionally, you can also soak cherries in grenadine overnight or longer for homemade maraschino cherries.
Instructions
In a glass, add two ice cubes. Use a shaker filled with ice and add orange juice and Limoncello. Shake for 30 seconds, then pour into glass. Tip glass ever so slightly, and pour grenadine slowly down the side over the back of a spoon. When it pools at the bottom, that's how you get the sunrise effect, it should quickly rise up.
Notes
If you made your own grenadine and it reduced too long, it may be too thick and you'll need to stir a bit to get the effect.
Knockout Peach Berry Fizz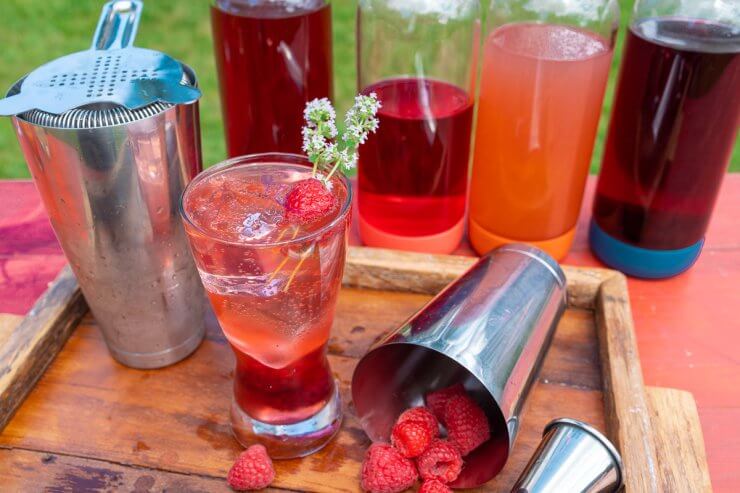 This Knockout Peach Berry Fizz was just an excuse to try and make three more types of liquor that we haven't made yet! Schnapps, liqueur, cordial, and also a very simple vodka infusion. If you grow berries or peaches in abundance, you'll love having these recipes to use them up for the better good, and if you really have a huge bounty, you can give them away as gifts!
The cocktail itself is sweet and bubbly, and if you want it to taste more peachy, or more like strawberry, just tip the scales on the ratios to get the flavor you like. For me, this is the perfect blend, and reminds me a bit of a wine cooler—in a good way!
For the garnish, you can use any type of bolted herb, but I chose thyme because they were just smelling so divine out in my garden!
Print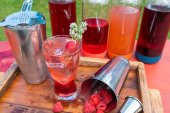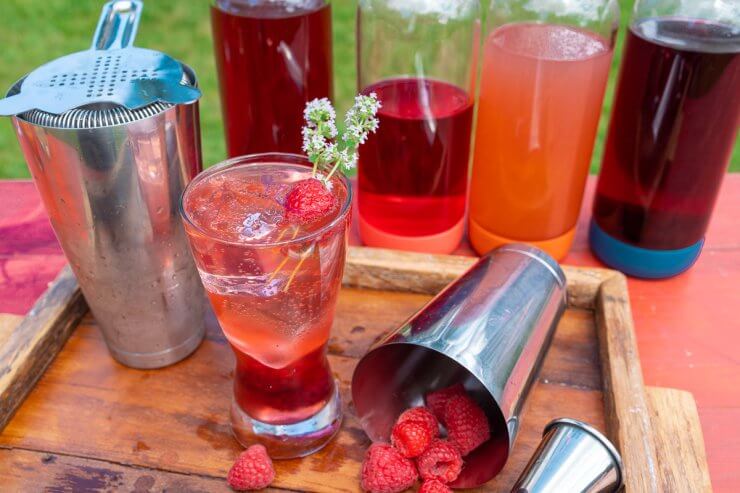 Knockout Peach Berry Fizz
Author:
Category:

Beverages
Ingredients
Garnish:

Thyme flowers peeking out of raspberry
Instructions
In a shaker with ice, combine simple syrup with peach schnapps, blackberry liqueur, strawberry cordial, and raspberry vodka. Shake.

In a glass with ice, pour what's in the shaker, then top with seltzer. Garnish, and enjoy.
Notes
If you can't find simple syrup, you can make it quickly! Simply combine a ratio of 1 cup of water to 1 cup of sugar, boiled down into a syrup. Once your sugar is melted, you have simple syrup. Simple!
The garnishes were some of the best fun I got to have making these garden-to-glass cocktails. Some of them (and more!) include:
Wrapping a twist of orange, lime, or citrus around a stem of rosemary
Torching a slice of orange or blood orange covered with a light layer of sugar until it's crispy
Poking a sprig of thyme through a raspberry
Marinating pitted cherries in some Homemade Grenadine overnight
A nasturtium and its lily pad
Parsley poked through a strawberry
Thinly sliced and fanned out apples
Thinly sliced pear sprinkled with cinnamon and torched to a light toast
Clippings of dill or fennel fronds
There are also lots of other ways to make your own cocktails. For example, you could:
Chop and marinate a whole pineapple in light or dark rum.
Soak thin slices of watermelon in your alcohol of choice (I soaked mine in the extra Limoncello I made!) and then freeze them to make adult popsicles.
Save the leftover fruit from the Strawberry Cordial, Blackberry Liqueur, or Raspberry Vodka in the freezer, and then use it as ice cubes for Sangria!
Create fennel simple syrup the same way we made Lime Simple Syrup, and use it in any cocktail you want to have a licorice taste! I love it in a Manhattan or Old Fashioned!
Do the same with ginger – it's great in a Ginger Martini with some fresh ginger!
If you try these garden-to-glass cocktails I'd love to hear how you like them! I'd also like to hear how you use your harvests behind the bar. Leave me a comment and let me know!