Have you ever made homemade strawberry soda? In our home, we try to limit the amount of processed foods we bring in, and that includes everything from bread to soda. We almost never have soda in the house, though I do worry that my husband has a mineral water addiction that's being left untreated and may need intervention.
If you're kicking your soda habit, one thing that I hear all the time is that people don't crave the sweetness, they crave the carbonation. That's why so many switch over to diet sodas, which are even worse for our bodies.
There's definitely been a movement toward flavored seltzers too for the same reason; but personally, I love to make my own Italian-style sodas using fresh fruit!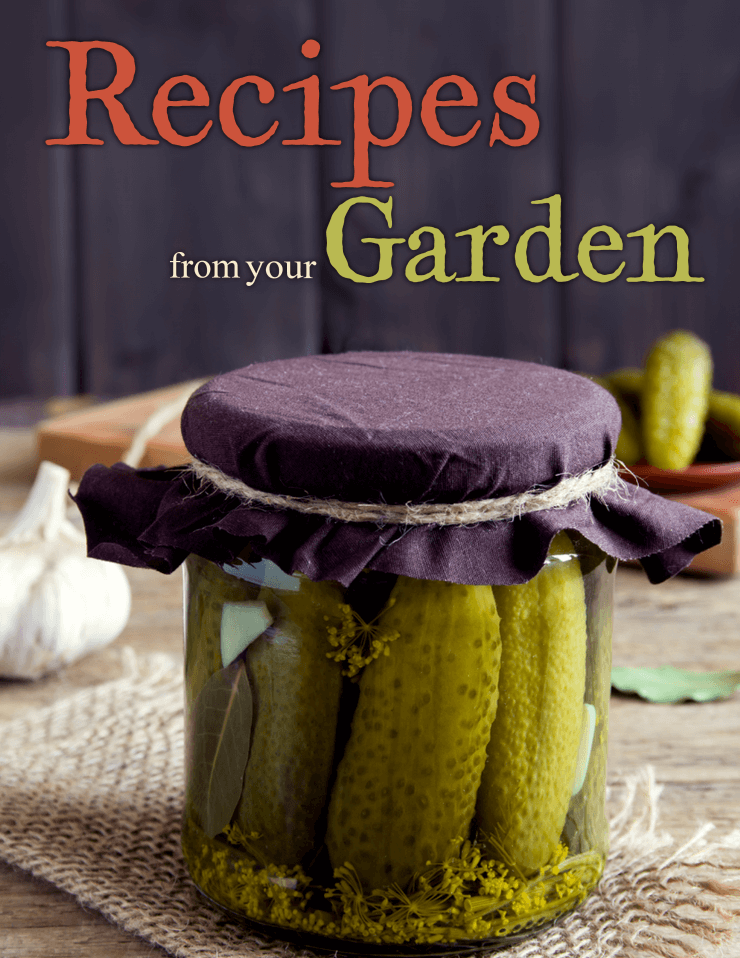 Discover 9 garden recipes spotlighting the delicious possibilities of home gardens—when you access the FREEBIE Recipes from Your Garden, right now!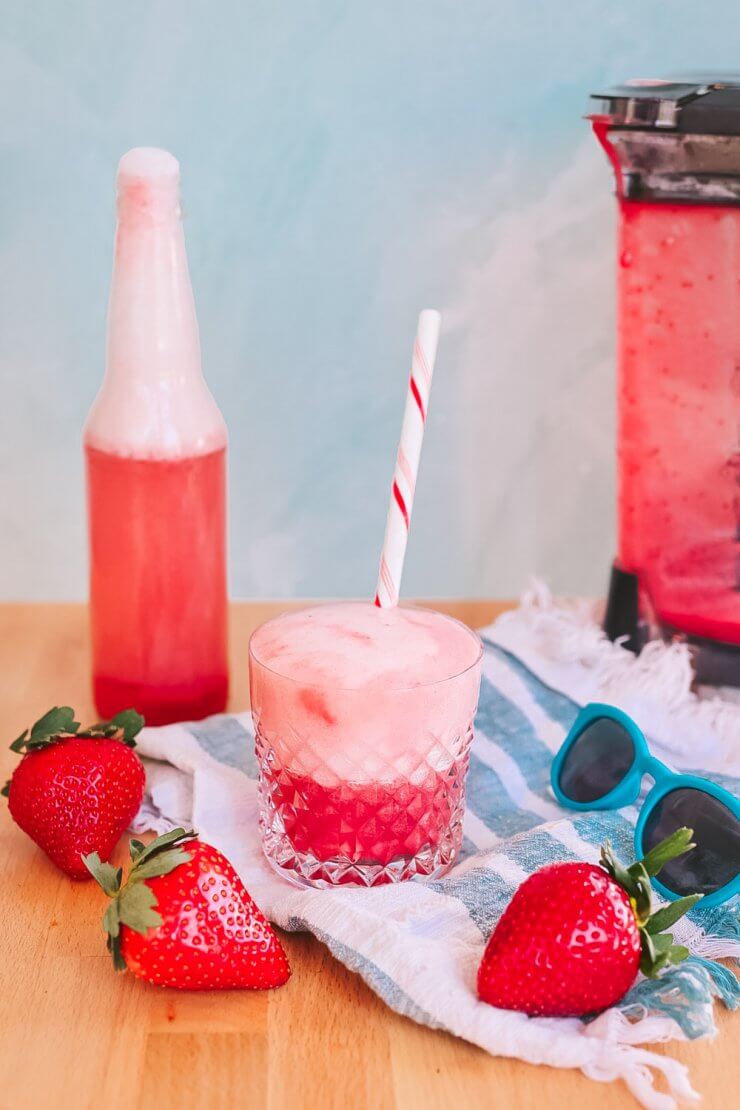 Making your own fresh fruit soda is almost too simple, but it definitely takes a few minutes more than cracking open a bottle of cola. That said, if you've ever given yourself a belly-ache thinking about how much high-fructose corn syrup you're consuming, this will be a welcome addition to your recipe collection. Homemade fruit sodas are also so fresh that they make delicious cocktails in the summer!
This recipe for homemade strawberry soda isn't strained, but if you're the type of person who gags at pulp in their orange juice, you'll want to double this recipe and squeeze it through a cheese cloth or fine mesh strainer to make it more of a simple syrup. I warn you though – you're missing out!
If you want a super-sweet syrup, you can also add sugar to the cooking process. You won't be able to dramatically increase the honey to increase sweetness or it will turn into jam in your cup, so you'll need to use sugar instead. I prefer to stay away from granulated sugar to keep this a smidge healthier, but if you're looking for more of a sweet drink instead of a fresh strawberry soda, you can add sugar when cooking, 1/8 cup should do.
Print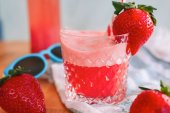 Homemade Strawberry Soda
Using just fresh strawberries and honey, you can create the perfect homemade strawberry soda, with just touch of sweetness. Use as-is for luscious pulp, or strain through a cheesecloth for a filtered syrup.
Author:
Prep Time:

5 minutes

Cook Time:

15 minutes

Total Time:

20 minutes

Yield:

4

servings

1

x
Category:

Beverages
Ingredients
2/3 cup

water

1 pint

strawberries, hulled and halved

1 tbsp

honey
Sparkling water, sparking mineral water, or soda water
Optional: Cheesecloth for filtering
Instructions
In a sauce pan, add water and strawberries and bring to a boil. Reduce to medium heat and let simmer for about 15 minutes, mashing the strawberries about halfway through when they are softened.
When done, add to a food processor or blender with honey and blend for a full minute until completely smooth. Add to an air-tight sealed container and let cool.
To create your soda, add 2 tbsp puree to the bottom of a glass, and add a few splashes of your sparking water to the glass and mix.
Fill glass with 4-6oz of sparkling water, to your taste preference, adding more puree for a larger glass.
(Optional: If you don't like pulp, strain through a cheesecloth – you may want to double the recipe to do this.)
Notes
If you prefer a sweeter version, add an extra tablespoon of honey to the sauce pan when you are cooking the strawberries.
Note that the more honey you add, the harder it may be to combine because honey hardens in cold water, so don't go overboard. If you want it, extra sweet, add 1/8 cup sugar while cooking.
If you don't like pulp, double the recipe and filter through cheesecloth or a fine-mesh sieve.
Grow Your Own Strawberries for Homemade Strawberry Soda
If you plan to grow strawberries, you should know that you'll need about six plants per person to make the harvest worth the effort. But as you can grow quite a few plants in a small space with hanging pots and pyramid raised beds, that shouldn't be a problem, even if you don't have a large open land space for a garden. Strawberries are perennials that are hardy in zones 3 to 10, depending on variety. As perennials, they generally remain productive with good yields for three to four years. In cold climates, however, some people grow strawberries as annuals. Strawberries are typically self-fertile, depending on the cultivar and growing conditions, but are also pollinated by wind and insects as well. To learn more about growing strawberries, visit our Strawberries Collection.
Do you make your own homemade soda from your garden? Share your recipe in the comments!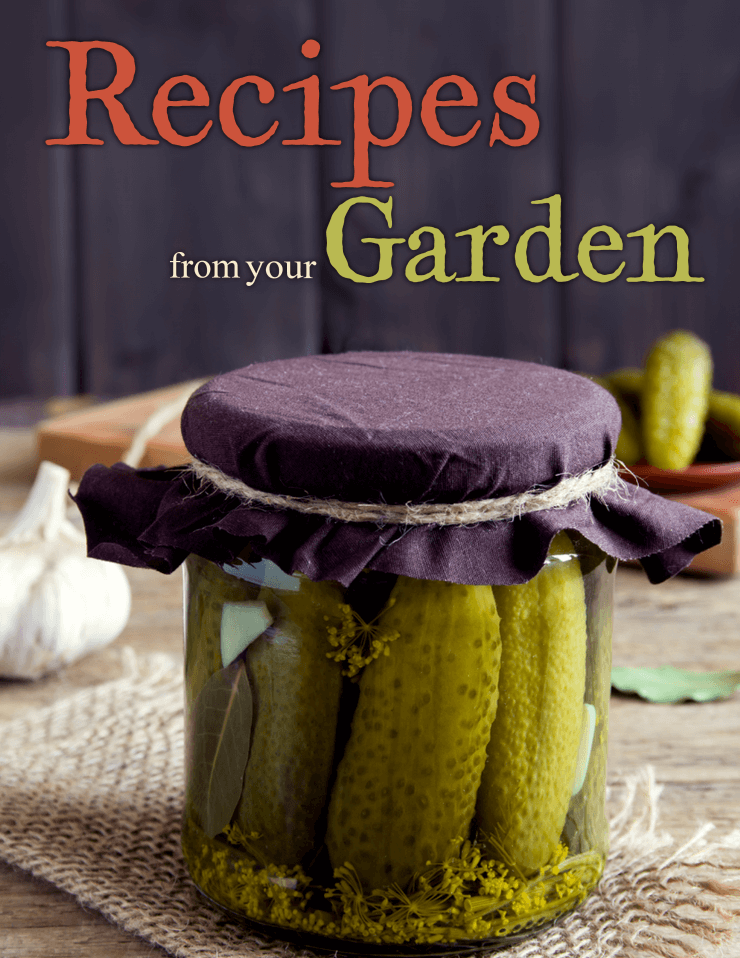 Discover 9 garden recipes spotlighting the delicious possibilities of home gardens—when you access the FREEBIE Recipes from Your Garden, right now!