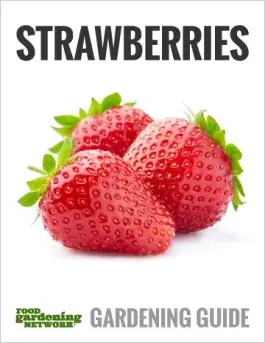 If you're new to growing strawberries, you might be surprised to find that a strawberry plant is not "just" a strawberry plant. Who could blame you? When you buy them at the store, they come labeled as "strawberries." If you buy them at a farmstand, they may tell you the varietal, but that's not always the case. Chances are, it's not until you start looking to plant strawberries in your own garden that you come across things like everbearing strawberry plants or June-bearing strawberries. 
What's the difference? Everbearing strawberry plants produce fruit two or three times per year, when the days are long, in June and/or summer and fall. Summer harvest may be less fruitful in high temperatures. 
As compared to June-bearing types, the everbearing strawberries are smaller and they don't produce many runners. There are also day-neutral strawberries, which are a type of everbearing strawberry. Day-neutral strawberries are not dependent on the length of the day for blooming and fruiting, as the other types are. They produce fruit throughout July, August, and September, provided that temperatures stay between 35 and 85 degrees F.
More common are the June-bearing strawberries, which, as you can guess, produce one large harvest, usually in June, though there are early-, mid-and late-season varieties. However, the differences between these three varieties is more a matter of days than the months-long planting and harvesting season. These produce a larger sized berry and many runners.
June-bearing strawberry plants tend to produce larger fruits than everbearing varieties, and they also produce an abundance all within the span of a week or two. That's definitely preferable if you want to make jams or can strawberries. 
Of course, there's nothing that says you can't grow both types! Here's a look at some of the most common varieties of both June-bearing and everbearing strawberry plants, as well as a few unique varieties for good measure!
5 June-bearing strawberries to plant this year
AC Wendy Strawberries: AC Wendy is a vigorous early-season June-bearing variety developed in Nova Scotia, Canada. It's known for its runner production and high yields of deep red fruits. 
Chandler Strawberries: This mid-season June-bearing cultivar produces plentiful firm, large, flavorful berries. It thrives in full sun in zones 5 to 8 and produces good yields in southern states. The fruits are glossy red and wonderfully sweet.
Earliglow Strawberries: This is probably the earliest cultivar to produce a harvest. It is an early-season June-bearing variety with high yields, and sweet, medium-sized berries with firm flesh that holds up to processing and freezing. It's a good option for beginners, as it has good resistance to red stele and some resistance to root rot and verticillium wilt.
Honeoye Strawberries: Honeoye is an early- to mid-season June-bearing cultivar. Honeoye produces high yields of medium-size, bright red berries with a firm texture. The plant is well-suited to cooler climates and can survive even in low temperatures. This is a vigorous plant, however, it doesn't have any resistance to soil-borne diseases.
Shuksan Strawberries: Shuksan strawberries are named after Mt. Shuksan, a notable peak located in Washington state.  This variety is easy to grow and perfect for containers.  Shuksan strawberries are cold hardy, disease resistant and forgiving even when planted in areas with less than perfect drainage.
5 Everbearing strawberries to plant this year
Charlotte Strawberries: These vigorous everbearing strawberry plants produce super-sweet, deep red berries, and deliver multiple harvests from June through the first frost in the fall, even during the heat of summer. Pollinators love the magenta-pink flowers. 
Delizz Strawberries: This day-neutral variety is known for being the first strawberry to be chosen as an All-America Selections winner in 2016. It's great for growing in containers! Best grown in zones 3 to 8, it prefers full sun. You'll get a harvest in June and another in August-September.
Mignonette Strawberries: This everbearing variety goes by a few names, including Fragaria vesca, alpine strawberries, fraise des bois, European strawberries, woodland strawberries, and most frequently, wild strawberries. These small berries grow naturally throughout most of the northern hemisphere along paths, on hillsides, meadows, or almost anywhere it can get plenty of sunshine. Whatever you choose to call them, you won't regret these in your garden. They have a rapturously sweet, distinct flavor that you will dream about. 
Tristar Strawberries: These everbearing strawberry plants are day-neutral, resulting in several months of sweet, aromatic strawberries! The plants are resistant to red stele and powdery mildew. In addition, the Tristar is gorgeous in a hanging basket, since the runners don't produce roots, but they do produce beautiful tiny white flowers. 
White Pineberry Strawberries: Also known as the White Carolina or White Carolina Pineberry, this is one of the more unusual varieties of everbearing strawberry plants. These heat-tolerant plants produce unique white fruits with red seeds. They have a slightly unusual taste, as well, which is most often described as being a delicious tropical blend of strawberries and pineapples. Though it produces a good harvest, growing them near a different variety of strawberry should increase production. 
Ready to find out more about strawberries? With Sweet! The All-Strawberry Guide, you can find out all about growing, harvesting, cooking and enjoying one of the world's most delicious delicacies. Get to know the history of strawberries, how to nurture your strawberry plants, and how to deal with common setbacks. Plus, get six amazing strawberry recipes, including one for Buttermilk Strawberry Shortcake!