Nothing says breakfast like an omelet. And this classic western omelet with scallions right out of the garden fits the bill. This is the Kathryn Hepburn of breakfast foods. It's just a little sassy with the chopped bell peppers, and the mushrooms give it an air of sophistication. Throw on a Benny Goodman record and you have an iconic breakfast on your hands. (Might I recommend The Famous 1938 Carnegie Hall Jazz Concert with Lionel Hampton on vibes and Gene Krupa on drums on Colombia Records?) The Academy Awards people should be at your front door any minute now!
I'll let you in on a little secret, too. Omelets might "technically" be a breakfast item, but they show up on my dinner menu somewhat regularly. I do love to cook, but sometimes you just need something comforting, quick, and easy, especially if you're trying to make dinner and catch the opening scene of your niece's school play. But I digress. Back to breakfast.
This recipe is for one omelet; you can adapt it for as many hungry folks as you have at the breakfast (or brunch) table. If you want to go all out and create a big breakfast spread, roasted potato wedges or home fries go great with this. Just heat your oven to 400 degreed Fahrenheit, slice a few (or more) potatoes into small wedges, coat them with olive oil, salt, pepper, and herbs de Provence (or chili powder if you prefer something a little spicier), and cook them for about 20 minutes (a little more if you have thicker wedges).
I also like to add a pitcher of cold orange juice and a carafe of hot coffee to the table, but if we're talking weekend brunch, go for that mimosa!
Print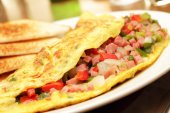 Classic Western Omelet with Scallions
Nothing says breakfast like an omelet. This recipe is for one omelet; you can adapt it for as many hungry folks as you have at the breakfast (or brunch) table.
Author:
Prep Time:

15 minutes

Cook Time:

5 minutes

Total Time:

20 minutes

Yield:

Serves 1

Category:

Breakfast
Ingredients
2

eggs

1/4 cup

cooked ham strips

1/3 cup

sliced fresh mushrooms

1/4 cup

chopped bell pepper

2

scallions, thinly sliced on the diagonal

2 teaspoons

butter, divided
Salt and pepper to taste
Instructions
Melt 1 teaspoon of butter in a small skillet over medium heat. Add the mushrooms, bell pepper, and scallions. Cook until the vegetables are tender—about 5 minutes.
Stir in the ham and heat it through for about a minute.
Season with salt and pepper.
Set the vegetables and ham aside in a bowl and keep it warm (you could put an ovenproof bowl in the oven at 200 degrees F to keep things warm).
Beat eggs together in a bowl; season lightly with salt and pepper.
Using the same skillet you used to cook the vegetables, heat the skillet on medium-high heat.
Add the remaining 1 teaspoon of butter and heat until the butter foams.
Pour in the eggs and cook for 30 seconds.
Lift the edges of the omelet so the uncooked egg runs under the cooked edges and hits the skillet.
Shake and tilt the skillet to move the uncooked egg to the skillet surface.
Continue cooking until the top of the egg is set but still moist—about 2 minutes.
Spread the filling on one side of the omelet.
Fold the other half of the omelet over the filling.
Slide omelet onto a plate.
Have you tried this omelet recipe? How many omelets did you make? Please share your omelet-making tips.