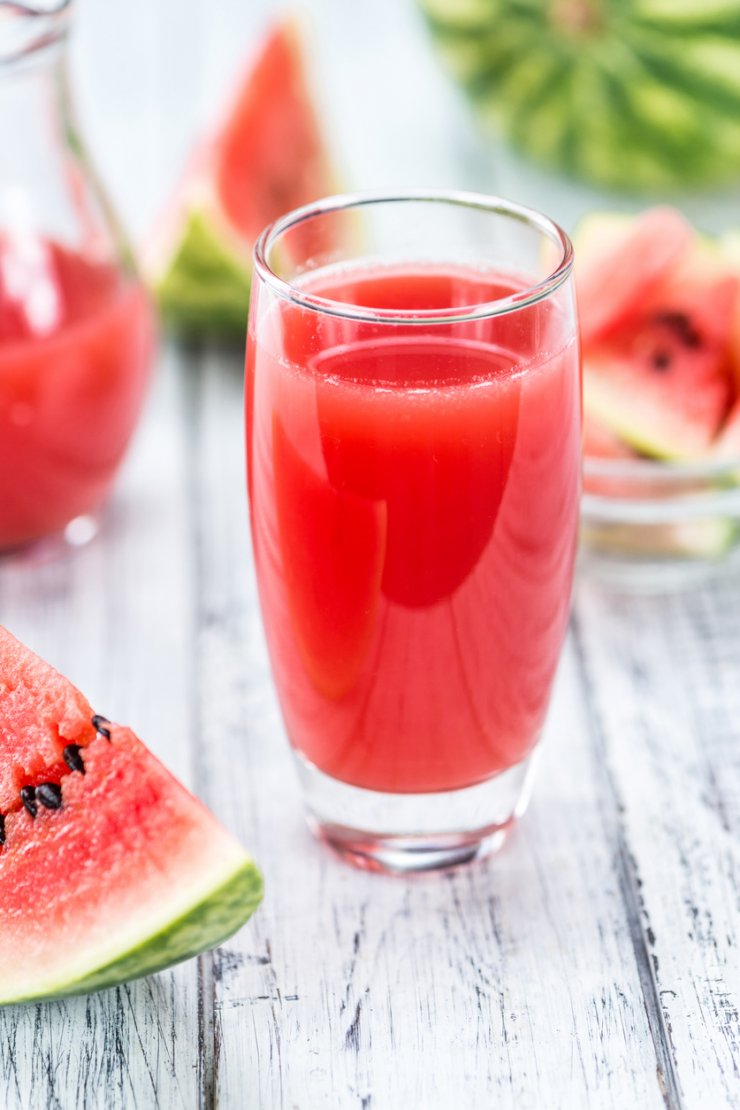 Is there a fruit that says "summer" more than the watermelon? It conjures images and thoughts of hot days under the sun, a lazy afternoons by the river with fish and tadpoles gliding just under the surface, or enjoying a backyard barbecue with kids running through a sprinkler, laughing with delight as the cool water soaks them. For me, it also says "watermelon juice!"
It's quite the amazing fruit. Did you know people have enjoyed watermelons for over 5,000 years? And there are some 1,200 varieties of the fruit? Some are even drought-tolerant, which is surprising for a fruit with so much water content.
That's all to say that this watermelon juice recipe is about as summer as you can get when it comes to a nice cold summer beverage. It's wonderfully refreshing and simple. It's healthy and nutritious. And it's easy to make. All you need to do is scoop watermelon into a blender!
Personally, I love this just as it is. However, the addition of a fresh-squeezed lime or lemon juice turns this into a delicious watermelon lemonade or watermelon limeade. Or if you want to have some fun, make the juice and then freeze it in an ice cube tray. That's one way to make the most refreshing fruit out there even more refreshing – especially in a glass of plain lemonade.
One thing I will add is that the fresher the watermelon you use for this, the better it is. So if you're fortunate enough to grab one from your garden or a farm stand, go for it. But don't skip this just because your watermelon comes from the supermarket. I promise you it will be a wonderfully delightful drink no matter where your watermelon comes from.
Print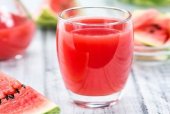 Watermelon Juice
Nothing is easier, and who says you have to have orange juice with breakfast anyway? Try this watermelon juice and see if your family doesn't start demanding it every day.
Author:
Prep Time:

15 minutes

Total Time:

15 minutes

Yield:

Serves 4

Category:

Beverages
Ingredients
1

 small sweet watermelon (~ 6 pounds)

1

 small lime, juiced (optional)
Instructions
Slice the watermelon in half. Using a big spoon, scoop chunks of sweet watermelon into the blender. Discard the rind.
Blend the watermelon in a blender or food processor until it's totally pulverized. This shouldn't take more than a minute. For extra flavor, squeeze the juice of one small lime into the blender and blend for a few seconds.
If your watermelon is notably pulpy or seeded, pour the mixture through a fine mesh strainer into a pitcher. If not, you can pour it directly into glasses filled with ice. Watermelon juice will keep in the refrigerator, covered, for up to four days. The juice will separate over time; stir it with a spoon to recombine.
Watermelon is a delicious treat and a powerful superfood! With our Wonderful Watermelon Gardening Guide, you'll have everything you need to know about growing and enjoying this delicious fruit, history and background of this sweet summer plant to specific advice on growing, harvesting, and enjoying your hard work!
Have you tried this recipe? It's a satisfying summer thirst-quencher—please tell us how it turned out for you.