Print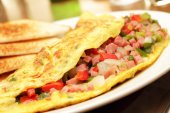 Classic Western Omelet with Scallions
Author:
Prep Time:

15 minutes

Cook Time:

5 minutes

Total Time:

20 minutes

Yield:

Serves 1

Category:

Breakfast
Ingredients
2

eggs

1/4 cup

cooked ham strips

1/3 cup

sliced fresh mushrooms

1/4 cup

chopped bell pepper

2

scallions, thinly sliced on the diagonal

2 teaspoons

butter, divided
Salt and pepper to taste
Melt 1 teaspoon of butter in a small skillet over medium heat. Add the mushrooms, bell pepper, and scallions. Cook until the vegetables are tender—about 5 minutes.
Stir in the ham and heat it through for about a minute.
Season with salt and pepper.
Set the vegetables and ham aside in a bowl and keep it warm (you could put an ovenproof bowl in the oven at 200 degrees F to keep things warm).
Beat eggs together in a bowl; season lightly with salt and pepper.
Using the same skillet you used to cook the vegetables, heat the skillet on medium-high heat.
Add the remaining 1 teaspoon of butter and heat until the butter foams.
Pour in the eggs and cook for 30 seconds.
Lift the edges of the omelet so the uncooked egg runs under the cooked edges and hits the skillet.
Shake and tilt the skillet to move the uncooked egg to the skillet surface.
Continue cooking until the top of the egg is set but still moist—about 2 minutes.
Spread the filling on one side of the omelet.
Fold the other half of the omelet over the filling.
Slide omelet onto a plate.