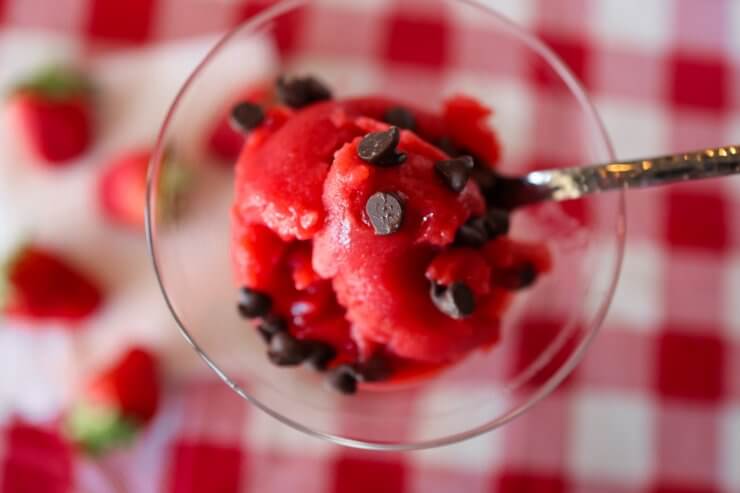 In the northeast, strawberry season begins in June, and if you're lucky, lasts through August. I've always been envious of those who live in warmer climates and can simply garden year-round and make a recipe like this strawberry chocolate chip sorbet whenever they want. I love having four seasons, but that still sounds like utopia to me!
Strawberries are one of my favorite healthy ingredients to cook with. In terms of fruit, they are one of the lowest in sugar, so they're appropriate for anyone trying to lower their sugar intake, and despite that, they're always juicy and sweet!
The kiddo and I spent some time at a strawberry farm while in Florida for the winter. In zones 8-10, strawberries grow from Thanksgiving through April, a luxury I've never been able to enjoy. Strawberries like it to be warm, but not that warm, so they're ready to pick all winter long, followed by blueberry season, which starts in April and ends in May.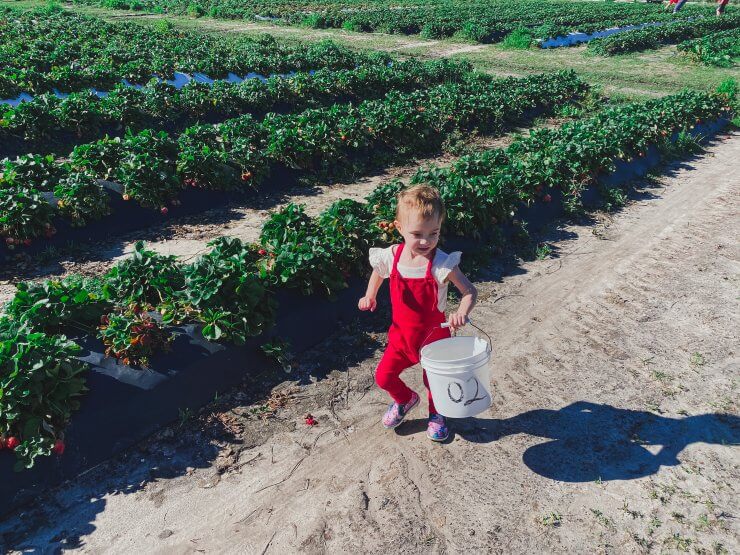 At home we grow strawberries, but it's nothing like picking them in a giant field where you can legitimately fill a 2-gallon bucket. Dancing through rows upon rows of strawberries baking gently in the Florida sun while your family is back home shoveling snow is an experience I'll never take for granted.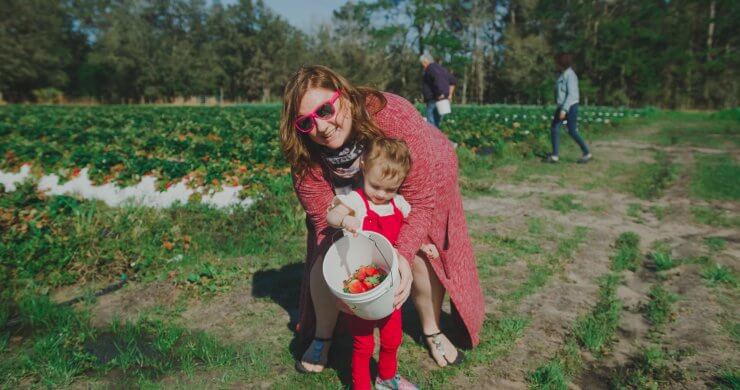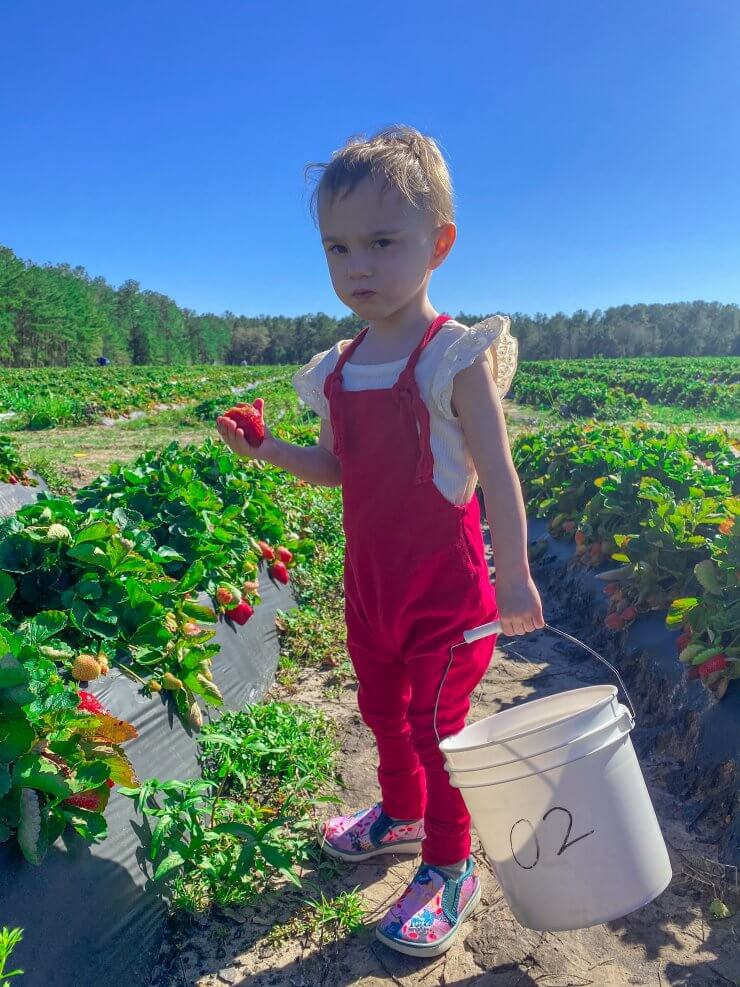 And as you can imagine, it's just as fun for the kiddos as it is for adults, you just have to dodge the gnarly ones. At one point I looked into Ruby's bucket and it was filled with a mix of little green strawberries and ones that had giant holes in them. This is the face of a kid who is mad that I told her to stop picking the squishy ones.
When we arrived home with several pounds of strawberries, I must have used and cooked them a million ways: strawberry shortcake, chocolate-covered strawberries, strawberry avocado toast, and naturally, strawberry jam.
But I must say, I've been trying to remove processed ingredients and gluten from my diet and was craving sorbet. So I went out and purchased a $20 single-serving ice cream maker (everyone travels with an ice cream maker, right?) to make some sorbet and it was absolutely the most delicious dessert of all time.
I used just a little honey to sweeten the strawberries, and added 72% cacao dark chocolate chips to make it reminiscent of a chocolate-covered strawberry. If you decide to make this, you'll agree it tastes just like it!
For the portions, I'm going with a single serving. Not just because I made this recipe in a single-serve electric ice cream maker, but because it's easily multiplied to any larger ice cream maker. So for example, my ice cream maker holds 1 cup and creates 1.5 cups from it. If your ice cream maker calls for five cups, simply multiply the recipe by five. Easy peasy strawberry squeezy.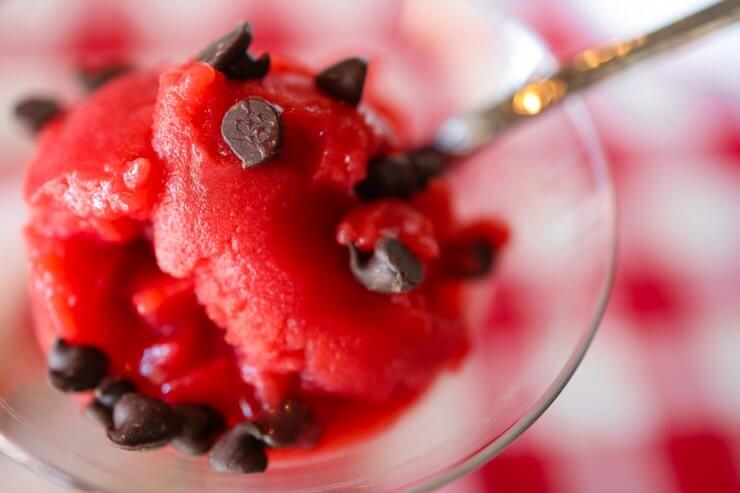 Fresh Strawberry Chocolate Chip Sorbet Won't Stay Soft Forever and Here's Why
One reason why I really enjoyed the single-serve ice cream maker is that homemade ice cream and sorbet will freeze rock-solid when you try to store it. So frankly, I don't like to store it.
If you've ever made it at home, you might have thought you did something wrong, but this isn't your fault. The reason why sorbet does well at the store is because there are additives to keep things slightly soft and creamy. Also blame your freezer, whose temperature is too low to keep things light and creamy like the warmer temps your local ice cream scoopers use.
There are ways people make ice creams and sorbets creamy at home, like corn syrup and a lot of extra granulated sugar. But if you're growing your own food at home, then we're probably on the same page that there's no amount of creaminess that will get me to add corn syrup and a ton of sugar to my food.
The resolution? Just let it thaw a bit until you can mix it back up. Since you already aerated it in the ice cream maker, it will thaw into a softer sorbet that you can simply mix and serve. It's not a perfect solution, but it keeps excess sugar, additives and corn syrup out of your sorbet.
Now it's time for the strawberry chocolate chip sorbet recipe – I know you're going to love it!
Print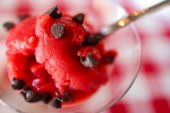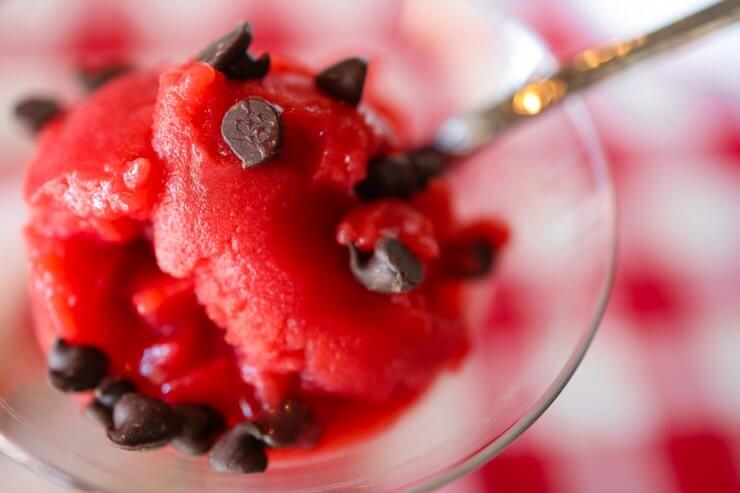 Homemade Strawberry Chocolate Chip Sorbet
Use fresh, ripe strawberries to make this sweet strawberry chocolate chip sorbet, sweetened with a touch of honey.
Author:
Prep Time:

24 hours

Cook Time:

15 minutes

Total Time:

24 hours 15 minutes

Yield:

1.5 cups

1

x
Category:

Desserts
Ingredients
2 cups

sliced ripe strawberries

1 tablespoon

real honey

1 tablespoon

72% cacao dark chocolate chips +

1 teaspoon
Instructions
Freeze your single-serve ice cream maker barrel overnight or for several hours.
In a blender or food processor, add sliced strawberries and honey. Blend for one minute. It should make about 1 cup, which becomes 1.5 cups when it becomes sorbet.
If possible, freeze your mixture for 15 minutes to get it extra cold, or if you're preparing your mix the night before, simply store in the fridge. The colder your mix is when it goes in, the faster it will come together.
Pour into your ice cream maker and churn for 10 minutes. Add 1 tbsp chocolate chips, and let churn a final 5-10 minutes until it reaches your desired consistency.
Scoop into a dish, and sprinkle with remaining chocolate chips.
Notes
We're using a single-serve ice cream maker to make a single serving. Multiply this recipe as needed for larger machines.
If you make this recipe or have questions about how to make it, leave your comment below!