Strawberries aren't just delicious, they're packed with vitamins, fiber, and antioxidants, plus they're a sodium-free, fat-free, cholesterol-free, low-calorie food. In fact, they're among the top 20 fruits in antioxidant capacity, and are a good source of manganese, folate, and potassium.
Just one serving—about eight berries—delivers more vitamin C than an orange!
Here is the nutrition information for 1 cup of strawberries: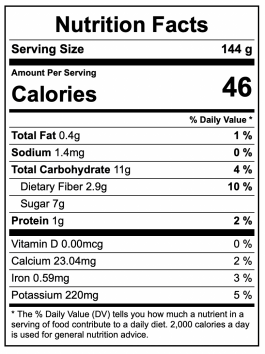 The carbohydrates in that 1 cup of strawberries are 7.4g sugar and 3g of dietary fiber, with the rest complex carbohydrates. Strawberries contain no saturated fat or cholesterol.
Here are some of the compounds in strawberries:
Vitamin C: The vitamin C in strawberries is an antioxidant necessary for immune and skin health.
Manganese: This is a trace element that's important for many processes in the human body. Also found in whole grains, legumes, vegetables, and other fruits.
Folate (vitamin B9): This is important for normal tissue growth and cell function and is fundamental for pregnant women and older adults.
Potassium: This mineral is involved in many essential body functions, such as regulating blood pressure.
Anthocyanins: More than 25 different anthocyanins have been found in strawberries. Anthocyanin-rich foods are associated with numerous health benefits, especially heart health.
Phenolic antioxidants: Strawberries are consistently ranked among the top sources of these antioxidants, which have been linked to numerous health benefits, including fighting bacteria and reducing the risk of cancer.
Did you know all these nutrition facts about strawberries? Please tell us what you think.