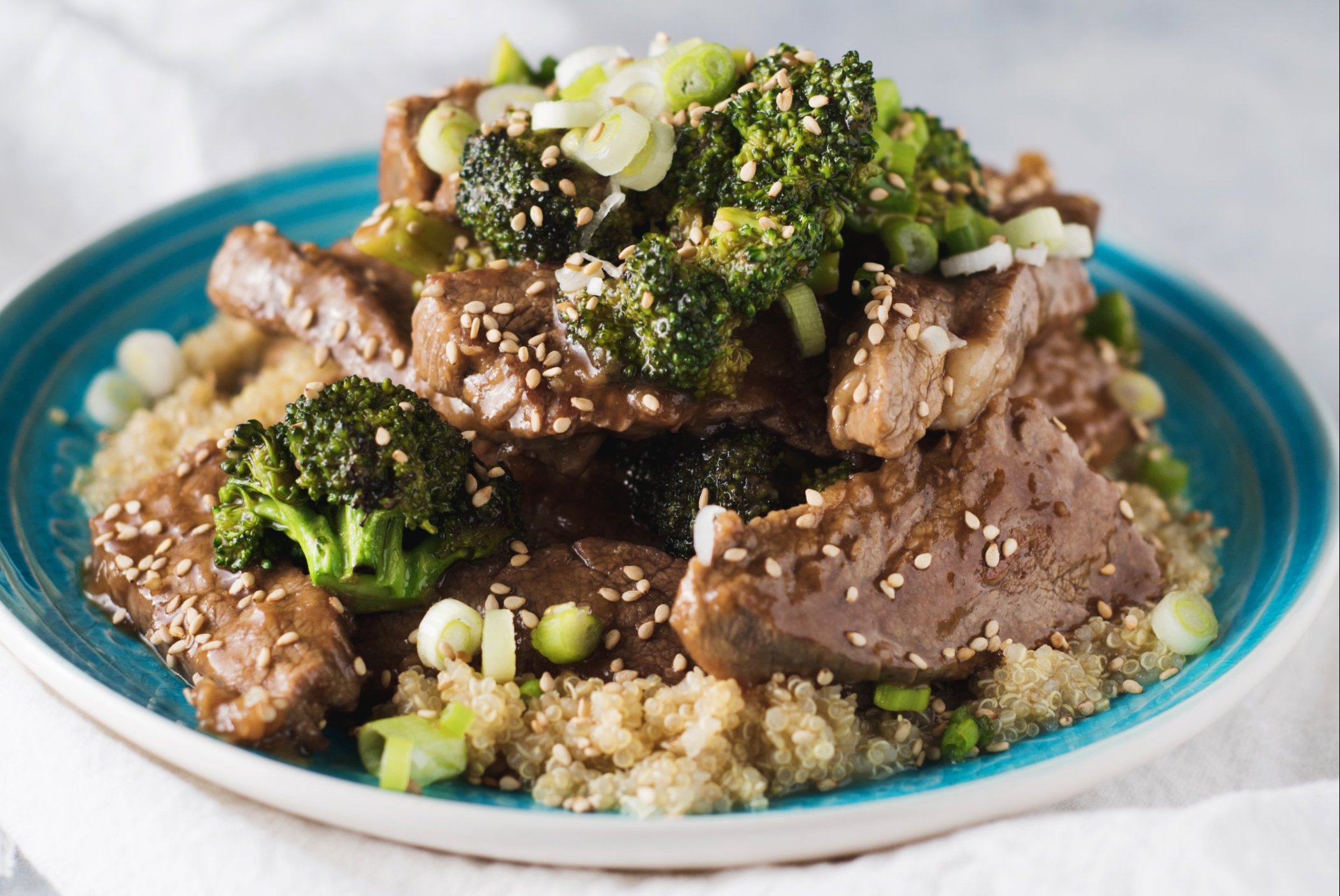 I love this Healthy Beef and Broccoli recipe because it's the perfect mix of flavors and textures. The savory beef pairs perfectly with the slightly sweet and crunchy broccoli, and together they make a delicious and satisfying meal. I also love how easy it is to prepare.
Beef and broccoli is a staple on the menu of most Chinese restaurants, and most of us have tried it there first before quickly falling in love with the dish. The succulent beef, the freshness of the broccoli, and the savory sauce all come together to create a dish that is both comforting and familiar, yet somehow new and exciting.
These days, I like to make it at home, and I try to make it (slightly) healthier than the restaurant version. I use leaner cuts of beef and low-sodium soy sauce, and I serve it with steamed brown rice or quinoa instead of white rice. It still tastes great, but now it's also healthier.
Healthy Beef and Broccoli is one of my favorite comfort foods, and whether I'm looking for an easy weeknight dinner or a delicious way to entertain friends, beef and broccoli never fails to impress. And that's why I love it! It's a classic, comforting dish that never fails to please. The perfect balance of flavors, textures, and ease of preparation makes it ideal for busy weeknights or special occasions alike. Plus, it can be easily customized to make it even healthier or more indulgent depending on your preferences.
Print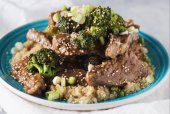 Healthy Beef and Broccoli
This Healthy Beef and Broccoli dish cuts back on the amount of sodium found in the soy sauce, which helps make this a much more guilt-free version of a favorite takeout dish. 
Author:
Prep Time:

15 minutes

Cook Time:

25 minutes

Total Time:

40 minutes

Yield:

Serves 4

Category:

Entrées
Ingredients
1 tablespoon

olive oil

1

pound flank steak, thinly sliced across the grain

3

cloves garlic, minced

1

shallot, finely chopped

4

scallions, thinly sliced

4 cups

broccoli florets

2 tablespoons

cornstarch

1/3 cup

low-sodium soy sauce

2 tablespoons

light brown sugar

1 teaspoon

minced fresh ginger

1/4 teaspoon

crushed red pepper flakes (adjust to desired heat level)
Toasted sesame seeds, for garnish
Brown rice or quinoa, for serving
Instructions
In a large skillet, heat the oil over medium-high heat. Add the steak and cook until well browned, 3 to 4 minutes on each side. Once well browned, remove from the pan and set aside.
To the same pan, add the garlic, shallot, and scallions. Cook for 1 minute, stirring frequently. Add the broccoli, cover, and cook for an additional 5 minutes.
In a small bowl, whisk together the cornstarch and 3/4 cup water. Add the soy sauce, brown sugar, ginger, and red pepper flakes. Set aside.
Remove the cover from the pan and add the sauce. Cook until the sauce starts to thicken, 3 to 5 minutes. Add the steak and stir to combine, cooking for an additional 2 to 3 minutes.
Top with sesame seeds and serve over brown rice or quinoa, if desired.
Notes
To cook the quinoa, put 2 cups water per 1 cup quinoa in a saucepan  over high heat. Add salt. Once the water is boiling, lower the heat to low, cover, and cook for 15 minutes. Remove from the heat and let stand, covered, for 5 minutes. Serve.
Will you try this Healthy Beef and Broccoli recipe? I'd love to know what you think!