Cilantro is more than a pretty plant with a distinctive flavor. This aromatic herb provides many health benefits, too. Cilantro is high in vitamins A, C, and K, which contribute to healthy eyes, blood, bones, and skin, and help prevent some cancers. Cilantro also contains a component that can help protect you from foodborne illnesses, such as salmonella.
Here is the nutrition information for one cup of cilantro: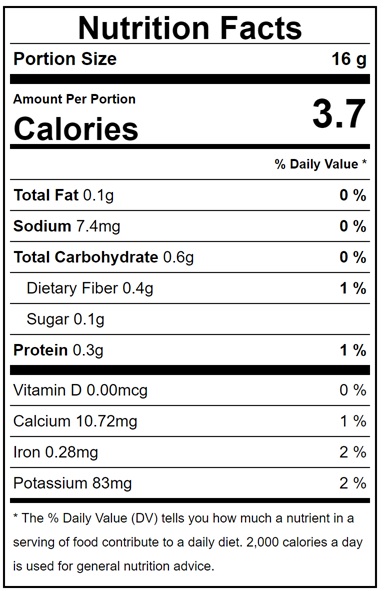 Source: https://www.nutritionvalue.org/Cilantro%2C_raw_nutritional_value.html
The carbohydrates in that cup of cilantro are 0.1 grams of sugar and 0.4 grams of dietary fiber. Cilantro contains no saturated fat or cholesterol.
Here are some of the compounds in cilantro:
Vitamin C: The vitamin C in cilantro is an antioxidant necessary for immune system and skin health.
Calcium: Essential for growing and maintaining strong bones and teeth, and to carry out many body functions.
Dodecanal: This antimicrobial compound may help protect your body against infections and illnesses caused by tainted food.
Folate (vitamin B9): This is important for normal tissue growth and cell function and is fundamental for pregnant women and older adults.
Potassium: This mineral is involved in many essential body functions, such as regulating blood pressure.
Vitamin A: Cilantro contains vitamin A, which is important to eye health, reproduction, and the immune system.
Vitamin K: Vitamin K is known to contribute to bone and blood health.
Antioxidants: Cilantro is rich in antioxidants; they've been linked to numerous health benefits, including fighting bacteria, reducing the risk of cancer, and acting as an anti-inflammatory.
Did you know all these nutrition facts about cilantro? Please tell us what you think.