Taramasalata, Tzatziki, Moussaka, Avgolemono…if you know these dishes and don't think I just swore at you in another language, then prepare to be inspired. Having an herb garden makes it easy to spice and dress up your dishes all season long, and that's why the savviest of gardeners plan theirs according to the types of dishes they love to make at home. If you're Greek or love Greek recipes, then creating a Mediterranean herb box garden is just natural!
Moussaka, the most famous of all Greek dishes, doesn't traditionally use herbs other than onions and garlic, but if you look at recipes from celebrity chefs or the New York Times—who we all know to get a little "extra" with their recipes—you'll find plenty more herbs to grow, like oregano, ginger, and parsley for your Mediterranean-inspired herb box garden. Meanwhile, if you have a deep love for tzatziki, you'll definitely want to grow dill, which is άνηθος in Greek.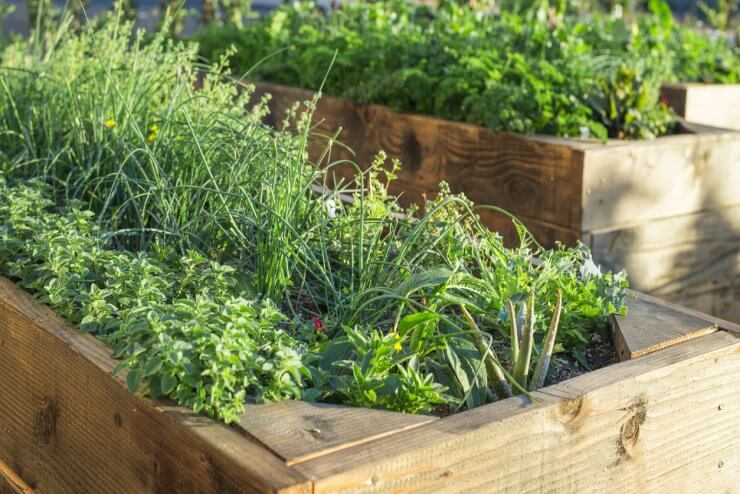 Since herbs tend to produce a massive bounty throughout summer, there's no need to overwhelm your herb box garden; one batch of each will be plenty (except for, say, garlic!)
Greek oregano should be at the top of the list; after all, it's called Greek oregano. It's potent in both flavor and aroma and is considered the "true" oregano. If you know someone who is already growing it, Greek oregano grows easily from cuttings, and it's a perennial in many zones, so it will grow back every year.
Onions are a mainstay in most Greek dishes, especially Moussaka, a beef and eggplant dish.
Garlic is used across the board in many recipes; just make sure to plant your cloves in late fall or very early spring to get a crop from them.
Dill is used most notably in the cucumber and yogurt dip, tzatziki, many fish recipes, and avgolemono chicken soup.
Fennel, specifically the leaves, is generously used in soups, stews, and Marathokeftédes, which are fennel fritters.
Marjoram, an oft-forgotten herb that tastes like oregano but sweeter, is used often in the seasoning of lamb and chicken in Greek dishes.
Spearmint is an unlikely addition to a regular herb box garden, but in Greek cooking, it's used in a number of dishes and sauces.
Rosemary you'll find rubbed over the many lamb dishes that are central to Greek cuisine.
In terms of how to create an herb box garden, we've written about herb garden planter ideas, growing countertop herb gardens, and harvesting herbs which should help you on your quest.
There are no hard and fast rules for building an herb box garden. It can be an above-ground container, or it could be on top of the dirt. It could hang from your window sill outside, or sit on your countertop.
Of course, there are many more herbs you can grow that can be used in Greek cuisine, and in my personal opinion, you can never grow too many herbs, especially ones that flower, like dill and oregano.
Do you theme your herb box garden(s), or do you simply plant whatever strikes your fancy? Leave a comment below; I love to see what others are doing.