It's a sad sight. You leave town for a day or two or just get caught up in life, and by the time you look at your garden, all you see are dying herbs. They're wilting, formerly lush leaves now withered and drooping toward the ground. They're sitting in your favorite pot, soil hard as a rock, and stems barren and brown. 
Sometimes it's the opposite, though. The soil is too wet, and the herbs are dying because the roots can't get any oxygen. Root rot sets in, and the plant isn't able to absorb nutrients from the soil. There are other reasons, too, why you might have dying herbs. And bringing them back to life isn't a one-size-fits-all situation. 
Luckily, most herbs are more than willing to bounce back once we correct whatever the problem is.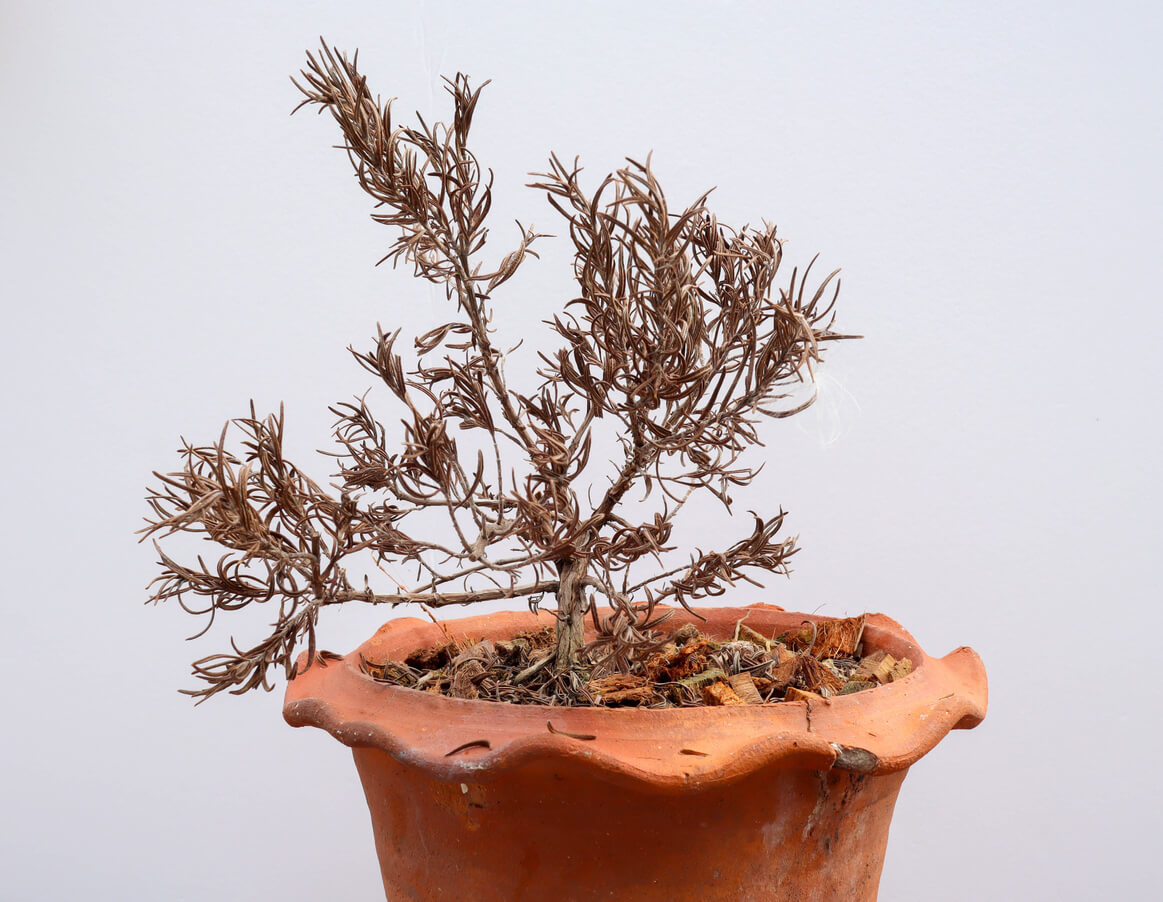 Back from the brink: What to do about dying herbs in your garden
To figure out how to bring your dying herbs back to life, it's helpful to know what's causing the problem in the first place. Here are some of the problems you're likely to come across. 
Overwatering: I can't even begin to tell you how many plants I've killed over the years by giving them too much water. It's an easy mistake to make, since many of the symptoms of overwatering are similar to the symptoms of drought. Plants wilt and turn yellow or even brown. To avoid this issue, ensure your soil has plenty of good drainage and check the dampness before you give your herbs more water. Dig your finger an inch or two into the soil. If it's cool and moist, you're good. If it's dry, you can feel comfortable giving your herbs more water. 
Root rot: This is typically the result of overwatering. The only way to diagnose root rot is to get into the soil and look at and feel the roots. They'll feel mushy and soggy and just generally look bad. If your herbs have root rot, you'll need to dig up the plant, remove any infected roots, and replant your herb in good soil. 
Too much heat: While many herbs love warm weather, not all are as fond of it as their friends. Parsley and cilantro are two good examples of herbs that enjoy cooler weather. If you find herbs like these are wilting in the hot sun, bring them indoors or try to shade them. 
Underwatering: While not as common as overwatering, it is possible to underwater your herbs. This happens most when we don't water deeply enough. In many cases, it's better to water more intensely and less frequently so the roots develop and dig deeper into the soil. Use your best judgment here, though. In the middle of summer, you may need to water your herbs daily or even twice a day. It's possible that your dying herbs will spring back to life with some extra watering. 
Pests: This is a strange one in some ways. While we can use herbs like basil as companions to tomatoes to deter harmful pests like hornworm, there are plenty of pests out there that enjoy munching on the stems and leaves of our garden herbs. Anything from aphids to slugs may eat through our plants, slowly destroying them. There are several ways to get rid of these pests, which you can read about here. But if you're in a hurry, Neem oil is a gardener's favorite. 
Temperature change: Herbs like rosemary or thyme can be quite hardy, but once the temperature drops at night, some of your more sensitive herbs might need to come in. Either that or you can use row covers to try and give them a few more weeks of life. 
Poor lighting: This is more of an issue for indoor herbs, but it's easy to correct. Herbs need six to eight hours of sunlight each day. This might be difficult to give them in winter, especially in areas with limited daylight. Move your herbs to a south-facing window so they can enjoy as much sunlight as possible. If that isn't doing the trick, you may need to invest in a grow light. 
Suggestions for grow lights: 
Just because your herbs aren't looking their best, doesn't mean they're done. A little love and tenderness can bring them back to be healthier than ever.
What steps have you taken to bring your herbs back from the dead? Please share in the comments below.
Note: This post contains affiliate links, and we may make a small commission when you make a purchase after clicking them. However, this post is based on honest and true reviews of the products above.