No matter the weather, my daughter wants to be outside all day long, running, jumping, and usually getting quite dirty. As a toddler, she is a total sponge and loves to watch what I do in the yard and then practice it herself. When it comes to gardening tasks, it's definitely a "monkey see, monkey do" situation. Choosing to plant a kids' herb garden was a no-brainer for me, especially after I saw these adorable kid gardening gloves.
There are lots of great ways to get kids curious about gardening. I love to start with herb gardens because herbs grow pretty quickly compared to most vegetables. Because of this, there's a bit more immediate gratification for children watching their plants grow. (Also great for impatient adults!) Herbs are great because you can turn an afternoon in the garden into an evening in the kitchen and teach your little ones about the flavors and uses of each herb. To capture a child's attention, consider these three ideas for a whimsical kids' herb garden.

Build a fabulous fairy herb garden
What better way to expose little minds to plant science and culinary arts than through the imaginative play of a fairy herb garden. A kids' herb garden is easily transformed into a fairy garden with a few props and a little imagination. We love using found objects like seashells, pebbles, and other yard treasures and spend time arranging each piece.
For an added visual pop, you can purchase some fairy garden props like little toadstools, some fairy furniture, and of course the fairy itself. If you're like me, and already have a house full of dolls, just nab one of those and craft some wings out of felt or feathers. The sky's the limit on decorating your fairy herb garden.  Fairy gardens are a great way to get children to focus on the smaller details of a garden. You can choose a special location in your yard and have the little one in your life add their fairy elements.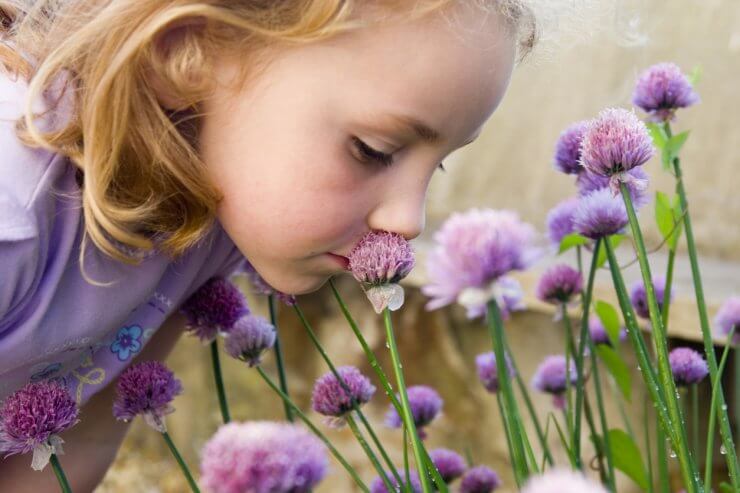 Grow a flowering herb garden
Flowering herbs like dill, thyme, and lavender will grab the attention of your little ones. Planting a flowering herb garden is a nice way to talk with littles about which flowers are meant to be picked and which ones are meant to stay in the ground. (We're still working on this one!) Herbs like bee balm and pineapple sage bring bright reds and pinks into your kids' herb garden. You can plant some edible flowers alongside your flowering herbs, to add even more colors to your kids' herb garden. A flowering herb garden is a wonderful way for young ones to learn about colors and shapes.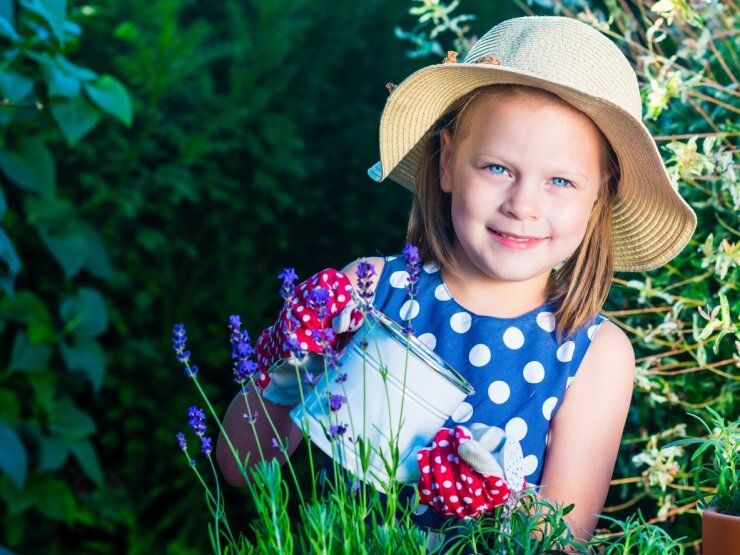 Plant a perennial kitchen herb garden
If you have a little chef in your life, a perennial herb garden is great for learning how to grow herbs for cooking. Perennial herbs tend to be a bit more forgiving and hardier, which is helpful if you've got a mini Edward Scissorhands on your hands. Thyme, sage, and chives are great options that will return each season. (Be careful to cut these back, they will take over your yard!) Depending on your USDA hardiness zone, you can add other herbs like lavender (zones 6-9) and rosemary (zones 7-10) to the mix as well. When it's time to harvest, your little chef can learn about the best way to harvest each type of herb focusing on the leaves, flowers, and seeds.

Have you planted an herb garden with the littles in your life? What herbs were their favorite? What fun did you have in your herb garden and kitchen? Let me know in the comments.