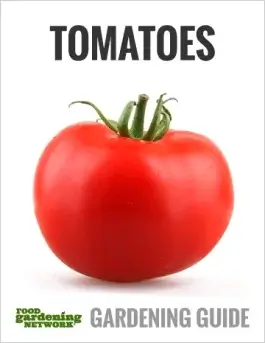 In this month's Food Gardening Magazine, you get everything you need to know about growing tomatoes at home—the most popular home-gardening food item, with 86% of American households growing this versatile fruit. And with more than 7,000 varieties of tomatoes, it's easy to get overwhelmed by all the possible choices of which tomatoes to grow.
We've got you covered! You get all the tips, techniques, and advice about how to start and maintain an awesome tomato garden. And we cover growing tomatoes for beginners and skilled gardeners alike.
Plus, you get specific advice about growing tomatoes outside—including growing tomatoes in pots, containers, or planters; growing tomatoes in raised beds; and growing tomatoes in small spaces. And if growing tomatoes indoors is your thing, you learn about growing tomatoes indoors hydroponically; growing tomatoes indoor with lights; and growing tomatoes indoors year-round.
This gardening guide about tomatoes is your #1 guide for being the best tomato gardener you can be! You should refer to this gardening guide whenever you have questions about your tomato garden—from planning to planting and from maintaining and nurturing to harvesting and reaping the rewards in your kitchen.
First, you get a complete Introduction to Tomatoes—including the history and background of this terrific fruit. Yes, tomatoes are, botanically speaking, a fruit! Find out about a Supreme Court case that declared tomatoes to be fruit. And get all the history about the origins of the tomato and how this once-despised food item became popular in Europe and the United States.
Then, you get Feature Articles about Tomatoes that include:
Next, this premium gardening guide highlights six popular tomato varieties to help you choose the varieties you want to grow—this is just a sampling of the many varieties available:
And all your tomato-gardening efforts are made more satisfying when you have quick and easy-to-make recipes, to ensure your harvest is enjoyed by everyone you serve at your home. Food Gardening Network is all about providing delicious recipes for making yummy dishes. Try these recipes and enjoy your tomato harvest:
Next, you'll learn all about the health benefits of tomatoes with Nutrition Facts about Tomatoes and Home Remedies & Health Benefits of Tomatoes. Learn about all the wonderful and beneficial attributes of tomatoes—and how you can use tomatoes to boost your overall health.
And to be sure you have everything you need to grow your own tomatoes, we've included a Resources about Tomatoes section—so that you can easily find additional tools and information about tomatoes.
Finally, our Glossary section gives you the explanation of key tomato-gardening terms and concepts—so, you're never in the dark or confused about important tomato-gardening ideas.
Check out this premium gardening guide now—The Everything Tomato Guide—All You Need to Know About Growing, Harvesting, Cooking, and Eating Delicious Tomatoes—and you'll really learn everything you need to know about tomatoes!
Norann Oleson, Victoria Arnold, and Samantha Pulcherz contributed to the creation of this gardening guide.