3 Easy Homemade Salad Dressing Recipes
These homemade salad dressing recipes for Honey Lemon & Feta, Roasted Red Pepper and Shallot, and Green Goddess Dressing can be made in no time at all, and make any salad taste better!
Is there really a good way to get excited about salad? I know a few. And if you have a few homemade salad dressing recipes up your sleeve, I know you will too.
Plus, sometimes dinner is just hard. Whether you're tired from working, caring for kids, or doing both at the same time, the last thing you need is anything BUT a pressure cooker dump meal. But hear me out on this one because I feel like these three (ok more like two of these) recipes follow the same principals. Add the fresh ingredients to a jar or blender and shake or blend.
And lucky for us all, if you don't believe me, just watch the video above and see how easy they are to make!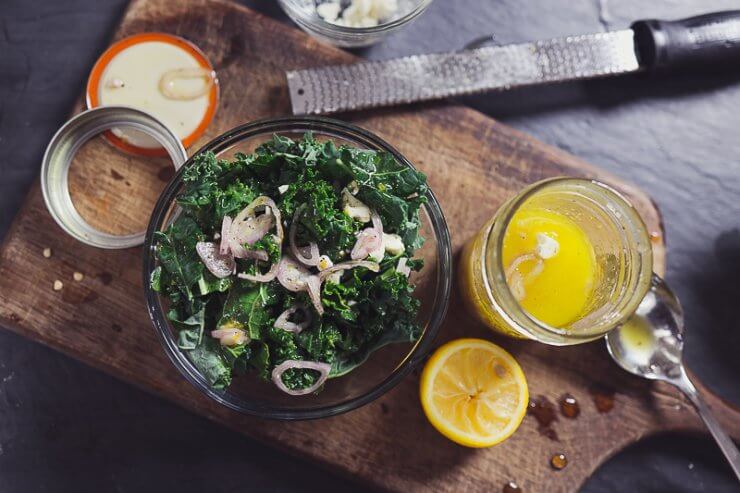 Honey Lemon & Feta Dressing
If you want a bright, fresh, sweet but briny salad dressing that can please just about anyone, but is easy enough to prepare quickly on a weeknight, my Honey Lemon & Feta Dressing is where it's at.
At our house, salad is on the menu just about every night, so I am always trying to come up with new vinaigrettes on the fly, and this dressing is our all-time favorite. I keep lemons, honey, shallots, and feta on hand at all times to whip it up in just a few seconds with the help of a small Ball jar that I use to shake it up.
Since this dressing is on the light but sweet side, it pairs particularly well with a more dominating green like kale. My husband prefers it on a more gentle-flavored leaf because he's not a big kale fan, but I find that this dressing is so good that it can even make a kale salad delicious (just kidding kale, you're great!).
And let's talk about the shallots and feta, shall we? Shallots are my all-time favorite herb because they taste like an onion and a bulb of garlic got busy and made a perfectly flavored herb.  When they're finely sliced, they are gentle in flavor, but bring just about everything they touch up a notch on the flavor scale. And while I say feta is optional in this recipe, I really don't recommend skipping it because it's what makes this recipe ultra-special and crave-worthy.
Print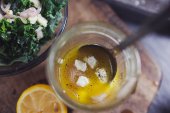 Honey Lemon & Feta Vinaigrette
This Honey Lemon & Feta Vinaigrette is a sweet, bright, lemon-based salad dressing that draws in an oniony-garlicky flavor from the shallots, softened by honey and feta cheese.
Author:
Prep Time:

30 minutes

Total Time:

30 minutes

Yield:

4

servings

1

x
Category:

Salads & Dressings
Ingredients
6 tbsp

extra-virgin olive oil

3 tbsp

lemon juice (

1

lemon, including zest)

1/4 cup

chopped shallot

1 tbsp

honey

1/2 tsp

salt

1/4 tsp

ground pepper

1 tbsp

crumbled feta cheese (optional but recommended)
Instructions
Combine all ingredients except feta into a small mason jar (jam-sized is good) and shake well. Add feta and shake gently. Serve over pasta salad or a kale salad.
Notes
This recipe will keep in the fridge for a few days. If refrigerated, let come to room temperature before serving.

Roasted Red Pepper and Shallot Dressing
One of the things I love and hate about growing bell peppers, is that I wait all summer for them to fruit, and then they all pop out at the same time, leaving me struggling to use them all. Luckily my daughter is a big fan of sliced bell peppers for a snack, but she's four, so a kid can only eat so much.
I use them in my Chicken Cacciatore, Stuffed Peppers, and beyond, but there's plenty of room left for canning, preserving, and—you guessed it—making salad dressing. Red bell peppers don't seem like they'd be front and center for the base of a salad dressing, however if you've ever made Portuguese Red Pepper paste, you know it's possible! And in fact, if you've ever had it, the taste is quite similar.
There is the undeniable flavor of sweet bell peppers, but the caramelized shallots balance and sweeten it out. The apple juice and apple cider vinegar add the zip required to make a fine vinaigrette.
Personally, I love to serve this over a more neutral leaf like Romaine because it's sturdy and has a nice neutral flavor that doesn't distract from the flavor of the vinaigrette. However, I also love it in a pasta salad, and you can certainly use it over a roast in a slow cooker or pressure cooker.
It's a bit more work than I'm used to for dressing but it's worth the time involved.
Print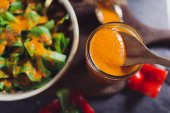 Roasted Red Pepper and Shallot Dressing
Imagine the texture of a good ginger salad dressing you get with your sushi, but make it sweeter and more savory Portuguese-style with roasted red peppers.
Author:
Prep Time:

20 minutes

Cook Time:

25 minutes

Total Time:

45 minutes

Yield:

Serves 4

Category:

Salads & Dressings
Ingredients
2

red bell peppers, cored and sliced into

four

flat quarters

1

shallot, quartered

1/3 cup

apple cider vinegar

2 tbsp

dijon mustard

3 tbsp

honey

1/3 cup

apple juice

1 cup

extra virgin olive oil
Salt and pepper (to your liking)
Instructions
Roast the peppers and shallots at 450 degrees F for 25 minutes.
Remove from oven and add to a bowl and cover to finish steaming them for 20 minutes.
Remove skins from peppers and any burned bits from shallots.
Add to blender with the rest of the ingredients and serve over romaine, a sliced cherry tomato salad, pasta salad, or even as a rub on meat.
Notes
It will keep for a week or two in the fridge just fine.
Green Goddess Dressing
Goodbye Ranch, hello Green Goddess Dressing. This dressing was named after the play of the same name back in the early 1900's, however, it's been around much longer. It was supposedly developed in France by a chef to Louis XIII, who served it with eel.
This Green Goddess Dressing is a play on the original and uses common ingredients and garden herbs most of us have hanging around. It requires a bundle of fresh herbs, but it's the most fragrant and tantalizing creamy dressing you'll find.
You may have seen Green Goddess Dressing on supermarket shelves, both in oil and dairy form, but none of them compare to making it fresh, especially if you happen to be growing parsley, basil, and chives in your garden. In mine, they're abundant, so I make this dressing often.
A traditional Green Goddess Dressing calls for tarragon for its signature anise flavor, however, I find it a bit too pungent and tarragon isn't something I grow in my garden, so instead I'm using extra basil, which still has strong anise notes and is the best replacement for tarragon. Additionally, a traditional recipe would call for anchovies or anchovy paste, but again, not a fan. So instead I'm using tamari, a gluten-free soy sauce substitute that adds the umami that would be missing without it.
I can't wait for you to try this one!
Print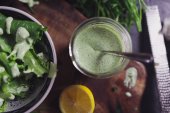 Green Goddess Dressing
Herb gardeners rejoice for this creamy Green Goddess Dressing that uses heaps of fresh parsley, basil, and chives.
Author:
Prep Time:

5 minutes

Total Time:

5 minutes

Yield:

Serves 4

Category:

Salads & Dressings
Ingredients
1/2 cup

mayo

1/2 cup

sour cream
Zest from

1

lemon and 1 1/2 tablespoons lemon juice

1 cup

fresh parsley

3/4 cup

fresh basil

1/4 cup

fresh chives

1 teaspoon

tamari/soy sauce/Worcestershire sauce

1

clove garlic, grated

1/4 teaspoon

salt (adjust to your taste)

1/4 teaspoon

freshly ground black pepper
Instructions
Blend on high for 30 seconds to a minute and serve right away. If you refrigerate, let sit out for an hour to loosen up. Serve over a spring lettuce mix or Bibb lettuce.
If you make these homemade salad dressing recipes, I'd love to know what you think!