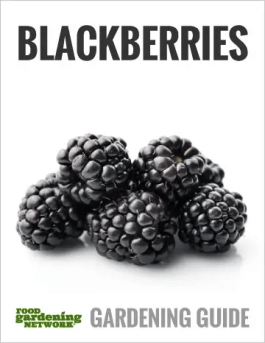 In this month's Food Gardening Magazine, you get everything you need to know about blackberries—so easy to grow, you'll wonder why you didn't start planting blackberries sooner! There are three main types of blackberry bush, and we'll help you decide which types of blackberries are best for your growing situation.
We've got you covered! You get all the tips, techniques, and advice about how to start and maintain a productive blackberry vine. And when blackberry season is over, we'll have tips on harvesting your blackberries—including advice on the best time of day to pick blackberries. Get ready to harvest some happiness!
Plus, you get specific advice about growing blackberries successfully—including building a trellis for blackberries growing in a contained space or a limited area of your garden (they do like to branch out!); pruning blackberry bushes for optimal growth and output; and the benefits of planting thornless blackberry bushes. You'll gain a solid understanding of blackberry care, from just trimming blackberry bushes to really cutting back blackberry bushes.
This gardening guide about blackberries is your #1 guide for being the best blackberry gardener you can be! You should refer to this gardening guide whenever you have questions about your blackberry garden—from planning to planting and from maintaining and nurturing to harvesting and reaping the rewards in your kitchen.
First, you get a complete Introduction to Blackberries—including their ancient reputation for treating various illnesses—and not just with the berries! From healing tea to hair dye to preserves and cordials—steep yourself in the history of this plant that grows wild on four continents!
Then, you get Feature Articles about Blackberries that include:
Next, this premium gardening guide highlights six popular blackberry varieties to help you choose the varieties you want to grow—this is just a sampling of the many varieties available:
And all your blackberry-gardening efforts are made more satisfying when you have quick and easy-to-make recipes, to ensure your harvest is enjoyed by everyone you serve at your home. Food Gardening Network is all about providing delicious recipes for making yummy dishes. Try these recipes and enjoy your blackberry harvest:
Next, you'll learn all about the health benefits of blackberries with Nutrition Facts about Blackberries and Home Remedies & Health Benefits of Blackberries. Learn about the antioxidants in blackberries that can help lower cholesterol, reduce blood sugar levels, and ward off cardiovascular disease, cancer, and strokes.
And to be sure you have everything you need to grow your own blackberries, we've included a Resources about Blackberries section—so that you can easily find additional tools and information about blackberries.
Finally, our Blackberry Glossary section gives you the explanation of key blackberry-gardening terms and concepts—so, you're never in the dark or confused about important blackberry-gardening ideas.
Check out this premium gardening guide now—Blackberry Heaven—The All-in-One Guide to Choosing, Growing, Harvesting, and Cooking Blackberries—and you'll really learn everything you need to know about blackberries!
Mary Van Doren, Norann Oleson, Victoria Arnold, and Samantha Pulcherz contributed to the creation of this gardening guide.