Chicken and Green Bean Stir-Fry is one of our favorite Chinese take-out selections. The tender chicken, the crisp green beans, and that yummy brown sauce—so good for soaking up with steamed rice! With this recipe, you get all that great flavor right at home, in minutes.
Stir-frying is a cooking method that is very friendly to vegetables and legumes like green beans. The high heat of the wok cooks quickly and efficiently, which helps the vegetables retain their nutrition and a tender crunch. Stir-frying also cooks poultry, meats, and seafood quickly, another bonus for busy home cooks.
The secret to making this Chicken and Green Bean Stir-Fry taste authentic is the addition of dark soy sauce, a thicker, darker, and less salty version of soy sauce. Dark soy sauce adds both flavor and color to Chinese dishes. If your at-home stir-fry pales, visually, in comparison to restaurant versions, the lack of dark soy sauce may be why. As in this recipe, dark soy sauce is often included in addition to standard soy sauce, which brings the saltiness.
Shaoxing wine also adds to the rich hue and complexity of flavors in this dish. If you're used to using clear rice wine for stir-fry, you'll find Shaoxing wine darker, with a deeper, stronger taste. It's worth it to find Shaoxing wine for your Chinese cooking, but a good dry sherry will yield a similar depth in a pinch.
You can use almost any type of green bean in this recipe, but Tendergreen, or a similar cultivar, would work nicely.
Print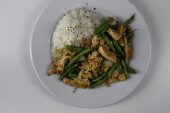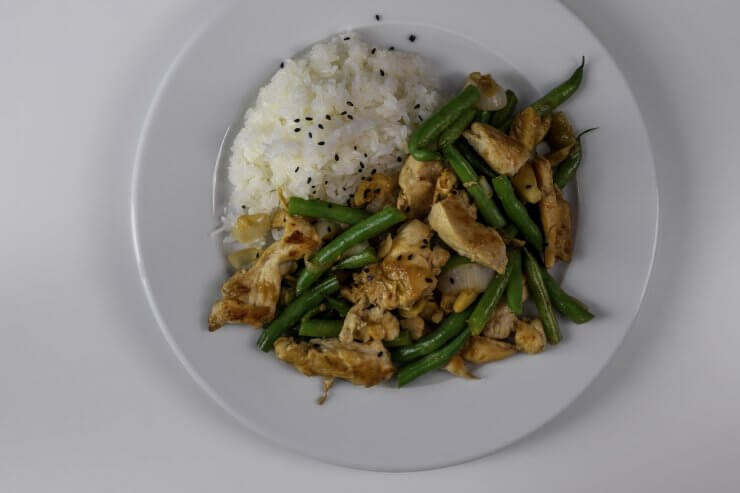 Chicken and Green Bean Stir-Fry
This recipe for Chicken and Green Bean Stir-Fry tastes just like the restaurant version.
Author:
Prep Time:

10 minutes

Cook Time:

10 minutes

Total Time:

20 minutes

Yield:

Serves 4

Category:

Entrées
Ingredients
For the chicken and marinade:

12 ounces

boneless skinless chicken breasts or thighs, thinly sliced

2 tablespoons

water

1 teaspoon

soy sauce

1/2 teaspoon

sesame oil

2 teaspoons

cornstarch

1 teaspoon

vegetable oil

For the rest of the dish:

1/2 cup

chicken stock or water

1 teaspoon

sugar

1 tablespoon

soy sauce

2 teaspoons

dark soy sauce

1/4 teaspoon

sesame oil
White pepper, to taste

2 teaspoons

cornstarch

4 tablespoons

vegetable oil, divided

1

pound string beans, ends trimmed and cut in half

3

cloves garlic, sliced

1 tablespoon

Shaoxing wine (if you can't find this wine, substitute a good dry sherry)
Instructions
Add all the marinade ingredients to the chicken in a bowl, mix well with your hands so the chicken absorbs all the marinade liquid, and set aside.
Prepare the sauce by mixing together 1/2 cup stock or water, 1 teaspoon sugar, 1 tablespoon soy sauce, 2 teaspoons dark soy sauce, 1/4 teaspoon sesame oil, a pinch of freshly ground white pepper, and 2 teaspoons cornstarch.
When ready to cook, preheat your wok over medium-high heat until it's almost smoking. Add 2 tablespoons oil to the wok and sear the chicken until it's just browned. If your wok is as hot as it should be, the chicken should not stick. Turn off the heat while you transfer the chicken to a separate bowl. Leave any oil/fat in the wok.
Add 2 additional tablespoons oil to the wok and add the string beans in a single layer. Sear the string beans on one side, about 1 minute. Stir-fry the beans for 30 seconds, and then add 1/4 cup water to the wok. Cover the wok and allow the green beans to steam for 60 to 90 seconds (still on medium-high heat).
Add the garlic and stir-fry for another 30 seconds. Spread the Shaoxing wine around the wok to deglaze it, stir-frying for 15 seconds. Then add the sauce mixture and bring it to a simmer.
Add the chicken back to the wok and stir-fry everything together for another 30 seconds. The cornstarch in the sauce mixture will thicken it. When the sauce is at the consistency you'd like, plate and serve immediately with rice.
Green beans are grown, and eaten, the world over. With the Latin name Phaseolus vulgaris (common bean), green beans are also referred to as string beans, pole beans, and snap beans. With our Grow Great Green Beans Gardening Guide, you'll have everything you need to know about growing and enjoying this unique food in your home garden, including advice on planting, raising, harvesting, and preparing dish after delicious dish featuring your home-grown green beans.
Have you tried this Chicken and Green Bean Stir-Fry recipe? It makes a perfect weeknight meal. Please tell us how it turned out for you.