Crème brûlée might look like an easy dessert to make, but there are lots of steps to make sure that the custard underneath comes out with the right consistency, along with the thin sugar crust on top. Naturally, the fall season calls for a twist to the usual crème brûlée—what better way to do this than to add pumpkins into the mix?
A Pumpkin Crème Brûlée makes this already delectable dessert even more decadent. Even the most diet-conscious folks have to try it at least once!
The usual steps to making classic crème brûlée apply to the Pumpkin Crème Brûlée: the mindful whisking, mixing, and stirring until everything is blended well. Once the regular custard has been done, it's time to add the soul of all delicious pumpkin recipes: the pumpkin purée.
What makes the crème brûlée a culinary delight is being able to indulge in the contrasting textures of the soft custard and the light but crunchy sugar topping. The key, then, is to be able to give the custard enough time to sit and chill, so it can solidify nicely. For this, a minimum of two to three hours is needed, but chilling your Pumpkin Crème Brûlée overnight is still the best option. If you're planning to share this with family and friends over Thanksgiving (or any other party), plan ahead and make your Pumpkin Crème Brûlée in advance, so it has enough time to chill.
A torch is the easiest way to get the sugar topping into a nice golden-brown crust, but make sure to proceed with caution. If you're lacking a torch, broiling can work just as well, provided you carefully observe the process. As you can see, this recipe makes a very light, gentle candy crust. If you like it a bit thicker, just use more sugar.
Print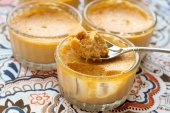 Pumpkin Crème Brûlée
This dessert is so delectable and decadent, you have to make it at least once! It's super easy to make and is sure to impress your guests. You can even make it a day or two in advance, and make things easier for yourself.
Author:
Prep Time:

15 minutes

Cook Time:

35 minutes

Total Time:

50 minutes

Yield:

Serves 6

Category:

Bakery
Ingredients
1 1/2 cups

heavy cream

1/2 cup

milk or half-and-half

4 tablespoons

packed light brown sugar

1 teaspoon

grated cinnamon

1/2 teaspoon

finely grated fresh ginger (or

1/4 tsp

ground)

1/4 teaspoon

fresh grated nutmeg (or ground)

1/4 teaspoon

ground allspice

6

large egg yolks (save the whites for future meringue!)

1/2

of a vanilla bean, halved lengthwise or

3/4 teaspoon

vanilla extract

1/4 teaspoon

salt

1/2 cup

pumpkin purée

1/3 cup

sugar

6 teaspoons

superfine sugar or raw sugar, for the topping
Instructions
Preheat oven to 300 degrees F.
Put 6 ramekins into a large baking pan.
Combine the heavy cream, milk (or half-and-half), brown sugar, and spices in a medium saucepan over medium-low heat. Cook, stirring frequently, until the mixture is hot and just starting to simmer. Remove from the heat.
Whisk egg yolks and vanilla in a small bowl along with the salt and sugar.
Whisk constantly, adding about 3/4 cup of the hot cream mixture to the egg yolks.
Whisk until smooth.
Put the egg yolk and cream mixture in the saucepan and whisk to blend.
Whisk in the pumpkin until everything is well blended.
Put a fine mesh sieve over a large bowl and pour the custard mixture through.
Bring a pot of water to boil.
Pour the pumpkin cream mixture into the ramekins.
Add boiling water to the outer pan until it's about halfway up the sides of the ramekins.
Bake at 300 degrees F for 25 to 35 minutes.
Remove ramekins from the water; place them on a rack to cool.
Discard water from the baking pan.
Once the ramekins cool to room temperature, put them into the baking pan.
Cover the ramekins with plastic wrap and chill them for at least 2 to 3 hours, or overnight.
When you're ready to serve them, sprinkle 1 teaspoon of superfine, raw, or granulated sugar over each ramekin.
If you have a kitchen torch, carefully melt the sugar until it's golden brown, turning as needed (have oven mitts on hand!). The topping will harden in a minute or two.
If you don't have a torch, you can use your broiler. Broil the custards just until the sugar browns. Be sure to keep a close eye on the process.
Serve while still warm.
From spooky jack-o'-lanterns to festive fall displays to scrumptious pies to scale-tipping giants, there's a pumpkin to satisfy almost any gardener's desire. Whether your goal is to decorate, cook, can and bake, or cultivate a blue-ribbon giant, we've got you covered with the Pumpkinpalooza: How to Start Your Own Pumpkin Patch Gardening Guide.
Have you tried this recipe? It's easier than you think, has tremendous flavor, and will impress your guests. Please tell us how it turned out for you.