Print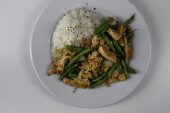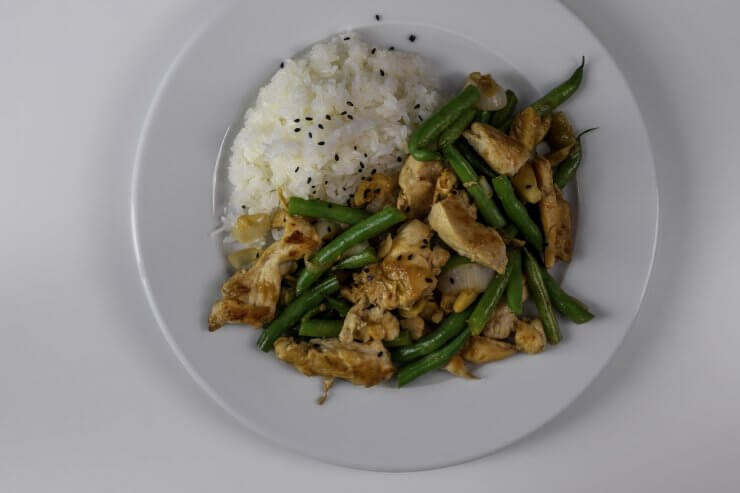 Chicken and Green Bean Stir-Fry
Author:
Prep Time:

10 minutes

Cook Time:

10 minutes

Total Time:

20 minutes

Yield:

Serves 4

Category:

Entrées
Ingredients
For the chicken and marinade:

12 ounces

boneless skinless chicken breasts or thighs, thinly sliced

2 tablespoons

water

1 teaspoon

soy sauce

1/2 teaspoon

sesame oil

2 teaspoons

cornstarch

1 teaspoon

vegetable oil

For the rest of the dish:

1/2 cup

chicken stock or water

1 teaspoon

sugar

1 tablespoon

soy sauce

2 teaspoons

dark soy sauce

1/4 teaspoon

sesame oil
White pepper, to taste

2 teaspoons

cornstarch

4 tablespoons

vegetable oil, divided

1

pound string beans, ends trimmed and cut in half

3

cloves garlic, sliced

1 tablespoon

Shaoxing wine (if you can't find this wine, substitute a good dry sherry)
Add all the marinade ingredients to the chicken in a bowl, mix well with your hands so the chicken absorbs all the marinade liquid, and set aside.
Prepare the sauce by mixing together 1/2 cup stock or water, 1 teaspoon sugar, 1 tablespoon soy sauce, 2 teaspoons dark soy sauce, 1/4 teaspoon sesame oil, a pinch of freshly ground white pepper, and 2 teaspoons cornstarch.
When ready to cook, preheat your wok over medium-high heat until it's almost smoking. Add 2 tablespoons oil to the wok and sear the chicken until it's just browned. If your wok is as hot as it should be, the chicken should not stick. Turn off the heat while you transfer the chicken to a separate bowl. Leave any oil/fat in the wok.
Add 2 additional tablespoons oil to the wok and add the string beans in a single layer. Sear the string beans on one side, about 1 minute. Stir-fry the beans for 30 seconds, and then add 1/4 cup water to the wok. Cover the wok and allow the green beans to steam for 60 to 90 seconds (still on medium-high heat).
Add the garlic and stir-fry for another 30 seconds. Spread the Shaoxing wine around the wok to deglaze it, stir-frying for 15 seconds. Then add the sauce mixture and bring it to a simmer.
Add the chicken back to the wok and stir-fry everything together for another 30 seconds. The cornstarch in the sauce mixture will thicken it. When the sauce is at the consistency you'd like, plate and serve immediately with rice.