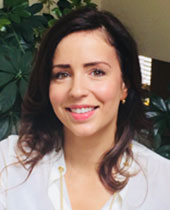 I'll admit I get quite antsy by the time March rolls around, eyeing summer dresses and open-toed shoes with a growing wistfulness. When it comes to spring foods, spring isn't just another stepping stone to the boon of summer, it's really a gem all its own.
It's time to break out of our winter hibernation and start welcoming brighter, fresher foods into our cooking. It's also a time to start thinking ahead to big family meals. Whether you're hosting a casual brunch or attending a family dinner, you'll find a selection of breakfast and dessert recipes in this issue that will appeal to anyone in the family, from age 9 to 90! 
I invite you to bask in the culinary delights of late spring! Below are a few recipes from our March/April 2019 issue. Here's what's on the menu.
7 Lovely Lemon Recipes
Lemon brings such a brightness to the kitchen. Along with the bold color a slice of lemon can add to a dish, the unmistakable tangy flavor makes you feel good all over.
Take-Out Fake-Out
Ever wish you could enjoy your favorite take-out meals, but you just don't want to spend the money? Or the wait is too long? Now you can make five of your favorites in your own kitchen!
Breakfasts
Steal the Show with Easter Desserts
I hope you enjoy the latest issue of RecipeLion Magazine as much as we've enjoyed putting it together. We're so happy to be here cooking with you and we're looking forward to many more recipes, dishes, and meals to share. 
Happy cooking—and happy eating!

Kim Mateus
Editor & Publisher
P.S. Please enjoy this issue of RecipeLion Magazine, and let me know what you think about it by commenting below with your feedback! Your input is valuable to us and can help us make improvements.