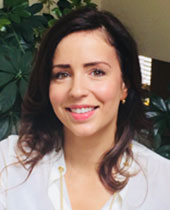 Welcome to the Dog Days of Summer! Yes, we're in the middle of the dog days, having started on July 3rd and ending August 11th.
The dog days are the hot and humid days of this season, tied historically to the period following the rise of  Sirius (the "Dog Star"). Ancient astrologers connected this period with heat, drought, fierce thunderstorms, laziness, and—rumor has it—dogs gone mad!
And what could be better during these sultry-and-sweltering summer days than enjoying cool and delightful cocktails, made with garden-fresh ingredients? Sit on your porch after a day of gardening, and enjoy a cool and refreshing beverage that allows you to use the fruits of your gardening labor to whip up a drink like you're a professional mixologist.
If you're looking for new ways to enjoy both a cool summer beverage and ingredients from your garden, try out the three recipes in this month's Food Gardening Magazine. You'll learn how to make a Cucumber Gimlet, Limoncello Sunrise, and Knockout Peach-Berry Fizz in the Garden-to-Glass Cocktails article.
Invite family, friends, and neighbors over to enjoy your bartending skills and your freshly made summer cocktails! And these cocktail recipes focus on ingredients that are usually abundant in your garden. Maybe you sometimes struggle to figure out what to do with all the extras—you've found your answer in this article.
And here's everything you'll find in this month's tip- and advice-laden magazine.
Food Gardening with Amanda articles—Food Gardening Network's Senior Editor and Producer Amanda MacArthur is one fabulous food gardener! She takes gardening seriously, makes it fun, and delivers some great content—including companion videos to show you, not just tell you, exactly what to do. Check out these four helpful articles, with videos, from Amanda this month:
And this issue of Food Gardening Magazine includes details on three featured foods this month—concurrently with publishing this issue of our magazine, we're also publishing and updating three gardening guides on ginger, fennel, and peaches. As a premium member of Food Gardening Network, you get full access to the magazine and these gardening guides:
Ginger: While ginger has historically been known as a tropical plant, growing it anywhere in the U.S. is easy. We've prepared this all-in-one guide for you about growing, harvesting, and eating ginger—with some easy-to-prepare and tasty recipes. Find out more in The Zesty Ginger Guide: All You Need to Know About Growing, Harvesting, Cooking, and Eating Delicious Ginger.
Fennel: Fennel can be so misunderstood! While flavored like licorice, prepare fennel in a variety of ways to soften the anise flavor, even practically hiding the strong flavor to appease licorice-haters. And it's pretty easy to grow. Learn how to grow and enjoy this versatile food in Fennel: How to Grow this Herb and Spice in Your Garden!
Peaches: Growing and enjoying peaches isn't only for people who live in Georgia! Believe it or not, peaches are grown in many parts of the U.S. Find out if growing peaches could work for you when you read this gardening guide. Learn all about growing these juicy, tasty, and delicious orbs in Perfect Peaches: How to Grow this Sweet Summer Delight.
Now, I've read all three of these gardening guides, and I learned so many things about these three plants. Consider some of these tidbits that I discovered while reading these gardening guides, to get you thinking about what you might want to plant in your garden.
Did you know that ginger is both a spice and an herb? Well, that's because we use and enjoy its roots (a spice). And ginger is an herb, because the foliage can also be used in cooking or as a garnish.
You may know that fennel is technically not a root vegetable, because the often-used bulbs actually grow above ground. But, did you also know that you can use all five parts of fennel? Bulbs, stalks, fronds, flowers, and seeds—versatile, useful, and tasty, every bit of it!
Did you know that peaches are native to China? And that—while Georgia is known as the Peach State—California and South Carolina are number one and two, respectively, for peach-producing states? Who knew!
To help guide you through these three foods and our gardening guides, you'll find in this edition of Food Gardening Magazine Gardening Guide Close-Ups that focus on ginger, fennel, and peaches. These in-depth articles give you valuable tips and advice about these three foods, and you'll have instant access to the premium gardening guides themselves, too. Be first to read these Gardening Guide Close-Ups, to get a head start on how to grow these foods:
How to Use Ginger: Adding Spice to Your Life!:

Seven fun and unique ways for how to use ginger to soothe and heal your body and soul. You probably never knew how beneficial ginger can be!

How to Turn Anyone Into a Fennel Lover: Enjoy all five parts of a fennel plant to certify yourself as a fennel lover! And once you've mastered how to use and cook fennel, see how many converts you can get to also become fennel lovers.
Perfect Peaches: Enjoy Them in Your Life!: Best ways to ensure you enjoy perfect peaches! Find out how to spot a peach's perfect ripeness; how to peel a peach the right way; and best ways to store peaches.
And then there are the recipes you'll find in the three gardening guides! Here are three of my favorites that are tasty, unique, and easy to make:
Pickled Ginger

:

Soft and silky, having some pickled ginger will cleanse your palate in the most exquisite way! Pickled ginger isn't just a garnish for sushi

—in salads or soups or on sandwiches, pickled ginger is a great way to enhance the flavor of many dishes. Give this quick-and-easy, 4-ingredient recipe a try!

One-Pot Chicken with Fennel and Tomatoes

:

Need to cook a dish that even the kids will devour? This easy-to-make dish delivers flavor galore, and clean-up is a jiffy when you use only one pot. Make this dish, and it will become a regular in your house.

Peach Cobbler:

Who doesn't love a good peach cobbler! This recipe is family-developed, tried-and-true, and thoroughly tested. Delight your tastebuds with this easy-to-make classic.
I hope you enjoy the August 2022 issue of Food Gardening Magazine as much as we've enjoyed putting it together. We're so happy to have you here! Now let's head out to the garden!
Happy Summer!

Kim Mateus
Editor & Publisher
P.S. Please enjoy this issue of Food Gardening Magazine, and let me know what you think about it by commenting below with your feedback! Your input is valuable to us and can help us make improvements.